---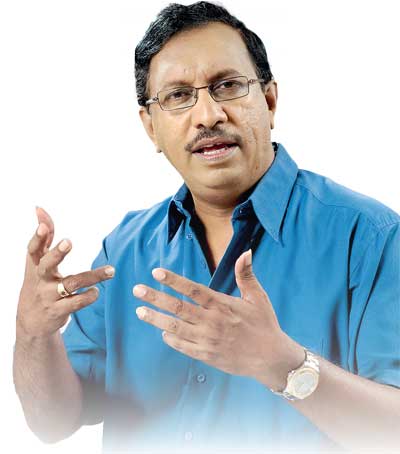 In an interview, the newly appointed Sri Lanka Freedom Party General Secretary, Minister Anura Priyadharshana Yapa spoke on the latest developments with regard to the upcoming presidential election and the political situation in the country.
By Menaka Gamage

Even before the proclamation of a presidential poll, Hela Urumaya left the alliance, then with the proclamation Wasantha Senanayake also came out, what is happening to the government which boasted of big wigs of opposition cross overs?
When you are members of political parties you always have varied aspirations, JHU still remains in the alliance and seems to have not accepted yet what the other party had decided. Any one can leave the party as he thinks fit , but I do not think that these moves have strengthened the opposition.

But all these days the salon door of the UPFA opened for those to enter, but now why are some leaving from the same door.
I cannot give you definite reasons for it. Wasanatha Senanayake belongs to a family of UNPers. He won from Gampaha. I am not sure what his policies are.

But Rajiv Wijesinghe who is an appointed MP of the government, says the government is treading the wrong path.
We should not forget that there are international forces working against this government. I can only say that we are working to protect the President and the party. I do not know about the others.

If the opposition is a sinking ship as opined by the government, why are UPFA MPs jumping into it.
I am not in a position to say anything about what decisions they take individually, but I am sure the majority are not going to leave.


The abolition of Presidency or changing the constitution is not centred on personalities.
There are different opinions about separation of powers both in the North and South. It should be done after proper discussions and it cannot be done in two days. It should not be done in a hurry.

When the 18th amendment was adopted, how were all these matters not considered.
All other parties including JHU and the Muslim Congress voted for it and supported its adoption.

JHU says that they raised their hands in support, on a promise made to amend the constitution.
We are not aware of such a thing.

With the rapid development of infrastructure an accusing finger is pointed to say that fraud and corruption are growing to unexpected levels.
During Madam Sirimavo's time in the 70's too they made the same charge and some left the government. But they never believe that a strong government is needed for development in Sri Lanka. They should have told these things while being inside.

JHU says that this was told while they were inside.

No. What they said was relating to our ministry and the price of fuel.


Then why could not this matter be resolved within?

We had several discussions. In some cases we agreed, while some others required a time frame. It is not possible to agree to all demands of a political party.

Their demands were basically those presented to the people in obtaining their mandate.
Please remember that when you call for a mandate there are practical things, and you can write them in a book, but when they are lined up, the country situation also has to be reckoned with. LTTE threats are not yet over. When you think of a constitutional change the ground situation also should be considered.

Then why was an assurance given to abolish the presidency while Prabhakaran and the LTTE were both active.
The question is how are we to do it. How is the country to be governed after its abolition. In the event the country's stability is threatened what will happen. These ideologies cannot be put into effect. Even if Sobitha Thera tells that this president is a dictator I do not accept it. The election of a president by democratic means cannot be ruled out as undemocratic.

How can the demand for the implementation of the 17th amendment and the establishment of independent commissions be treated as undemocratic
If we take the public service, the public servants themselves had resented these commissions. It is good to establish these commissions, but the issues cropping up when officers of these commissions start functioning is something to consider. These are views expressed by those who cannot come to power.

After agreeing to the 17th amendment, why do you say that now.

I did not agree.


Then why did you raise your hand in support of the 17th amendment.

I did it unwillingly as the party had decided to do so. Commissions are established and Parliamentary representatives are watching and taking decisions, and what is the justifiability of such a system.
Do you think it is proper for the politicians to interfere in the administration as presently done.
There is no such interference, but politics and administration should move hand in hand. You cannot copy all that is taking place in foreign countries and implement them.

Do you infer that the Roman Dutch Law or our parliamentary procedures are our own.

They are the things we have inherited from being under colonialism, but being continued. What I say is that Commissions are failures.

Let us have an example

A police commission is in place. When a policeman does something wrong, a common citizen has to go to courts. This sort of thing does not suit our country.

The allegation made by the opposition is that the police had been completely politicised by this government.
The majority of those remanded during this government belong to our party or from the UPFA. Ministers sons had been remanded. What more do you want? Police work independently.

If it is so then why are the police transferred even when a betting shop is raided

That is a lie. They got their transfers before the raid. Transfers are taking place even today. These transfers would be made effective from January 1st or 2nd. We have nothing to do in this regard. These are news made by media.

Champika Ranawake charged that the diplomatic service had broken down to low levels by in-fighting.
There may be shortcomings here and there. It is we who awakened the foreign service from its deep slumber.

Now you have forgotten Minister Lakshman Kadiragamar.

Kadiragamar was a good man. We were able to handle the foreign service to suit the country's needs. Political appointments were made even during D.S.times.

Have the discussions with the JHU ended.

No. We can discuss them.

If there is no anger or vengeance , why resort to grabbing of the Temple of Rathana Thera, the moment he walked out.
Government has nothing to do in this regard. I came to know about this temple only on that day.

But it was the President who placed the foundation stone of this temple declaring that it would be a peaceful haven for the entire world in seeking Sadahama.
Yes that is correct, I do not condone the act of surrounding a temple in this manner. This incident was first seen by me on TV. I do not approve the manner in which some people had acted. It had been a place gifted by the government and we have no intention of taking it back. I am fully aware that Rathana Thera had built a temple on this land and the government is not in need of acquiring this land.

Is it not true that if not for the JHU the Betel leaf would not have existed.

We accept that the JHU and the JVP extended their support but no one could say that it was their sole support that benefitted..

Then what about the allegation that in 2005 while the SLFP did not render any help to Prime Minister Mahinda it was the JVP and the others that carried him through.
I do not accept that. Just because they helped in the formation of the alliance, we cannot allow them to control us, neither can we control them. An alliance can forge ahead only on unity.

Then why does the JHU charge that the SLFP takes its own decisions while being silent during party leaders meetings.
We have not done so. When the charge is made we will reply.
Who was behind the thinking that the war should continue.

The decision of the SLFP is the decision of its leader, and the party was committed to this decision. Chandrika believed that the war should end peacefully, while we jointly held the view that war should continue until the end..

It is said that a group of evil friends had destroyed the President. Are there two groups of evil and faithful friends.
We meet as a general council and we are not aware of any groups taking decisions.

Those political analysts who supported the government had now stepped out in criticising the actions of the government. They call for a self criticism.
I am not aware of these critics, and those from Colombo who only attend media briefings. I do not believe in ideologies, and we are from the village and people in villages are aware of what Mahinda Rajapakse had done for them .

Do you accept that the opposition had gained strength and finally a close fight had emerged.
A-With one from our side going only makes it two, and does not make the opposition stronger.
When 17 from the UNP came over to your side you never said so but hinted that they had come to strengthen the arms.
That time there was an issue in Parliament, and we became stronger, that is different to this situation, and we were able to win the war.

Despite winning the war is the opinion of many who leave, that the administration is corrupt.
No. There may be personal reasons for this, and I do not think there are policy matters for this.

The secretary of the SLFP has now come forward as the common opposition candidate to defeat his own party leader, what have you got to say.
I can say this is not the first time that individuals had left the party nor is it the end. Despite people leaving, the party remained and governments were formed by that party.

The breakaway group consists of party stalwarts. The challenge is not easy.
What I have to say is that there had been many who left the SLFP and history had proved that they were left in political doom.

Did you not get any invitation from the opposition.
I would never accept it. I have not had any discussion with any one on different views, and if the party fails that day I will go home.