---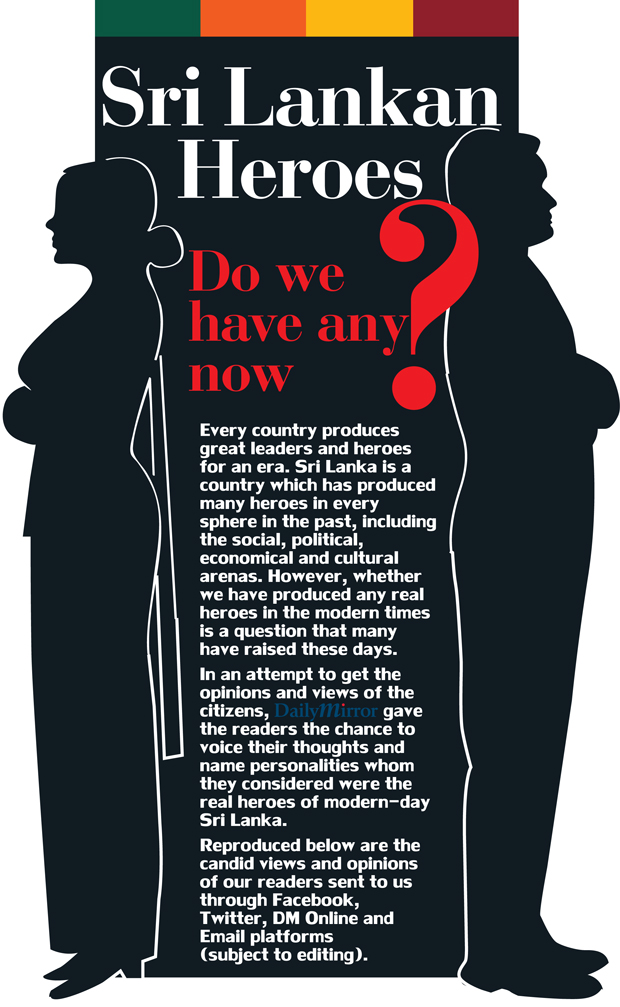 ---
Sri Lankan Heroes
Leaders should have following qualities or characteristics:

 When they do something for others, do not expect anything in return.
 Not surrounded by security guards. Move with people freely.
 Do not favour friends, relations and party supporters.
 Never tell lies. Never steal govt. property. Have excellent character.
 Simple person. No luxury life. No luxury cars or houses. Try to help others.
 Do not give false promises. Do not go after popularity.
 Not power-hungry. Do not accumulate wealth.


In modern times we do not have anyone like this in Sri Lanka.​
D. Weeratunga Chartered engineer and teacher
---



The era of patriotic honest selfless politicians is almost over Yet its heartening to note that a few praiseworthy young politicians are emerging who seem like a breadth of fresh air in this sordid political arena . 0ne such in my humble opinion is Mr. Sajith Premadasa son of late President Ranasinghe Premadasa, who too worked for the welfare of the common man.

Mr. Sajith Premadasa seems to have inherited his father's indefatigable zest and enthusiasm for work .The advice given by the Venerable Mahanayake Thera of the Dalada Temple to a visiting prominent politician that a politician need not be in the Governnment and be powerful to work for the people but to emulate Mr. Premadasa who served the people whilst being in the Opposition is very appropriate, note worthy and true.

Whilst being in the Opposition Mr. Premadasa did more for the Hambantota people than the sitting MPs of that Government. Just like his father his concern for the well-being of the poorest of poor with welfare schemes for their basic needs like shelter education water and electricity are very commendable and his dedication and honesty in airing out these shortcomings and finding solutions for them has earned him the love and respect of all.

Recently I read in the newspapers that he has relinquished his salary to a housing or welfare scheme for the poor which I think was unheard of in the recent past where the politicians game was to amass as much wealth as possible to the detriment of the suffering masses who voted them to power. He seems to carry on his duties with dedication and efficiency. His request to bury him in the Yala Sanctuary by a road he has built, shows his deep love for the electorate he serves. He possesses a pleasant personality, oratorical skills, honesty and dedication.

May he serve the country and nation for many more years to come.
Monica De Alwis,
Welisara.
---
















---
---
Add comment

Comments will be edited (grammar, spelling and slang) and authorized at the discretion of Daily Mirror online. The website also has the right not to publish selected comments.

---