---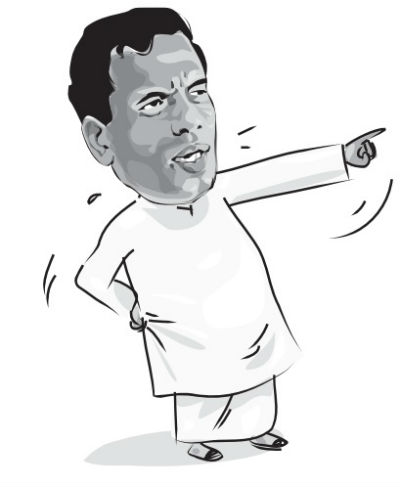 After a momentous and miraculous turn of events which began November 21 last year, President Maithripala Sirisena was yesterday elected and sworn in as the sixth executive president, with a manifesto pledging to launch a new era of good governance and democracy within hundred days.
Many significant events on election day and yesterday were good signs of the new era. After several years the people of Sri Lanka were given the priviledge of voting and upholding their soverignity in a free, fair and peaceful presidential election. Much credit for this must go to the independent and courageous Elections Commissioner Mahinda Deshapriya who took effective measures to prevent any rigging or computer manipulation of the first Presidential election that he conducted. We also need to thank praise his staff including hundreds of senior and junior presiding officers counting centre officers, Sri Lankan and international election monitors.
When the trend became obvious and even before the results were formally announced at noon yesterday the defeated President Mahinda Rajapaksa quietly gracefully left Temple Trees around 6.30 am after speaking to Mr. Sirisena and the main opposition United National Party national leader Ranil Wickremesinghe. We and the Sri Lankan people are thankful and grateful to the outgoing president for keeping his pledge that if he lost he would give up power peacefully and without hesitation mainly because of the much awaited visit of Pope Francis to Sri Lanka from January 13 to 15. Thank you Mr. Rajapaksa we and the Sri Lankan people will remember your courageous role in ending the war against ruthless terrorists in 2009.
Adding more significance was the Election Commissioner's decision to ask his deputy M. M. Mohamed to make the historic nationwide victory announcement in Tamil. The Commissioner then made the announcement in Sinhala in the afterglow of Mr. Sirisena's victory in which the minority communities played an important role. President Sirisena in his acceptance speech pledged there would be no violence or vengeance and no one would be allowed to break the rule of law. When Mr. Sirisena went to Independent Square for his swearing-in yesterday evening he chose to take his oaths before a senior Supreme Court Judge K. Sripavan. Again a significant act of Sinahala Tamil amity though many legal analysts wondered how Chief Justice Mohan Peiris might respond to this.
With Ranil Wickremesinghe being sworn in by President Sirisena as the new Prime Minister a new cabinet of ministers is also likely to be sworn in with the Sirisena administration hoping it would have a two thirds majority in parliament to approve important legislation in the first 100 days. The most important is the Constitutional amendment to reduce the powers of the executive presidency and revive the 17th Amendment. Through this a Constitutional Council will appoint an independent elections commission, national police commission, public services commission, and a judicial services commissions to restore the independence and integrity of these vital institutions or checks and balances in democracy. Equally importantly the amendment will give wide powers to the commissions appointed to probe allegations of bribery and corruptions.
Rampant corruptions of huge magnitude is widely believed to be one of the main reasons for the downfall of the Rajapaksa government. Mr. Sirisena and other leaders of the common opposition have pledged that all those against whom there is substantial evidence of corruption and plunder of the people's wealth and resources, will be hauled before courts of law and if found guilty punished with prison sentences and heavy fines. Mr. Sirisena and the opposition leaders have also pledged that top politicians of officials who had allegedly taken hundreds of millions of dollars out of the country and put them in secret accounts in the Seychelles or the Caribbean Island of St Kits and Nevis would be forced by law to bring these plundered billions back to the country. The new leadership has also pledged that action would be taken against state electronic and print media bosses who blatantly flouted election laws and indulge in crude propaganda for the Rajapaksa government. Mr. Sirisena has said he hope such action would in future ensure that the state media acted with responsibility and impartiality.
Mr. Sirisena's joint opposition administration must also act fast to implement some of its other main pledges—Rs 5000 pay increase for public servants from next month and Rs 10,000 later, relief for pensioners, drastically reducing the cost of fuel and 10 other essential commodities. They have also promised to implement the Right to Information Bill and a Bill to implement the National Medicinal Drugs Policy within two months.
P r e s i d e n t Sirisena you rise to great heights if you are promise-keeper and not just a promise maker, if you are servant leader living a simple and humble life style if you practise what you preach and preach what you practise. We wish you all blessings for this.