---
If sanity and insanity were the two sides of a coin, no one can decide to which side our lives may lead us in the future. But something we must all remember is that no

one is ever given a choice when they fall sick nor can their sicknesses be condemned, as each case is unique.
At the Mulleriyawa Hospital there are a special group of people who have recovered from their illness yet are living within those walls for various reasons. Despite the reasons that brought them to this place, today, they have made the best of the situations life threw at them, and are living happy and hopeful lives. Daily Mirror met with some of these people who shared their experiences with us as we mark World Mental Health Day.

When we approached the Rehabilitation Centre of the Mulleriyawa Hospital, we noticed the women inmates engaged in various activities. Some were drawing on blank sheets of paper and doing collage work, while others were sewing or busy doing patchwork. They were so involved that they did not realize time passing by or the entrance of visitors till we went and spoke with the matron who was in charge.
The first person who volunteered to speak to us was a 42-year-old lady who had lived at the Mulleriyawa Hospital for the past five years. Speaking to Daily Mirror she narrated bits and pieces of her story, which was clearly written all over her face.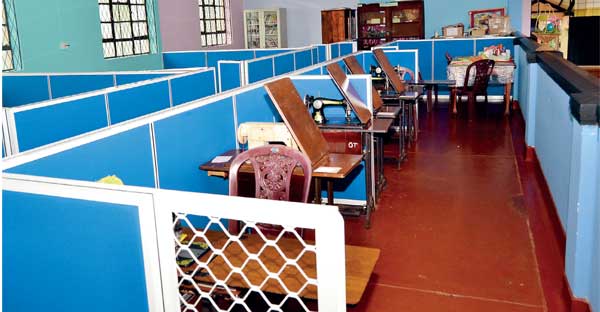 "I worked as a teacher for many years before I came to this hospital. I taught many subjects including mathematics and science for GCE O/L students at a school in Kurunegala. I had a lot of financial issues in my life and I was supposed to get married to a partner chosen by my parents. But suddenly my mother fell sick and I was forced to face a lot of problems. All of these issues caused the postponement of my wedding. However now I'm better and I have written to my siblings to come and take me home, but so far I have not received any response from them. I would like to go back to the society and to be employed again and perhaps to get married afterwards. Now I try to keep myself occupied through sewing and patchwork. And I also like to play netball and to do yoga. I'm anxiously waiting for either one of my brothers or my sister to come and take me home," Kamala* said with hope shining brightly in her eyes.




This section of the hospital which is considered as 'Unit Two' is managed by the National Institute of Mental Health (NIMH) under the direction of Dr. Jayan Mendis, who is the Director of NIMH. In 'Unit Two' there are nearly 483 patients out of which about 50 are engaged in jobs as domestic helpers, cleaning service personnel or working as labourers at the Ceylon Paper Sacks Ltd. These patients are being reintegrated into society after they have been provided with special training and an education where they are taught the basics of living independently in society. They are taught about travelling in buses alone, dealing with money matters and getting along with people in the outside world. The Occupational Therapist in the Mulleriyawa Hospital 'Unit Two' Bita Abeygunasekara told Daily Mirror that every week the hospital doctors with nurses and attendants spend time with these patients and speak to them about the various experiences, issues and difficulties these patients are forced to face in the outside world and advise them on how to overcome them.



"Now I'm better and I have written to my siblings to come and take me home, but so far I have not received any response from them"



"Most of these patients can manage on their own very well. They are in good health and can go home and help their family members in their day-to-day activities. But for various reasons their guardians have decided to let them live here instead of taking them back," Ms. Abeygunasekara said.
Soma* is one of the patients who is currently working as a maid for a private cleaning service at the Mulleriyawa Hospital. Soma told us that she earned a income by working and now lives separately in a small house, which is situated inside the hospital premises.
"Every week we go to the market and purchase all the household necessities we need. There are about four of us living in this house. Each person contributes Rs.4,000 for the monthly purchase of groceries and food. Early in the morning around 4 o'clock we get up and cook, then we make lunch packets for ourselves and go to work and return home again in the evening. We have a small garden here and we enjoy growing flowers there," Soma said with a smile.
Commenting about her family, Soma said it has been months since she sent a letter to her brother asking him to come and take her home, but so far no one has come to see me or has replied the letters I wrote to them.

"We like to go home and to live a beautiful life. But they do not come to take us away. However we make the best of what we have here and live peacefully with contentment," Soma said. Recollecting the past she said she was 34-years old when she first got sick. She said she had worked at a milk company before she was admitted to the hospital and now she has spent 10 years at this hospital.



"We like to go home and to live a beautiful life. But they do not come to take us away. However we make the best of what we have here"



When Daily Mirror asked Dr. Janaka Weeragalla who works at the Mulleriyawa Hospital why these patients who have recovered are still living in the hospital, Dr. Weeragalla said there were about 150 to 200 patients in this unit of the hospital itself who were well enough to be reintegrated into the society.
"I guess some family members are reluctant to take these patients back home mostly because of the stigma that exists in society regarding mental health patients or because they still cannot get over the 'first impressions' during the early days of the patient's sickness (before he or she recovered). These impressions appear to be deeply rooted in the minds of the relatives of the patients. Sometimes the family members are scared that society might refuse their families (in matters such as matrimony) because of mental health patients being related to the family. Therefore they wish to hide such matters from society.
However there are many occasions where the addresses and other details of the guardians of these patients have provided us with turns out to be incorrect too. So we can't trace these addresses to let them know that their brother or sister has recovered. Nevertheless there are instances where the guardians prefer to let the patients stay in the hospital as they are unable to take proper care of these patients or to give them the necessary attention they need," Dr. Weeragalla said.
He said the patients' family members sometimes take the patients home for a two-week holiday and returns them back to the hospital.
"During these instances we tell them how they should treat the patients. During such occasions it is very important that these patients should be treated as equal members of the family," Dr. Weeragalla said.



"Miss please inform my family that now I'm only given ½ pill at night. So now I'm cured. Please ask them to come and see me"



Meanwhile an attendant who has served at this hospital for almost 26 years, I.W. Sunilla told Daily Mirror about this special group of patients that they are being trained and educated to live in society just as any other ordinary person.
"When we are with them, we do not feel as if these people are patients. Now we feel as if they are also like a part of our families. …We do not feel any difference," Ms. Sunila said.

Every single one of these patients has a story to narrate (along with those wishes they have entrenched between their eyes). "Miss please inform my family that now I'm only given ½ pill at night. So now I'm cured. Please ask them to come and see me," one patient, Shriyani pleaded. Speaking to her further we learned that she has been living at the Mulleriyawa hospital for 15 years now and that she passes the time with her sewing, drawings and patchwork. Like many other patients, she too has lost the sense of time passing by in her endless waiting.
A long time ago, I read somewhere that there is only a very thin line between sanity and insanity, and that the boundary between these two distinctions are blurred.
Nevertheless regardless of where the distinction between sanity and insanity stands in our society, surely the distinction between indifference and kindness cannot remain to be so indistinct…

(* The names of the patients have been changed to protect their identities)