---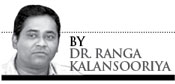 All eyes focus on Narendra Modi's visit to Sri Lanka


The questions from budding journalists at my Alma mater, the Indian Institute of Mass Communication in New Delhi when I addressed them on Wednesday (11) depicted the present Indian thinking towards Sri Lanka. Although my speech mainly focused on media and its challenges in post-conflict Sri Lanka, the students posed questions on issues in fishing, poaching, Geneva and its related accusations and seeking political solution to the ethnic minority issues. The poaching issue took a longer time than expected.

No wonder; visiting Indian Premier Narendra Modi would also land in Sri Lanka along with the same concerns. The poaching issue has come to an alarming stage that required urgent attention from both countries. It has to be resolved as a bilateral issue as well as joining hands in protecting its regional fishing harvest from other countries such as China.

India and Sri Lanka have many issues to discuss and those talks could be expanded for months if not for years. I do not think Modi would request the extradition of Kumaran Pathmanathan alias KP who is still a wanted man of India for the killing of former Indian Premier Rajiv Gandhi whose tenure recorded the highest level of intervention in Sri Lanka. This hierarchical-style intervention by Rajiv attracted the ire of Tiger leader Prabhakaran in the North as well as Ranasingha Premadasa in the South who later became the second executive president of Sri Lanka. Ironically all three of them –Rajiv, Premadasa and Prabhakaran – became ultimate victims of the same conflict at different stages and at different levels.

Sri Lanka's ethnic issue has been an Indian concern since its inception. Once it was the perpetrator, then it turned as a negotiator. Lastly it became a victim with the killing of Rajiv Gandhi. Though widely regarded as an internal matter, India has been – and whether we like it or not would continue to be – an important undeclared stakeholder to the conflict. Even India openly claims to keep its arms-length distance from Sri Lanka. The reality is entirely otherwise. On the other hand the Sri Lankan as well as the South Indian minority political parties would not allow it to do so. Thus, the situation provides a conducive theatre for India to manipulate politics in Sri Lanka according to its own wishes. Irrespective of whether Modi or Manmohan Singh was in power, this phenomenon would continue without any hindrance.

It is interesting to see how Tamil and Muslim political leaders seek Indian intervention to highlight their own causes. Mostly the Tamil National Alliance (TNA) would seek India as a better listener than its Sri Lankan counterparts. In fact the recent TNA-led resolution at the Northern Provincial Council illustrates its perceptions towards international interventions into the issue.

Still, one could argue that the TNA is attempting to play trumps in communal politics. In the absence of the LTTE gun point, with their open-minded regime, the Tamil national political leadership should be able to engage with the government in a more pragmatic manner sans communal and popular political games.Nevertheless, it is interesting to note that there are some mature and far-thinking Tamil politicians making ripples within TNA ranks.

Communal politics could easily pave the way for radicalism which could be counterproductive to the same politicians who cultivated communalism within their own societies. the TNA has many bitter experiences in this regard. I have some nostalgic memories on this issue, mainly with the renowned Tamil politician Dr. Neelan Thiruchelvam whom I interviewed several times. When my colleague, former Daily News Editor Pramod de Silva first and I went to see Neelan at his office at the Law and Society Trust for an interview, he wanted the questions in writing. One of our questions to him was the reasons behind the TULF not issuing a statement of condemnation on the killing of Rajiv Gandhi. He requested our consent not to answer that particular question, to which we agreed. But he told us the reason: the bullet that pierced Amirthalingam's head had gone through all (TULF leaders') heads. This bitter past would never be forgotten by Tamil political leaders. But, I think the TNA's top level national leadership displays more mature conduct compared to its provincial political leaders. However, Prime Minister Modi in several instances will conduct talks with Tamil and Muslim political leaders, but he has to play his cards with extra care given the new political environment in Colombo. More than Sri Lankan Tamils and Muslims, China would be a sensitive factor to India for obvious reasons. In a context where many mega Chinese projects in Sri Lanka are facing controversies and investigations, Modi, a well-seasoned strategist,will strive to fish in the troubled waters.At the end of the day it is up to Sri Lanka to strike the balance, mainly when President Maithripala visits China soon.