---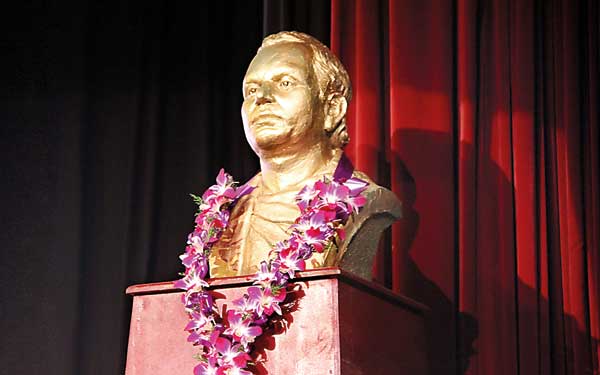 Anagarika Dharmapala, the Sri Lankan Buddhist revivalist and writer who brought forth a revolution in a land that has long been plagued by Western colonization and repression of Indian religions is better acknowledged as the 'Father of the nation'.


Introducing Buddhist nationalism, the then David Hewavitharana realized that Buddhism cannot and will not survive without a protective layer. Anagarika Dharmapala unleashed forces that to this day reverberate not only in his country of birth but offshore as well. He was born to an incipient Buddhist Revival movement in the middle of the 19th Century but then found that he was championing it in the first half of the 20th Century to the great delight of Buddhists everywhere.

In order to commemorate his birth anniversary, the Vikasitha National Collective organized a ceremony to acknowledge his work and it was attended by many dignitaries including the clergy, Minister of Mega polis and Western Province development Patali Champika Ranawaka and personal secretary to the Speaker Dr. Nimal Samarasundera. Sending in a message, the Honourable Speaker Karu Jayasuriya mentioned that the 151st anniversary of this great human being should be commemorated with much respect. "Anagarika Dharmapala was instrumental in trying to protect the culture, race and religion of the country. He was the initiator of the Buddhist School system and also introduced a platform for local entrepreneurs to market their products. In addition to that he was also instrumental in initiating the anti-tobacco campaign when he realized that these components were quite addictive and would have adverse impacts on the health of the people. It is essential for the youth to get examples from his work and implement them duly as they are the future of this country."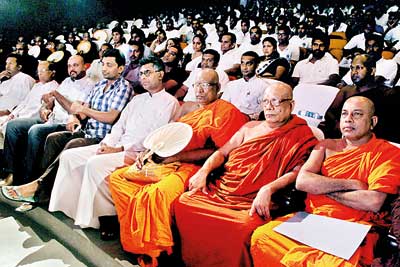 In his speech Ven. Dr. Indurugaare Dhammarathana stated that monks devote their childhood and youth for the well-being of their religion. "Anybody can do politics but can't be the Father of the nation. People can't do anything without politics today. The great Anagarika Dharmapala spoke about the responsibilities of Sinhalese and Buddhists. He spoke of the responsibility that this generation has in preserving the culture and going forward. The generation has a responsibility to take an example of his vision and implement his strategies to make this country a better place to live in. His famous slogan reads 'Sinhalese wake up and save Buddhagaya'; but today there is a problem about how many Sinhalese are actually living in Sri Lanka. Why didn't he address neither the Sri Lankans nor Buddhists but only address the Sinhalese? If we take the area in proximity to the Colombo Municipal council, around 44 years there were around 51% of Sinhalese living there. But today the numbers have come down to 12%. So by 2035, will there be no Sinhalese in this country? Those around the Vidyodaya Pirivena and the Mahabodhi temple are not Sinhalese. The Sri Lankan education system too is quite undisciplined. It is an education system that chooses 3 out of 45 students in a class. How is that even possible? All companies in Sri Lanka today are exporting goods and sending our money abroad.

But Anagarika Dharmapala wanted the entire country to be self-sufficient and sent many of his colleagues at the time to learn innovative techniques and marketing strategies which could be implemented here. For one to be the 'Father of the Nation', he should have a strong vision that would lead a country to a better height. Anagarika was able to do that. In future Sri Lanka will face a crisis with Western influences and the wiping out of the Sinhalese race."
This event was followed by an awards ceremony which was another co-event to commemorate his anniversary.