---


The Rajapaksa Administration is gearing up to host the Commonwealth Heads of Government meeting (CHOGM) in November. Last weekend's news papers carried an interesting comment attributed to President Rajapaksa that his government must be cautious that it does not face a repeat of history of a previous SLFP government, under Madam Sirimavo Bandaranaike, which also very successfully hosted a significant international conference, the Non Aligned Movements' (NAM) heads of government summit in 1976 but shortly thereafter comprehensively lost the general elections in 1977 - from which political wilderness the SLFP did not come back for seventeen long years, until under former President Chandrika Kumaratunga the SLFP led People's Alliance, in 1994 defeated the UNP. A state of affairs, which except for a brief and rather unsuccessful co-habitation experience for two years in 2002 and 2003, continues nineteen years hence, of which the past seven years has been under President Rajapaksa.
The factors that led to the SLFP's comprehensive defeat in 1977 were largely economic and quite unrelated to the foreign policy of the SLFP, which was actually quite successful during that period. Sri Lanka boxed way above its weight in international relations. However, currently for the Rajapaksa Administration, its decision to host the CHOGM has resulted in several pressures on its domestic policy, which is constraining the Rajapaksa Administration's governing impulses, especially its national or ethnic policy and post-war reconciliation policy.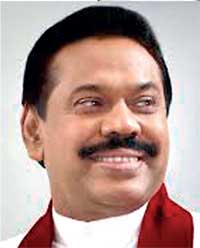 President Rajapaksa had two very different presidential election victories; prewar in 2005 and post-war in 2010. In 2005 he barely squeaked in by a mere 2 per cent majority over his rival, the much maligned Opposition leader Ranil Wickremesinghe. Post war in 2010, he won by a huge 17 per cent over his rival, Democratic Party leader General Fonseka. However in both election victories, the similarity was that President Rajapaksa really only secured the Sinhala vote. In 2005, this would have been insufficient to win the election, except that the LTTE ensured his victory, by calling for a boycott of the polls by Tamils. President Rajapaksa's victory margin of 180,000 votes being less than the likely UNP vote in the consequent polls-boycotted Tamil majority, the Jaffna district which had over 320,000 registered voters and the likely UNP large majority there would have seen a Ranil Wickremesinghe victory. However, postwar in 2010, President Rajapaksa followed up with a 57 per cent popular vote victory, gaining a preponderance of the Sinhala vote.