---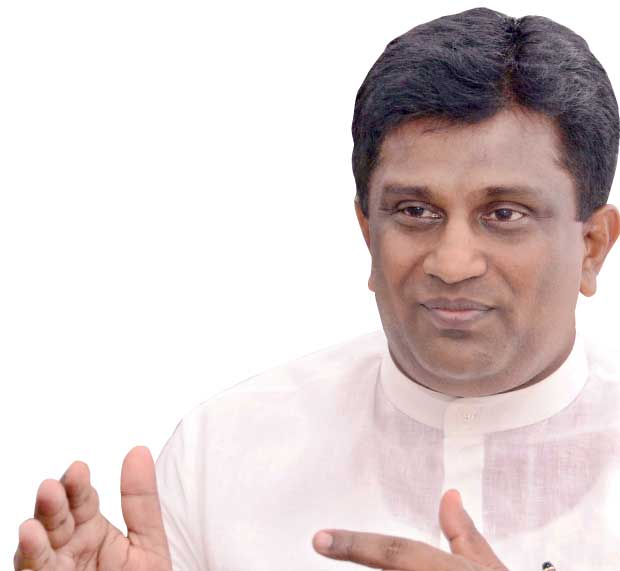 Deputy Minister of Power and Renewable Energy, Deputy Whip of the Government, UNP Leader of Kalutara District and UNP Working Committee Member Ajith P. Perera in a candid interview with the Daily Mirror acknowledged offering jobs of the Power and Renewable Energy Ministry to his UNP supporters. Further, he said that he informed President Maithripala Sirisena and Prime Minister Ranil Wickremesinghe beforehand not to offer him the post of Justice Minister that fell vacant after the removal of Wijeyadasa Rajapakshe. Following are excerpts of the interview.
---
If Thalatha follows in Rajapakshe's footsteps, we will fight for her removal too
AG's Department isn't an attractive place for young capable junior lawyers
I refused Justice Minister portfolio beforehand
Maintaining Norochcholai Coal Power Plant akin to looking after a disabled child
Having a close association with Arjun Aloysius per se doesn't mean Ravi Karunanayake has a connection with the bond scam
---

Q Now it's almost a year after the Government initiated 'Surya Bala Sangramaya'- dubbed Battle for Solar Energy- that aims to add 220 MW of power to the country's grid by 2020 or supply 10 percent of the country's current daily electricity demand. How is the progress of the project?
We were able to add 116 MW of solar power to the national grid within last year. I must say the solar power method is very progressive in the country. With the new loan scheme of six percent per annum, the project 'Surya Bala Sangramaya' is going very well.
We have another programme on roof-top solar panels for citizens to generate power on their own. It's a relief to the Government. Solar power will play a major role in terms of alternative power generation sources for Sri Lanka. We are going to build an energy park of 1,040 MW of power in Pooneryn area.
Under this proposal, the construction of a hybrid energy park consisting of 240 MW of wind power and 800 MW of solar power will be built in three stages. That will be a very important and viable project for Sri Lanka. A 100 MW Solar Park will also be built in Siyambalanduwa, Monaragala. Within the next three months, we will float the tenders for all these projects. In addition to that, we are working on small-scale solar power plants on tender basis.
Q The waste of electricity was about 11% in 2015. What is the percentage of electricity waste at present?
The percentage of power waste has now decreased from 11% to 9.9%.
Q The Ministry stated that it's aiming at minimizing it to 8% by 2020. Tell us how it's going to be done?
Generally, power can be wasted during the power transmission from the generator to the grid and during the power distribution due to human factors, technical faults and inefficient equipment. The waste of power is 4% in Lanka Electricity Company Private Limited (LECO) areas while the Ceylon Electricity Board (CEB) that is responsible for the power transmission has 9.9% of power waste. We are also working on Demand Site Management (DSM) from which we target to save at least 500 MW of power, using various methods.
Q Two 10MW wind power plants awarded after an international tender has been delayed due to problems in obtaining land. What is the current status regarding this?
There was confusion about the land following a protest by residents in the area. However, we have sorted out these things. A new land was bought. The construction will begin within a year on the new land in Jaffna. Wind will be a feasible option as we get wind even during the night unlike sunlight. Apart from the wind power park in Pooneryn, there is another 100 MW wind power plant under construction in Mannar Island. There are two other 10 MW wind power plants in the Jaffna peninsula.
Q Isn't the Norochcholai Coal Power Plant a white elephant?
Well, it's just like looking after a disabled child. In fact, we are facing some unusual technical difficulties at the Norochcholai Coal Power Plant due to weaknesses of its grid. Apparently, there is no solution to the problem. We, as the Government, can't do anything with this power plant due to its nature. It's a massive power plant which has unfortunately inherited several weaknesses.
Thus, it's highly unpredictable as to when we will face the next blackout. That is why it's mandatory for us to look for alternative power sources. Last November, all the three machines at the power plant collapsed suddenly. Fortunately, we were able to start one plant within a week and the others later, but by incurring a heavy cost in the process. What we should do is focus on alternative power plants because relying on Norochcholai is very dangerous.
Still, it's worth keeping the power plant operating despite issues within. The current power availability of the power plant is about 85%. The problem is we are compelled to heavily rely on Norochcholai. Therefore, we aren't in a position to halt the power plant even for maintenance. The power plant is lacking an auxiliary power generation system to deal with sudden blackouts. In a standard power plant, it's mandatory to have an auxiliary power system. It's a failure on the part of consultants who should have done that.
Q You were one among many vocal politicians who aired views on the good governance process of the Government. Is everything happening as expected?
Not necessarily. We expected to have a proper and a fair trial process against the corrupt people, including politicians and their bigwigs, within a few months after the establishment of the new Government. The beginning of the investigations is sadly very slow. There is a considerable level of resistance against the Police Financial Crimes Investigations Division (FCID). Some unexpected resistance within the Government delayed the whole procedure.
The criminal justice system of this country is very slow and inefficient though the country has high quality judges and prosecutors. Also, there are many holes in the criminal justice system for those who are powerful to manipulate the entire system. They are powerful enough to slow down the entire system. This kind of extremely slow and inefficient process doesn't represent a proper justice system.
Q The development projects are apparently not delivering under this Government. Why is that?
Honestly, I am not satisfied with the development projects under this Government due to the very slow procedure in everything, which is the result of various negative reasons. Of course, the country received an unbelievable amount of debts gifted by the previous Government. We also have a very weak taxation system which has contributed to the decrease in Government revenue. I believe that slowly but steadily we will be able to deliver what we promised to the people.
Q There are many differences of opinion within the Government. Meanwhile, there are many unsolved issues, the Government promised to solve. Will the Government be able to deliver amidst this complicated background?
It's a feature of this national Government concept, built with two main political parties who have different principles and is under the administration of two leaders with different ideologies and styles. This is the beauty of this concept which is new to Sri Lanka. We, as the UNP don't have the majority in the Parliament. But, the Government is enjoying the two third majority. It does make us very comfortable. But, in order to get that two third majority, parties have to make a compromise.
Ultimately, it's the citizens of this country who enjoy the benefits of this union. The UNP could have governed this country with the 107 seats with the support of minority parties and some breakaways groups. We didn't want to do it at the beginning. Even now, we are willing to continue with the national Government for three more years.
Q Just because there is a national Government, do you think that the politicians of Sri Lanka are compromising with each other in making decisions for the country?
Two main leaders President Maithripala Sirisena and Prime Minister Ranil Wickremesinghe might have arguments as they are from different backgrounds with two different philosophies. But, in the end, they discuss and come to an agreement to make the best decision for the betterment of the people.
Actually, they are forced to agree with each other. The President of this country can't run this Government without the majority in parliament and the UNP can't run the Government without the executive president and the support of the SLFP members who are in the Government. This kind of a balance creates an environment where politicians have to compromise.
For a better example, have a look at the Ministry of Power and Energy where I, as a hardcore UNPer, the UNP Leader of Kalutara District, UNP Working Committee Member and Deputy Whip of the Government, am working as the Deputy Minister with the Assistant Secretary of the SLFP as the Cabinet Minister of Power and Energy under the same roof. But, there is no dispute at all in our ministry. This ministry is a very responsible one where any kind of a mismanagement or wrong decision can directly affect the people. Basically, it's all about a mutual trust. I think other deputy ministers should also follow this arrangement.
Q Is the Joint Opposition a threat to the Government?
Not at all. The members of the Joint Opposition are destroying themselves and their grand old party, the Sri Lanka Freedom Party. We are fortunate to have them in Parliament. In the coming Local Government Elections, that will most probably be held on December 9, everyone will see what degree of strength the so-called Joint Opposition has. Former President Mahinda Rajapaksa wants to destroy the SLFP and build a new party to fulfill personal agendas.
Ultimately, naturally, the benefit of the division within the SLFP goes to the UNP. Since the SLFP is contesting the upcoming Local Government Elections as a divided party, the UNP will win at least 70% of local Government bodies easily.
Q The Former President Rajapaksa recently said that bringing a no-faith motion against Health Minister Rajitha Senaratne is an appropriate move. Do you agree with him?
It's a democratic right of the Joint Opposition members. Nothing will happen when they lose the elections by a heavy margin as a result of a counter campaign by the relevant minister if they can't prove specific allegations against the minister. In my view, this no-faith motion against Health Minister Rajitha Senaratne is premature. It will present the Government with another victory just before the Local Government Elections.
Q Will the UNP take action against the hardcore UNPer and Former Foreign Affairs Minister Ravi Karunanayake if he is found guilty of dealing with Perpetual Treasuries Head Arjun Aloysius?
The witness Anika Wijesuriya didn't have any allegation against Ravi Karunanayake. She revealed about a dealing where Karunanayake's name was linked. There are no specific allegations levelled against Former Minister Ravi Karunanayake on the Central Bank bond scam. The allegation was regarding an unethical practice that sparked uproar within the public. Having close associations with Arjun Aloysius per se doesn't mean Ravi Karunanayake has a connection with the bond scam.
It's very unfortunate for such a senior politician to face such a situation. I think the Presidential Commission of Inquiry on the bond scam will deliver its final report within the next few months. Thereafter, the UNP has to decide the fate of Ravi Karunanayake. If there is evidence connecting Karunanayake with the bond issue or any kind of irregularity or criminal activity, he will have to face the criminal justice system. There is no option for him. We will see how things progress with time. Still, we don't know the real evidence and know only what is reported in the media.
Q How did everything go wrong for former Justice Minister Wijeyadasa Rajapakshe?
There is no evidence to prove the fact that former Justice Minister influenced the AG's Department to delay the cases relating to Rajapaksas. He just didn't care about the delays regarding all the cases. He is a very good lawyer, but he didn't perform as Justice Minister. Wijeyadasa Rajapakshe supported the Joint Opposition indirectly. That is why he is unusually comfortable with the Joint Opposition members.
Days after removing him, he was seen enjoying his friendship with these people with indictments. People who spoke on behalf of Wijeyadasa such as Rohitha Abeygunawardena, Udaya Gammanpila, Namal Rajapaksa and Mahindananda Aluthgamage are facing serious charges in courts. They are the very same people who don't want the country to have a speedy trial system. He supported these people indirectly without fulfilling his responsibilities and the duties vested upon him as the Minister of Justice of this country.
Q You were in the forefront when criticism was levelled against him both at the UNP Working Committee meeting and outside too. Did you expect that the President would ask you to replace Wijeyadasa Rajapakshe?
Honestly, I knew the position of President Maithripala Sirisena and Prime Minister Ranil Wickremesinghe from the beginning. Both leaders, who trust me a lot, might have asked me to replace former Justice Minister Wijeyadasa Rajapakshe. I know I am senior enough to take up the job and I am capable of handling the Justice Ministry of this country. It is just that I didn't want it.
I sent a message in advance to the President and the Prime Minister requesting not to put me in trouble. Nonetheless, it isn't ethical for me to take up the portfolio which former Justice Minister Wijeyadasa Rajapakshe because the campaign against him was led by me. If I replaced him, it would have created a long term negative impact on my image.

On the other hand, though my portfolio is limited to that of a deputy minister, I am really enjoying what I am doing. I am learning a lot by working in this challenging and responsible Ministry of Power and Renewable Energy. Even this ministry is a very good place for my party supporters who receive a lot of job opportunities.
Time will decide my fate. As a member of the Parliamentary Monitoring Committee on Law and Anti-Corruption, I am able to give my opinion to the Justice Minister. Being a senior counsel, with a lot of experience in High Court trials, I know the criminal justice subject very well. I know what the weaknesses of this system are. Therefore, I will definitely extend my support to the new Justice Minister Thalatha Atukorala. She is an honest and experienced politician who knows the basics. All the members of the UNP will support her so that those who were denied justice will get a fair trial.
Q According to you, Minister Thalatha Athukorala is in trouble now, isn't she?
Well, it's a very big challenge for her to perform her duties in this kind of a sensitive environment. I think she will perform under pressure because she is a very strong lady. If she will also follow in the footsteps of Wijeyadasa Rajapakshe, we will fight for her removal too. Let's give her a few months and see her performance.
Q In an earlier answer, you said the criminal justice system of this country is very slow and inefficient. Also, you said you know what the weaknesses of this system are. Suppose you were given the Minister of Justice Portfolio, what changes would you recommend to the criminal justice system?
We need 130 more state counsels in the Attorney General's Department. Currently, we have only 100 state counsels in the Criminal Justice Section of the AG's Department. They need to be paid more. At the moment, this Attorney General's Department isn't an attractive place for the young capable junior lawyers. Most of the capable and young lawyers aren't seeking jobs at the AG's Department due to the very low salary and the limited exposure within the department. The Government has to pay them well.
Secondly, we need at least 25 more High Court judges. Ten more High Courts including five in the Colombo District, one in Anuradhapura, Ratnapura, Matale, Gampaha and Matara should be established. A day-to-day trial basis should be set up in courts to speed up the entire prosecution process. Day-to-day trial law is in the Criminal Procedure Code even today. But, we aren't following that rule due to various practical reasons. We need to address those issues. Anyone accused can't complain about speeding up of the trial because it is a basic feature of a free and fair trial.
Moreover, there needs to be pretrial process in the High Courts where a new set of judicial officers, identified as pretrial judges should be appointed. When the system is changed to day-to-day trial basis, all relevant documents, availability of the counsels and personal difficulties of the judges need to be concerned and only thereafter trials should be arranged. Otherwise, cases will be postponed until things are made ready. The role of pretrial judges is basically preparing for trials. This particular proposal is accepted by various committees, but wasn't implemented.
New laws establishing Article 156 of the Constitution, that acknowledges the UN Treaty on Anti-Corruption, should be introduced soon. It was in the United National Front (UNF) manifesto, but its implementation hasn't happened so far. As the existing law isn't strong enough, a new law should be introduced to recover stolen properties. Convicting culprits of public property thefts is a separate thing. In the case of the Perpetual Treasuries, a new law should be there to recover what they have allegedly stolen from the country.
We can't force The Attorney General to do these things. It is certainly not a matter for the Justice Minister to advise the Attorney General on these things. It isn't for politicians to name specific cases to be taken up by the AG's Department. We won't do that. But, we are asking for trial-at-bar for suitable cases. The AG and the Justice Ministry will decide on what cases should be heard at trial-at-bar.
I support the proposal of an Anti-Corruption High Court and a Permanent Separate High Court in Colombo to hear money laundering, bribery, corruption and fraud cases. Other cases connecting terrorism and child abuse shouldn't be mixed with these cases, so that delays will be minimized. Article 105 of the Constitution allows Parliament to enact a new law. We don't need Constitutional Amendments to establish a new court. A new law setting up the new Anti-Corruption High Court can be passed with a majority in Parliament. It's also about not giving facilities and relevant resources to the AG's Department. If the Government can provide better facilities and requirements to the department, they will perform. We aren't doing that now.
Q There were reports on some websites and social media that Perpetual Treasuries gave you money to cover them up in the COPE regarding the bond scam. Are you aware of these reports? If so, what do you have to say in this regard?
These reports were on social media and some sub-standard web sites sponsored by Joint Opposition members. I complained about this campaign to the IGP. An investigation is in progress. Earlier, these reports said I received a condominium in Colombo from Perpetual Treasuries and later they said I was offered money. I didn't do anything to support Arjun Aloysius or his Perpetual Treasuries.
Everyone knows that I was the person who suggested that a criminal investigation should be initiated regarding the bond issue when we were discussing in this regard at the COPE Committee. I am very vocal against the bond scam. There is no logic in these allegations. They are aware of my communication skills and my capabilities. The so-called Joint Opposition might have identified future leaders of this country. That is why they are attacking me to hinder my journey. However, I don't care about these allegations.
Everyone knows that I was the person who suggested that a criminal investigation should be initiated regarding the bond issue
I strongly believe that these thieves, including Perpetual Treasuries Heads, deserve a place in prison. People like Arjun Aloysius was continually criticized by Dr. Harsha de Silva and Eran Wickramaratne even under the previous Government for manipulating the share market. The same group of people used the capital earning of those dealings in the bond market with insider support. The country should have a proper law to take action against insider dealings. There are some laws that govern the stock market. But, when it comes to the bond market, it's very complicated.
These kinds of false allegations make me emotional. I know specific people who are behind this campaign. I will fight until those people are put in a place where they deserve to be.