---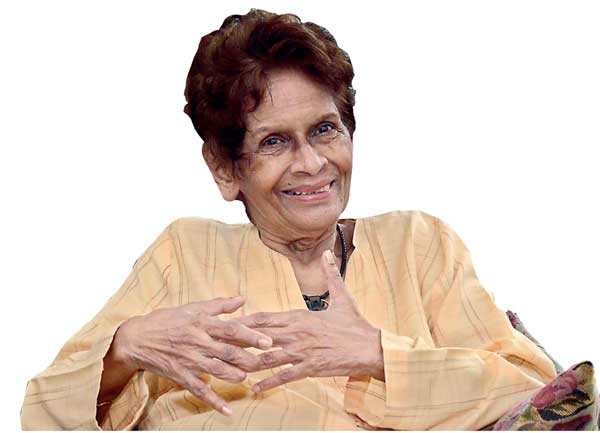 Eminent Attorney-at-Law, Manouri Muttetuwegama, the Chairperson of the Consultation Task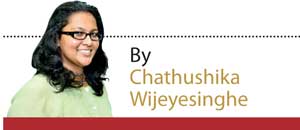 Force Reconciliation Mechanisms (CTFRM) in an interview with the Daily mirror said that the CTFRM and the Secretariat for coordinating Reconciliation mechanisms was trying to give voice to voiceless people and bring justice. She stated that the purpose of the CTFRM was to seek public opinion on proposed mechanisms on the reconciliation.
Following are the excerpts of the interview:

Q As the Chairperson of the Consultation Task Force on g Reconciliation mechanisms why was a reconciliation mechanism needed? As ou see there was no mechanism at all or what we had was not sufficient?
The word mechanism is used there is, if I put it simply the consultations are going to take place with affected people. You take it for granted how they have suffered, for instance a soldier missing in action, a disappearance which has not been investigated, losing your house and property etc. We are not investigating whether that thing happened. We are talking what was your response in time to get redress. Hence the structures coming there.
The society functions through structures. If some wrong happens to you go to the police and they conduct investigations. Or you go to the Grama Niladhari. These existing structures that are there to keep things working in a community. Including your neighbours, your temple and other religious places things which turn for assistance. To that end, consultations would focus on designing the mechanisms for reconciliation.

These consultations are taking place in the context of transitional justice because we are in a period of transition. We have to re establish those transitional structures. Transitional justice is usually categorized under four pillars. Since it is a transitional period you are addressing justice for all.

The office of the missing person's- disappearances that has fallen common to all people from north south, east and the west of our country. Its island wide and these consultations are island wide. When you have reparations so that the losses you have suffered of course no one can compensate for the loss of your son but at least in the search for him, your house is gone, wealth is gone – this is reparation.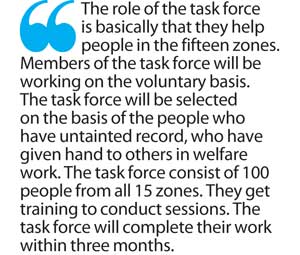 Then you have a truth and reconciliation commission. This is where people will come and give their version of how they understand what that stage was. The fourth would be accountability mechanism. A lot of people get scared and alarmed. One thing we know is you have a right to complain to the Police where they take up the case and proceed. Where you can identify where a wrong is committed, if its wrong under the existing law and every other thing like that.

These are the four pillars. During the past thirty years there were criticisms about law making, in equity, delivery of services, criticisms on inequality in opportunities of education and health everybody accepts that. Through the consultation process what we are trying to do is to give back voice to the people so that they can express their opinions. It is very fundamental thing.

We will be holding meetings at national level; we are starting with religious bodies. After all reconciliation, peace, justices these are the things people are thriving for. There are several groups that have been dealing with peace and reconciliation.

There are people who are engaged in charity work to ameliorate difficult times. The first consultation will be with them. Then we have consultations with professional bodies. Of their recommendations we build structures to bring about peace and justice to the future. There will be no interference with the people who come before us or witnesses before, during or after. We have divided country in to 15 zonal areas. In each zone persons responsible prepare report giving people's ideas and their own recommendations. Every bit of evidence in 15 zones recorded in our data base based in Colombo and based on that national task force will prepare a reports. To which those fifteen annexures are attached.

QWhy public consultations are needed?
Because people in this country especially when it comes to victims have a right to decide how we deal with their past and secure their future. The countries which have had these types of consultation have proven that such community participation improve the possibility of achieving truth, justice and reconciliation.
The public consultations increase the opportunities that the future mechanisms will be meaningful and acceptable.

Q What is the task force?
The role of the task force is basically that they help people in the fifteen zones. Members of the task force will be working on a voluntary basis. The task force will be selected on the basis of the people who have an untainted record, who have given hand to others in welfare work. The task force consist of 100 people from all 15 zones. They get training to conduct sessions. The task force will complete their work within three months.

Q When do you think the four pillars can manifest in physical form?
The office of the missing persons there has been having consultations with the civil society about it. There is a process to go through. However this will be an independent body. Missing is missing but there is a difference between death and missing. An investigation will be conducted and these processes won't get delayed. In the meantime the right to know what the investigations are taking place when they are taking place etc. The role of the office of the missing persons is not prosecution. Their role is to find out. Then they will come to reparations.

Q What public need to do in consultation process?
Consultations will be in three modes. There will be open meetings what are called town hall meetings. Anybody can come and speak up. There will be at least four such meetings in each zone. The zone members will organize these. Then there will be focused group meetings. The focus is on a particular issue. It maybe sexual abuse, a disappearance, issues affecting women, youth etc. The zones will identify the respective area. And there will be one to one consultations as well. We have put these in to papers and web page as well.

The public can participate in public consultations by sending a written submission via post or to our web site , attending public meetings which I mentioned earlier or even by sending their submissions anonymously.

Q Role of the people in the south with regard to consultations?
It is not about North and the South. It is about the people. Irrespective of whether you are from North or South it is your duty to contribute to this.
Pics by Samantha Perera