---
This is a country that's obsessed with elections. Now most of the citizens of the country are getting ready for the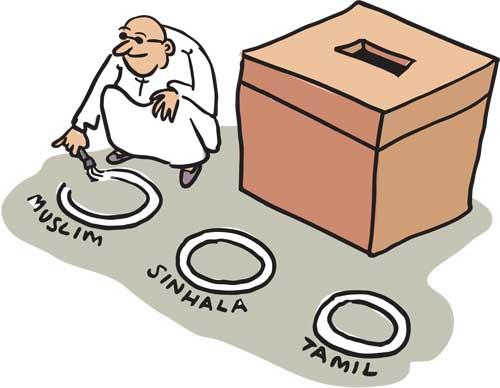 upcoming Parliamentary Elections. What we are not obsessed with is to send lawmakers with a clean sheet to parliament.
President Gotabaya Rajapaksa wishes to have the elections and to install a new cabinet in parliament. One of his pledges during the last presidential elections was to create a secure nation where people belonging to Sinhala, Tamil and Muslim races can live in harmony.

But as we know there is tension between these communities; especially after the Easter bombings which sees fingers being pointed at the minority Muslims. It was a group of misguided Muslims who went about exploding bombs at these Christian places of worship, but the entire Muslim race had to take the brunt of these horrendous attacks.
The catchline which is to have a secure nation where all three major races can live peacefully and in harmony was also used by former Prime Minister SWRD Bandaranaike in 1956. Sadly the status quo has not changed for the past 64 years despite there being several changes in governments and the end to a bloody three-decade-old civil war; which left scores of civilians dead and almost wiped out a vibrant Tamil culture.
Lawmakers surface from time to time and go about making hilarious promises. The widow of SWRD Bandaranaike, Sirimavo, made an election pledge during the 1970 General Elections by promising to provide rice concessions. She promised to give two measures of rice per rice ration book. In 1988 she promised to bring in peace to the country.

Then we had the Ranasinghe Premadasa era. The lawmaker from a less affluent background rose in the ranks of the United National Party (UNP) and became the President of the country with the blessings of both the rich and the poor. Critics will vouch that the late Premadasa achieved some of his targets; chief among which was to eliminate poverty and provide housing for everybody by the year 2000. He was bumped off by tiger rebels on May 1, 1993; sending to the grave not only his remains, but also some of his ambitious plans to strengthen the country's economy.

President Premadasa's son Sajith is a key player in the present political stage. He also takes a similar line that his dad took and focuses on the less affluent in order to give them a better life. Sajith also promised to provide shelter to all by the year 2025.
At present Sajith, heading his own party, sees as his biggest opponent former military man Gotabaya Rajapaksa. What can be observed through the eyes of sharp political analyst is that the Sri Lankan political fraternity is not divided, but united. The manner in which Phottuwa party's Mahinda Rajapaksa and UNP's Ranil Wickremesinghe have got on as rivals for years in the political scene provides enough matter to chew on this subject of there being unity among lawmakers. The same old faces appearing to take over portfolios despite there being government changes shows that political rivalries exist only for a short time.

One person who wanted to change this system was president Premadasa who didn't have room for passengers in his team. He didn't run for long and made so many enemies. Another lawmaker who is taking on this line is president incumbent Gotabaya Rajapaksa who prefers to work with people with a military background and a few individuals with a proven track record in their chosen professions. Sadly for this country the political set-up doesn't allow for the settling down of such individuals like Ranasinghe Premadasa and Gotabaya Rajapaksa.
Film director and playwright Dharmasiri Bandaranayake is one person who depicted this corrupt political set-up in his stage creations which carried the underlying message that whoever who tries to change this political system pays with death or destruction.