---

With the lapsing of the May Day, the future of SLFP and related subjects were concerns that were taken in for a discussion with Social Development and Welfare Minister S.B. Dissanayake.

Q What is the stance of the SLFP?
Our party and the UPFA were defeated at the last elections. Our own party secretary walked out and contested for the post of Presidency, which he consequently won. He then became the leader of our party and formed a government with the UNP, which later harassed our members and compelled President Maithripala Sirisena to intervene and end the quandary. While taking seniority into account, SLFP members were appointed as ministers, and the ones who did not receive such appointments joined hands with the opposition thus creating a division. Meanwhile, former President Mahinda Rajapaksa who handed over the party leadership to Maithripala Sirisena, again showed interest in assuming office, and he was joined by certain SLFPers. And we did witness many who indirectly supported this move.

QSajin Vass who lambasted the Yahapalana government became an organiser of the Galle May Day rally. What do you think of this?
Sajin Vass was a party member, but however he was not given nomination at the general elections. He was alleged to have been involved in several misdeeds, and now he had volunteered to divulge everything by becoming a crown witness. Therefore he needs protection and cannot be victimized.

Q Aren't you ashamed to have a person like him in your fold?
Until he is found guilty, he will remain as a suspect. And he is willing to spell out the truth on these matters. Providing security to him at this moment is not undemocratic.

Q Before Maithripala Sirisena assumed Presidency, he said the country was above party politics. But doesn't it now appear that he is more concerned about the party?
President Maithripala Sirisena'sprimary concern is the country. Safeguarding the SLFP is also vital.

Q Have recent declarations by Wigneswaran and conduct of Sampanthan aroused the people?
A - The Tamil people have a right to propose a Federal system. We should not rush into conclusions. We are all responsible for the situation that once went beyond Federalism up to Eelam. TNA has not demanded Federalism from us. Both main parties are opposed to it. It is just a popular slogan.

Q Did Wigneswaran intervene and attempt to get this proposal adopted?
He can get it adopted, but it cannot proceed beyond that. There had been instances of similar motions in the past.

Q What has happened to pledges made during the last elections?
Many profound promises were made at the last elections. They have to be honoured in stages, which was happening currently. This is not a government that has forgotten those who elected them to power. There is an economic issue affecting the whole of Asia. Even the world economy is not supportive at this very moment. All these matters have to be taken into consideration. Do not forget that this government had honoured its pledges. It is important to increase the State income. We are sure that the citizens would fathom these concerns gradually.

Q With taxes lined up, aren't the people affected badly?
Not really. The State income which had been around 23% had dropped to 12%. It is essential to increase this by introducing taxes. People had forgotten the relief measures already granted by this government. There are many State enterprises which had become burdens on the government.

Q Are you considering selling these enterprises?
There may be moves, but the SLFP is against them. However, there should be restructuring of these institutions. There is already a proposal to make a Sri Lankan joint venture.

Q Are you contented about the recent changes in the UPFA?
No. It so happened due to various reasons and were welcomed by everyone. It was I who proposed the name of Mahinda Amaraweera to the president. Mr. Amaraweera and Duminda Dissanayake should be given recognition. The president can work with them easily and he can also pull them up. Susil Premajayantha and Anura Priyadharshana who were the former holders of these positions are now working with them in a most friendly manner.

Q Duminda Dissanayake previously said disciplinary action would be taken against those who attended the Kirulapone rally. Did it happen?
The party would take appropriate measures to tactfully handle these delicate issues. The entire lot that went to Kirulapone cannot be chased out.

Q Are you thinking of having a new vehicle worth several million?
At present, I am using the vehicle that was previously used by Deputy Minister Nandimithra. It is under repairs. We had to return our vehicles the moment we lost our posts in the last government. The new BMW I used as the Higher Education Minister is now used by Minister Lakshman Kiriella. As ministers we should have good vehicles and it is not something to crow about. By providing good vehicles to ministers, the country's economy will not be affected seriously.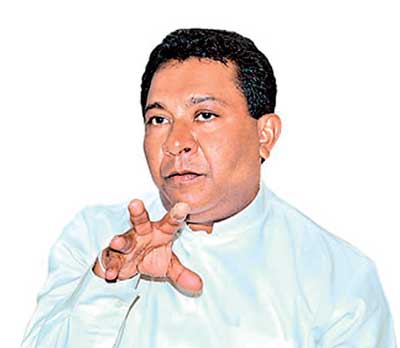 Q What are your thoughts about the next government?
The UNP should think of forming their government and the SLFP like wise. It will happen in a very democratic manner and President Maithripala Sirisena and Prime Minister Ranil Wickremesinghe can do it in an exemplary manner.

Q You were at one time referred to as the election machine, but you failed even to secure your preferential votes. What will happen at the next election?
Everyone is aware as to what happened at the last elections. We lost because we spoke the truth. We were candid and transparent in our actions. I was the one who obtained a record number of preferential votes from Kandy. I am confident of winning the next election with a record number of votes.