---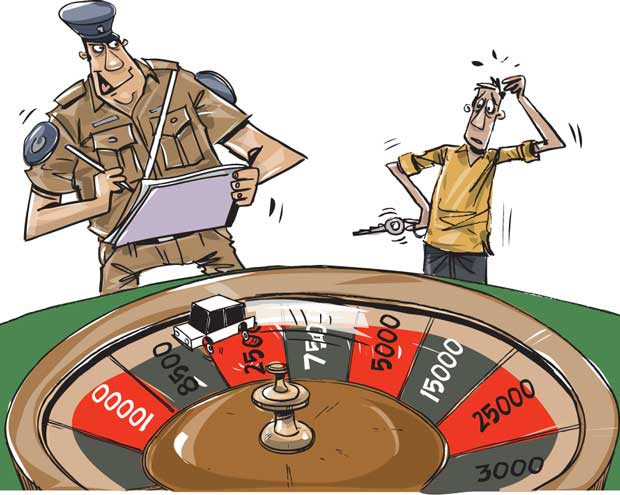 After Monday's discussions held by the Finance and Transport Ministers with private bus owners, operators and other stakeholders, it was announced they had agreed that a thumping fine of more than Rs. 25,000 would be imposed on those found guilty of seven traffic offences.

The offences are driving under the influence of liquor, driving without a valid license in possession, allowing a person who does not possess a valid license to drive a vehicle, speeding, overtaking a vehicle from the left, violating traffic rules at railway crossings and driving without possessing relevant insurance certificates.

The agreement came after more than two weeks of protest and threats mainly by private bus operators that they would call a strike if the government went ahead with the budget proposal to impose bigger fines on those found guilty of any traffic offense. The private bus operators and other critics accused the government of trying to collect more money because of the massive debt crisis.
But Finance Minister Ravi Karunanayake and Transport Minister Nimala Siripala de Silva, speaking on behalf of the two major parties of the national government, said the main aim of increasing the fines for traffic offences was to curb the number of road tragedies which had increased to grave proportions during the past two years partly because of the huge increase in the number of motor vehicles.

The Transport Minister revealed some shocking figures. Every year, the number of accidents due to drunk-driving has increased to a staggering 50,000 while another 49,000 accidents have been reported due to vehicles being driven by drivers without valid licenses. According to statistics 2,817 people were killed in road accidents last year -- about 400 more than the number of people killed in 2014. Up to November this year, the death toll has surpassed last year's figures.

The red light and deadlines are clear. This must be curbed. We also know that almost 100,000 people are critically wounded in road accidents each year, causing a heavy burden on public hospitals. The Transport Minister said the people were aware that the fines were being increased for their safety and well-being and not for the government to collect more money. According to the Transport Minister, close circuit television cameras (CCTV) will be set up in heavy traffic areas all over the country and highways will be monitored by special cameras.

Earlier, Finance Minister Karunanayake in his budget proposals on November 10 had announced that a minimum fine of Rs. 2,500 would be imposed for any traffic offense. But this proposal will now be withdrawn and instead there will be a proposal to impose a minimum fine of more than Rs. 25,000 for those found guilty of seven specified traffic offences. Lanka Private Bus Owners Association leader Gemunu Wijeratne said they had agreed to accept the new proposal after several rounds of talks.
Surveys have also shown that almost half the 1.1 million three-wheel taxis are operated by drivers who do not have licenses. They and the estimated 1.3 million motor cyclists are known to be responsible for most of the road tragedies closely followed by private buses which often are driven recklessly for the operators and owners to reach their targets and earn more profits.

While we are in full agreement with the need to curb road tragedies, the government also must take steps to ensure that the massive increase in the fines does not pave the road for corrupt traffic policemen to earn more money.

It is known that in more cases of overtaking or comparatively minor traffic violations, bribes are offered and sometimes even demanded and gleefully accepted by traffic policemen. This also must be stopped. Any traffic policeman found guilty of demanding or accepting bribe must be fired or severely punished as a lesson to others. We will have road discipline, integrity and self-control only when motorists and police take the High Road.