---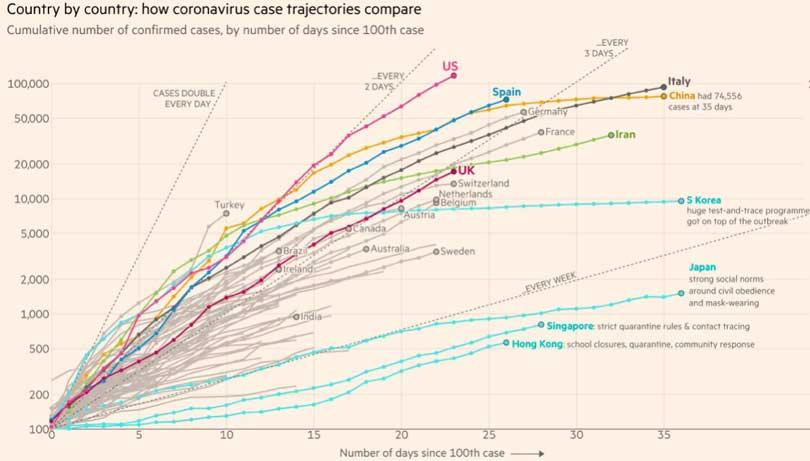 Chart from Twitter @paulkrugman

At times of personal and collective tragedy, people find solace in religion; some seek divine blessings, others ponder the impermanence of the life, many others do both.

Invocation of religion could be just symbolic for more earthly folks, but it could also be cathartic to some others.

Now, a God-defying pandemic is redefining the relationship between religion and the masses – and the disease itself while intensive social distancing measures are distancing worshipers from temples, churches and mosques. And, before such restrictions came into effect, religion seemed to have done much to spread the virus.

The Shincheonji Church of Jesus, a secretive Christian cult known for highly regimented religious practices and brainwashed followers was the ground zero of South Korea's coronavirus outbreak. Its leader, an octogenarian conman promised to take a selected group of 144, 000 members with him to heaven. He is now facing criminal charges.

In Malaysia, more than half of reported cases of coronavirus are linked to a global Islamic event attended by more than 20,000 devotees. Brunei and Singapore have traced some local cases to the event.

In Bangladesh, a mass prayer meeting held in Dhaka amidst the global coronavirus outbreak has caused alarm in a country, where the health system is ill-equipped to cater to its teeming masses even at normal times.

In America, some evangelical preachers and orthodox rabbis have defied calls to suspend mass congregations while in Tanzania, its president John Magufuli has asked the countrymen to go to church, to find 'true salvation'.
Sri Lanka's response to the corona outbreak has been a lot more proactive than in most countries, especially considering the lower number of reported cases then and now

Divine intervention might be less demanding than most mitigation measures currently in place. But there is no proof it is forthcoming. Still, tricky snake oil salesmen are at work to hoodwink the overzealous.

Last week in Colombo, 'Pirith pen' (Blessed water) was sprinkled by a helicopter ostensibly to bless the country in an initiative financed by a group of businessmen. While the symbolism is evident, the provision of drinking water to drought-stricken villagers would have generated more earthly benefits.
If every other Tom, Dick and Harry follow suit and choose to seek divine intervention (and also to make some political capital), health officials would have a strong case to worry about potential contamination and the spread of the virus by air.

Elsewhere, Aranodaya Mawatha at Obeysekerapura in Rajagiriya was sealed off after four adults and two children who participated in a religious service were found to exhibit symptoms of Covid-19. The infected are part of the two busloads of devotees who went on a pilgrimage to attend a service in Suriyawewa, led by a local pastor on March 15.
Another service at a Church in Jaffna by a Swiss pastor, who was later found positive to the coronavirus infection on his return, has caused concerns. Several individuals who had close interaction with him have been placed in quarantine, and other participants have been advised to undergo a period of self-isolation.
Last week, police raided a mosque in Horowpathana that conducted Friday prayers, defying the curfew. Eighteen attendees out of the 80-odd congregation were arrested while the rest fled the scene.

In another incident, health officials are closely monitoring the participants of another gathering at the Red Mosque in Colombo, after a father and son duo attended a prayer they were found positive to the coronavirus infection.

Strict curfews and social distancing measures have largely helped curtailing the spread of the virus. Earlier, in the absence of adequate action, the high priest of Siripada refused to suspend pilgrimages while the Kachchathivu feast was held in the presence of Tamil Nadu and Sri Lankan devotees.

(Among the recent Covid-19 cases are four Sri Lankans who returned from Chennai)

Most run-ins with the social distancing measures by the religious zealots happened before the countywide curfew was announced. However, the full scope of their repercussions would come to the surface much later. GMOA says Sri Lanka's corona cases would peak on April 7 or thereabouts.

Sri Lanka's response to the corona outbreak has been a lot more proactive than in most countries, especially considering the lower number of reported cases then and now. The first local case, a tour guide who travelled with an Italian tour group, was found on March 12. By noon yesterday, there were a total of 120 cases, and one death.

The number of infections passed 100 on March 25. In most countries where the epidemic recorded an exponential growth, it took barely two to three days for that number to double whereas in Sri Lanka, the number hovers at 120, five days after. In contrast, first 50 cases in Sri Lanka doubled in 6 days (from March 19 to 25).

A study by the Imperial College, London earlier found that the infection was doubling every five days since late January.

The low number of cases in Sri Lanka might be due to the pro-active mitigation and suppression measures that were adopted before the virus reached the threshold of the community spread.

However, the limited number testing also prevents the health officials from having an idea of the full scope of the virus spread, though the on-going curfew should limit the exposure even where there are silent carriers.

More dangerous though is the reckless behaviour of high-risk individuals who are contributing to the spread. In one incident, a village in Ataugama, Bandaragama was sealed off after a Sri Lankan who returned from the Middle East was found Covid-19 positive. To make matters worse, he had paid visits to almost all the houses in the village.

Also two villages in Kadayankulam, Puttalam and another in Akrurana, Kandy were sealed off yesterday after health authorities found two more COVID-19 patients.

Individuals who are hiding their travel histories and admit themselves to hospital and then being found positive to the virus have forced health officials to send doctors and nurses into self-isolation at least on two occasions.

As the world fights the pandemic, individual idiosyncrasies including religion are making it hard for science to beat the virus.

Follow @RangaJayasuriya on Twitter