---
The TV stations are reluctant to point out the shortcomings of the main player in this endeavor, the State
In a way media neglecting their duty by doing meritorious acts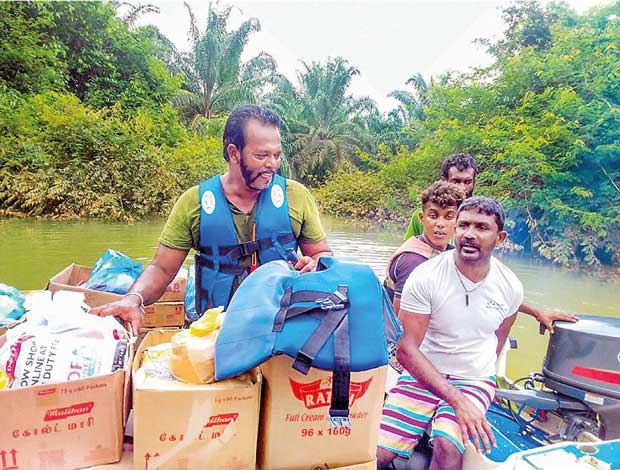 Out of the hundreds of pictures taken by journalists during the recent floods and landslide disasters and published in newspapers many would still specially remember pictures of four politicians helping disaster victims.

In one picture former President Mahinda Rajapaksa's son, Parliamentarian Namal Rajapaksa was seen carrying an old woman trapped in a house marooned in the flood water, and in another former prime Minister D.M. Jayaratna's son Parliamentarian Anuradha Jayaratne carrying apparently some food stuffs on his shoulders while in another President Maithripala Sirisena's son Daham talking to former Minister Pavitra Wanniarachchi while providing relief to the victims.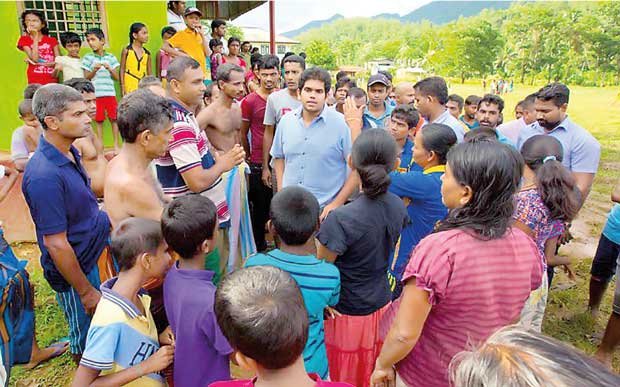 People's attitude towards Palitha Thewarapperuma is different as he had engaged in similar acts several times in the past
These three pictures were treated with scorn in the social media as publicity stunts while a fourth one depicting Deputy Minister of Internal Affairs, Cultural Affairs and Wayamba Development Palitha Thewarapperuma wading through flood waters with a gunny bag on his shoulders carried full of praise, as he has been recognized as a down to earth politician who personally intervenes in times of distress faced by the ordinary people.
These pictures have opened up a debate over the role of the politician during disasters in the social media along with another similar debate over the role of the media following almost all TV stations including the State owned ones having engaged in disaster relief activities.

Many people are of the view that politicians are not supposed to carry out manual work during disasters as they have a bigger role of managing the effects of the disasters by playing an administrative role.
Political culture is such that many like to believe that it was a stunt
The very nature of TV stations doing relief works, caretes a situation of conflict of interest ...
Parliamentarian Namal Rajapaksa, who was questioned during a TV interview on Monday about the picture portraying him carrying an old woman said that he couldn't ignore helping people, when they were in distress, despite him having gone to that area to assess the situation after the floods.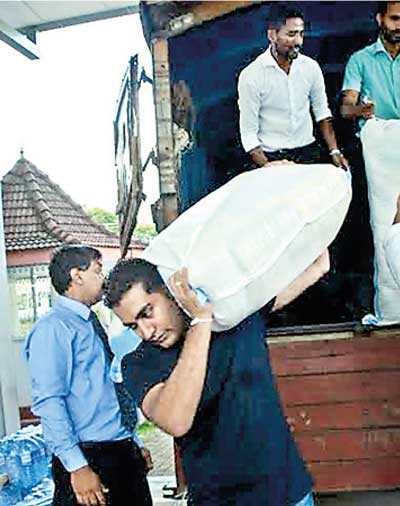 In fact had he been involved in those activities out of emotions he has to be commended. But the political culture of the country is such that many people like to believe that it was a stunt and many politicians do this kind of things just for cheap publicity. Were there no other person around to carry that elderly woman to a safer place, leaving the politician to do what he was supposed to do, one may ask.
However, the people's attitude towards Palitha Thewarapperuma is totally different as he had engaged in similar acts several times in the past as well. Recently he climbed down into a five-meter-deep well in the Ittapana village in Matugama, and brought out a human body floating in it when everybody refused to do the task.

In another incident he had broken a leg in a daring chase in Beruwala where he nabbed two cattle rustlers and saved the lives of six oxen stolen from a dairy farm in Matugama. Yet the question remains whether politicians should do manual work during disasters when they are supposed to manage the effects of the disasters with an overall perspective.
Also they seem to be reluctant to point out the shortcomings of the main player in this endeavor, the State.
However, people like politicians of their political party (and not others) to visit them when they are in need of help, in spite of the fact that no politician would be able to visit all his supporters, leave alone all affected, who had been hit by a flood or any other tragedy.
At the same time, being mindful of people's mindset politicians too prefer to visit the disaster sites and perform some stunts, apart from getting some amount of firsthand knowledge on the magnitude of the tragedy.

Controversy has begun to surround the role of the media, especially the television channels, as they are involved in relief activities for the disaster hit people apparently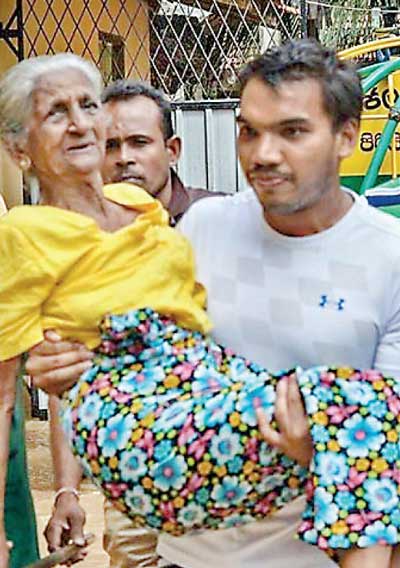 competing with each other.

Although some private television stations first engaged in these activities State television channels too had entered the "fray" this time. They collect relief items such as food, water bottles and medicine and distribute the items themselves and conduct medical camps for the victims, independent of the government relief mechanism.
Some television channels seem to take more time than what they take for their news bulletin for the propaganda of their charity work, sometimes irritating the viewers. They sometimes try to say that they were the first to visit the victims of a particular place.
This has triggered a debate in the social media over whether media should help the authorities to manage the effects of disasters by providing them information on the needs of the victims and carrying the messages of the former to the latter, without involving themselves in relief activities or whether they too can join in relief activities. At a time when many voluntary organizations and religious groups are involved in relief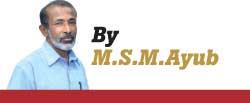 works, one cannot reject the involvement of media institutions in those activities.
Besides, media institutions, especially the television stations as organisations with a huge capacity to address the masses can perform better than any other organization, except for the State mechanism, in these activities. Also with their network of correspondents they have a larger capacity than other voluntary organisations have to identify the needy and assess the needs.

Sometimes journalists have been accused of just heartlessly doing their job without helping the victims of disasters. Journalists who covered the accident that killed Princess Diana in France on Aug. 30, 1997, were accused by French Prosecutors for "standing at the scene and continuing shooting rather than helping the injured." Kevin Carter, the South African photojournalist and member of the Bang-Bang Club, who received a Pulitzer Prize for his photograph of a famine hit girl stalked by a vulture, depicting the 1993 famine in Sudan was also accused of spending much time for taking the picture rather than helping the girl. However, due to the very nature of TV stations doing relief works, arising of a situation of conflict of interest cannot be avoided. Their excessive coverage on their own charity works incontrovertibly might and would undermine others' good work, especially the relief work done by the government entities, including the armed forces.

Also they seem to be reluctant to point out the shortcomings of the main player in this endeavor, the State.

That is, in a way media neglecting their duty by doing meritorious acts. What a tricky issue!