---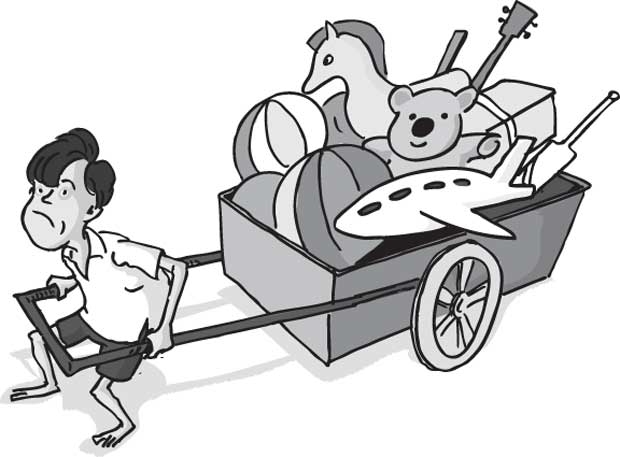 Monday June 12 was the world day against child labour and the International Labour Organization has said it has launched this day to focus attention on the global extent of child labour, the action and efforts needed to eliminate it.

Each year this day brings together governments, employers and workers organizations, civil society, and the millions of people to highlight the plight of child labourers and what can be done to help them.
According to the ILO, globally more than 1.5 billion people live in countries affected by conflict, violence and fragility. At the same time, around 200 million people are affected by disasters every year. A third of them are children. A significant proportion of the 168 million children engaged in child labour live in areas affected by conflict and disaster.

ILO says the 2017 world day focuses on the impact of conflicts and disasters on child labour. Conflicts and disasters have a devastating impact on people's lives. They kill, maim, injure, force people to flee their homes, destroy livelihoods, push people into poverty and starvation and trap people in situations where their basic human rights are violated. Children are often the first to suffer as schools are destroyed and basic services are disrupted. Many children are internally displaced or become refugees in other countries, and are particularly vulnerable to trafficking or child labour.
Ultimately, millions of children are pushed into child labour by conflicts and disasters.
If the United Nations sustainable development goals target SDG 8.7 which aims to "eradicate forced labour, end modern slavery and human trafficking and secure the prohibition and elimination of the worst forms of child labour" is to be achieved by 2030, we need to intensify and accelerate action to end child labour, including in areas affected by conflict and disasters. We need to do it together, the ILO says.

According to web sites, a recent United Nations Children's Fund (UNICEF) report highlights that children account for more than half the world's refugees though they comprise only a third of the world's population. Many of them and their families — from conflict-ridden nations such as Syria, Afghanistan, Somalia and Myanmar — have sought refuge. The United Nations High Commission of Refugees (UNHCR) has estimated that last year there were around 29,000 refugees and 6,000 asylum seekers in India alone. The largest groups came from Myanmar, Afghanistan and Somalia.
The UNICEF report says about 50 million children have either migrated to another country or have been displaced internally. Syria and Afghanistan account for the largest number of child refugees who have fled to try and rebuild their lives. Many of these children end up in the hands of human smugglers and traffickers only to suffer the worst forms of abuse.

But if there are children suffering displacement due to violence, even larger numbers of child migrants in Asia, and India are suffering displacement due to social and economic reasons. Professor Shantha Sinha, an anti-child labour activist and former chairperson of the National Commission for Protection of Child Rights, says that during her tenure as commissioner she met several children from Bangladesh, Afghanistan, Myanmar and Nepal.

"These children had no citizenship and no rights. Locals would say that these are not our children, so we can exploit them. I would insist to them that children are children, regardless of borders. We need to create social concern about them to make our system more sensitive to their needs. Unfortunately, children are not a priority for Indian democracy," she says.

In Sri Lanka, The National Child Protection Authority has proposed that a rupees ten thousand fine and a one year jail term be imposed on those who employ children in dangerous jobs. Compensation should also be paid to the child, the NCPA says, while a social environment should be created for children to enjoy the freedom of proper education, healthcare, play time and other recreation.

It says one of our main responsibilities is to create a proper environment for innocent children so that they could develop into civic-conscious citizens and contribute much towards the sustainable development of Sri Lanka.

The NCPA says that, though child labour is not a major problem in Sri Lanka, we need to ensure that it does not become a crisis. Therefore, even in our homes we need to ensure that we do not employ children under the age of 18 for domestic work.