---

The political scene in Sri Lanka is filled with stories of dynastic politics and we are witnessing the trend continuing, but with a small twist.

We saw the baton changing hands from SWRD Bandaranaike to Sirimavo and then to Chandrika and in much recent years Mahinda Rajapaksa creating the path for his brother Gotabaya to take the hot seat as the first citizen of the country.

While Gotabaya rewrites the script in Sri Lankan politics as the first apolitical president and comes under the spotlight, we also see an interesting development taking place in the political scene where the sons of two political stalwarts Mahinda Rajapaksa and the late Rohana Wijeweera-Uvindu Vidura and Namal Rajapaksa respectively-working their way up in the local political scene.
We've heard recently that Uvindu has shown interest in contesting the upcoming General Elections


Namal is selling a similar philosophy and acknowledges the fact that people are tech savvy and connected to the world

We've heard recently that Uvindu, an undergraduate studying politics in Russia, has shown interest in contesting the upcoming General Elections from the Sri Lanka Podujana Peramuna (SLPP) ticket from the Gampaha District. But party sources have said that President Rajapaksa has requested him to contest from the Colombo District instead. Another key member of the SLPP Namal is an ambitious lawmaker and its apt at this time to make a comparison of the political journey ahead of the duo.

One thing common about the two is that both Namal and Uvindu have shown a preference to engage in politics while mentioning the names and achievements of their dads the least. This is because they want to stand on their feat in politics without leaning on the lineage of their fathers. For the record Uvindu operates as Uvindu Vidura and intentionally drops the family name Wijeweera. We remember how Namal promotes himself and for that he craftily avoids mentioning the names of the two presidents this family has produced;especially that of Gotabaya.

Both Uvindu and Namal are educated and possess university degrees. Both were born at a time when the country was witnessing two rebellions. Namal, born in 1986, was a toddler when the government was stepping up the war against the tiger rebels. Uvindu, born in 1988, was just one year old when his father was brutally killed after state security forces captured him; thus ending the second uprising by the Janatha Vimukthi Peramuna (JVP). The JVP was formed by the late Wijeweera to stop the suppressing of the downtrodden masses by the affluent and the powerful.

However the person who has made some sought of an impact during recent political discourses is Uvindu who came under the spotlight when he was here on vacation. When one reads the interviews given by Uvindu it's obvious that he wishes to rally round people from all walks of life and carries no hatred despite knowing very well the political party which was behind the killing of his father. Even if he doesn't demand an inquiry into the killing of Rohana Wijeweera he has demanded something better for the entire country; find people who think about the country instead of looking around for a political party where the individual can fit into.

Most of Uvindu's recent years were away from Sri Lanka and in Russia where he continues to study politics. He is an undergraduate of South Ural State University and is doing a research on the unarmed conflict between Russia and the USA and the political relationships among countries like Sri Lanka, Pakistan and India for his thesis to complete a PHD.
But the best thing that happened to him while being away from home is seeing how the rest of the world is enjoying life. Uvindu has opined in interviews that Sri Lankans are still suffering despite receiving independence from the British 72 years ago. He even supports two periods of six months each for students in grade 9 or 10 to be in priesthood or in the military. All this to open the eyes of wisdom in people and discipline them.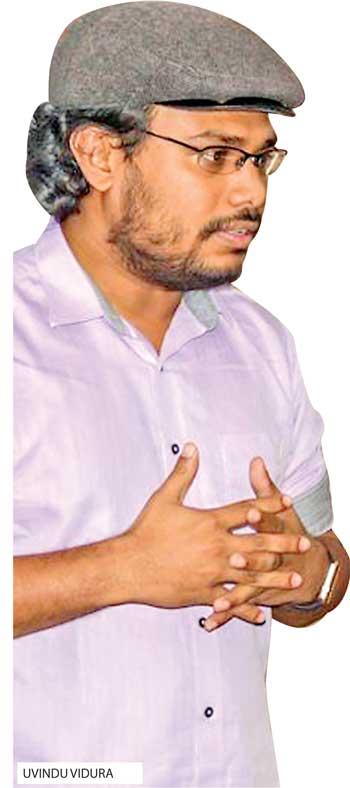 While pursuing a political career while nurturing his present thinking, and if his interest in politics is serious, he would bump into competition. Namal is selling a similar philosophy and acknowledges the fact that people are tech savvy and connected to the world. Both believe that despite the family roots in politics members of the next generation have to work hard if they chose to be lawmakers. He made these comments while speaking to Priya Sahgal of NewsX (an Indian electronic media company) during his first official visit to India. Though Namal acknowledges the fact that hard work is needed, he underscores that dynastical influence plays a crucial role in Asian politics.

Though Gotabaya is the incumbent president, Namal seems to be awaiting his turn quite ambitiously. He has got a start ahead of Uvindu and entered parliament in 2010 after contesting the parliamentary elections. Some of Namal's comments when scrutinised suggest he promotes left-wing politics. Despite his critics labelling him a 'political infant', Namal has broken ground in India and moves around with members of the political hierarchy of Sri Lanka's closest neighbour. His father is criticised for siding more with China and when the interviewer asked why that is during the chit chat with Namal, he rattled away saying "we've often approached India for development work, but we can't wait eternally till countries decide and there is the fact that a government gets only six years to be in power to be considered as well".

The young politician makes another observation. He says during this interview that work has shifted from mathematics to data, hence the next couple of years is crucial. He has his concerns about the use of social media and calls for some regulations because he observes occasions when things have got out of hand. He warns that the next generation would be reluctant to enter politics as a result of the present unethical trends in social media.

In his quest to surge ahead in life, the young Rajapaksa has engaged in several controversial ventures which include the starting up of a television channel and the youth organisation called 'Tharunyata Hetak. He also has had several brushes against the law. When one compares the other offspring of leading politicians, Namal qualifies to some extent in terms of going through the mill in politics. Uvindu on the other hand, despite being 'homeless' and brought up in a military camp after his father's demise, didn't face half of Namal's challenges. But given the present scenario where both are looking at political careers what matters most is not where they came from, but where they're going.

On a final note both Namal and Uvindu have survived tough times and weathered many a storm in their lives. They represent the next generation that would take over Sri Lanka politics after SLPP's Mahinda, UNP's Ranil and JVP's Anura Kumara retire from active politics. Both of them know what enjoying life is: especially Namal with his foreign sojourns, rugby activities and night car races. Uvindu has said 'when you go abroad you see how others are enjoying life while Sri Lankans are suffering'. They can implement their ideas if they receive power; something quite possible given that they are both working for the popular 'Pohottuwa party'.

But there is a point to ponder. Both will have to deal with a population where the majority are educated, but terribly lack wisdom and discipline.