---
After seeing through Sri Lanka's successful World Cup campaign in 1996, Ana Punchihewa, the then Sri Lanka Cricket Board president, had never thought he would fail at the election of office bearers. But on March 31 just few days after Sri Lanka won the World Cup, he was left devastated when he was beaten by Upali Dharmadasa at the election to wrest control of the Board an institution that was destined for greater opportunities following the victory. Money began to flow, players started to perform and everyone from politicians to businessmen wanted a piece of cake. The rest is history, with Sri Lanka Cricket being run by a few individuals with financial might over the last two decades. In a candid interview, Ana Punchihewa spoke of the need to change the constitution, the domestic cricket structure and, more importantly, to run cricket like a company.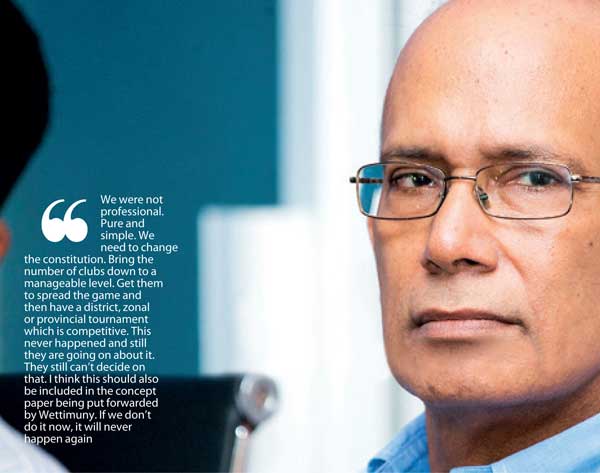 Q You entered cricket by accident but it seems to have really worked for you during your short stint as SLC head back in the day. How do you cherish this?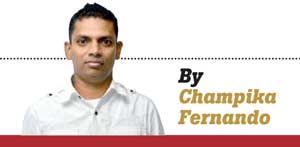 Of course, my first love was golf. But I was in cricket administration for two years, having been a vice president and a president of the Galle CC before becoming a vice president under the late Gamini Dissanayake. To answer your question, I was at the top of the world. You can't achieve anything better than that.

Q What were your biggest challenges in seeing the Board through a tough period and making it one of the most sought-after sports institutions in the country?
While I was a vice president, I saw what's happening. I knew our cricketers were as talented as any other cricketers in the world, but they lacked self-confidence. So, I thought I must give them confidence. This was when I made that statement: to be the best cricketing nation by 2000. When I said this, everyone started laughing. They asked, "Why don't we first try Asia? We are eighth out of nine in the world rankings. How can you do that?" I said, "No, we can do it." I told this to the cricketers and motivated them. In March 1995, we went to New Zealand and beat New Zealand, recording our first victory overseas. Mind you, this was after a disastrous tour to India where we lost all matches by innings inside four days. I felt that we needed a foreign coach and I brought in Dave Whatmore. I got Duleep Mendis as manager. I got all of them down to the Cricket Board and told them, "Look, I will not interfere in anything and will give you whatever you need. But show me the results." The rest is history.

Q When you got elected you had a forceful plan to be the best cricketing nation by 2000 by improving all aspects of the game, infrastructure, umpiring, coaching, domestic cricket and a lot more. Do you think successive administrators have succeeded in taking the game to the next level? If not, what do you consider to be reasons for that?
Well they have, but in a very, very, haphazard manner. We have to be very professional if we are to keep up with the rest of the world. It should be run like a company. The old days of old schools ties are gone. Not that we don't have the talent. Look at our coaches, they are doing very well outside of Sri Lanka. When I brought down Dave Whatmore, many asked me, "Why him?" But I told them that I needed someone who is immune to outside pressures. There were top coaches who were willing to come here but I needed someone who could be with the players while commanding respect at the same time. Dave just did that.

Q Although you were a shrewd businessman, heading one of the world's top brands in Sri Lanka, you were ousted from the post by a politically powerful individuals just days after winning the World Cup? Was it the beginning of the end for the gentlemen's game in the island?
Well, I wouldn't put that way. It was the end because it became natural when money started to come in after the World Cup win. When I took over, we had a TV contract signed by my predecessor. There was no expiry date. There was no money. They was nothing the Board could get except some highlights of matches we played. But when money came in after the World Cup victory, and it became a big business. So, a lot of people want to have a piece of the cake. Some got in for prestige and some got in for money. Arjuna once told me, "Boss, we won the world Cup too early," and I am sure that sums up everything.

Q How did you cope with such a betrayal by a group of people you had promoted and, looking back, how do you feel?
I forgive and forget. But it was a terrible feeling, to be honest. It was March 31 and I was getting ready to go to Singapore the next day for a cricket tournament organized by Singapore. I never thought I would lose. Then, I wrote to the organizers and explained to them what had happened here. But they still wanted me to come so I went there. As I said, I forgive and forget. After that I became friendly with Upali Dharmadasa and Thilanga Sumathipala.

Q After the World Cup victory, the entire landscape of cricket changed. There was a regular flow of money by various means and there was also a rapid improvement of the game of cricket with many players taking it more seriously than before. Do you think Sri Lanka took the advantage of these factors in the preceding years?
I don't think so. We didn't address the issues which we should have addressed. The Concept Paper put forward by Sidath Wettimuny addressed these issues. We need to change the constitution. At that time, we had 127 votes. There was no basis for granting voting rights. So, we needed to address this.
We have 147 now the highest in the world today. We need to bring that down. Those were the plans I had. I also had a plan to start up academies in Colombo, Kandy, Galle and Dambulla. This never happened. Look at England, they have a cricket academy in each county. We need to have that.

Q You mean to say we must change the domestic structure?
Yes, certainly. It doesn't matter club or provincial, but make it more competitive. Forget about provincial because it has not been developed yet. Have fever teams playing in two divisions and do promotions and relegations based on performance. Look at Sangakkara, he is playing for Surrey and they are playing division II cricket. Here, some of the top teams play against weaker teams. Look Dasun Shanaka, he hit the most number of sixes in the last T20 season but look at what happened in England. There's a big gap between domestic and international cricket. Also our school cricket was the best in the world till about the 80s. Who was the last school boy cricketer to play for Sri Lanka? I think it was Arjuna and Aravinda. Standards of school cricket too have gone down because the coaches are not good. Even if they are good, as I am sure they are, they are not paid enough. What happens then is the rich kids get in because parents look after the coach.

Q So, do you think by changing the constitution and the domestic cricket structure we can answer the current woes surrounding the game?
Yes, definitely. As recommended in the Concept Paper, make Sri Lanka Cricket a body corporate through an Act of Parliament. This is a very good thing. SLC should not be answerable to any politicians but the Auditor General. The SLC should be run like a company with the shareholders--in this case the 50 members with voting rights. If you take Sri Lanka cricket as product, it's the best valued product in Sri Lanka but unfortunately it's depreciating now. If you ask people, they will say they don't watch cricket anymore. So, we must change this and change only through a professional approach.

Q Given the current status quo of the game, both on field as well as at the Board level, where do you think Sri Lanka went wrong?
We were not professional. Pure and simple. We need to change the constitution. Bring the number of clubs down to a manageable level. Get them to spread the game and then have a district, zonal or provincial tournament which is competitive. This never happened and still they are going on about it. They still can't decide on that. I think this should also be included in the concept paper being put forward by Wettimuny. If we don't do it now, it will never happen again.

Q There has been lot said about the need to overhaul the SLC constitution to end powerful businessmen and politicians with little interest in the game wielding power at elections. Do you think this is the only way forward for the game in Sri Lanka?
This will certainly solve most of the problems. You need to pick the correct people to run the Board. We can't waste money like we have wasted it over the last 20 years. With this concept of the board of governors, the board of directors cannot just spend money as they wish. It will be much better than what it is today. To be a perfect corporation like Apple or Microsoft, it won't be easy but you can certainly get there if you govern properly. We should be in that league.

Q SLC has been a haven for corruption and mismanagement and was branded as one of the most corrupt institutions by a sports minister. Do you think when corruption is so widespread in all spheres, it's possible to wipe out corruption at this institution, even if you elect the most saintly men to office?
Corruption is widespread mostly in government sectors, not in the private sector. There are loopholes in laws implemented by the government. But in the private sector, there's no corruption as such. So that's why we say SLC should be run as a company. But I don't like this four year term set on the board of directors. After four years, they all need to leave which I don't think is a good move. They should be staggered. I think they should set an age rather than a term limit.

Q Prime Minister has spoken of an apex body or a board of governors to monitor SLC and your name is cited as one to be appointed to that committee. Are you willing to come back and serve the game?
Well, there has been lot said about it. But no one has spoken to be about it. I have no issue in working with anyone but I must know to whom I would be reporting to.

Q How do you look at the Concept Paper put forward by Sidath Wettimuny?
This is very good. Get all the stakeholders and have a two-day session with them. Let them have ownership of this. Someone has done lot of work on this. This is a very good start which we can build on. No one should think we are attacking anyone or that they are being attacked. This is about cricket, not about agendas. Get everyone together--Sumathipalas, Dharmadasas--and get them to work together towards one goal.