---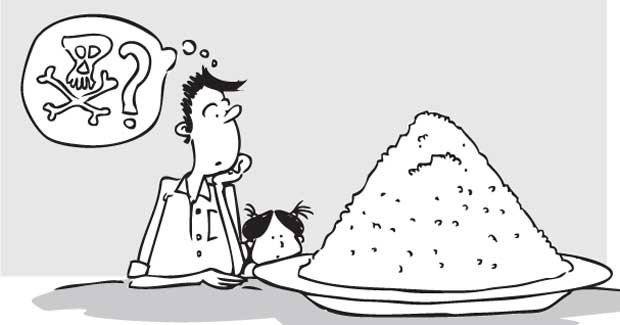 n the afterglow of the National New Year celebrations where Kiribath and rice-based sweet meats were delicious short-eats, we need to sound an alarm bell regarding any hidden, deep -rooted agenda in a so-called rice-fortification programme being planned here by the United Nations' World Food Programme (WFP).
In a media announcement, the WFP office here said a pilot study on rice fortification to increase the daily intake of vitamins among the people was being undertaken by it. It said that the typical Sri Lankan diet comprises rice as a staple food. Therefore increasing the micro-nutrient density of rice through fortification had great potential to increase the daily intake of essential vitamins and minerals for the people, and thereby address the widespread micro-nutrient deficiencies. The WFP office said the Ministry of Health was interested in exploring the potential for adopting rice-fortification as one of the key strategies to prevent micro- nutrient deficiencies, and noted that to better understand this a pilot study was required. The WFP said that as part of the nutritional interventions in the country, the UN agency supported the Health Ministry to address the substantial challenges in combating and controlling micro-nutrient deficiencies, particularly iron deficiency, anaemia. Impressive words, but people-friendly nutritionists are raising serious questions as to what will happen to our plate of rice or 'bath patha' and whether it may lead to mysterious ailments that often cannot be diagnosed.

For thousands of years, agriculture and particularly rice, has been a vital part of Sri Lanka's culture and civilization. So what really is the need for this fortification especially at a time when the national government has launched a major programme to reduce and gradually stop the use of imported agro-chemicals and switch to organic farming to make Sri Lanka a 'Vasa visa nethi' country.
Sri Lankan Human Nutrition Specialist Dr. Damayanthi Perera, who has specialized in under-nutrition for her doctoral studies, has highlighted the futility of the proposed programme. More importantly, she has pro-actively warned the policy makers of the potential dangers of food fortification. In an evidence-based article titled 'Traditional Sri Lankan Diet, Ancient Marvels & Globalization' she notes that synthetic vitamins and minerals are toxic in the short and the long run. She also explains the vested interests behind this project and says there is a well-planned global move to capture the global rice and other staple cereal market, under the guise of eliminating vitamin and mineral deficiencies. Therefore we urge the government to consult local and regional opinion to prevent any harm that may be caused to innocent consumers.

Indian scholar, physicist and environmental activist Dr. Vandana Shiva, in an article titled 'Seeds of Truth' has referred to grave fallacies that affect people's lives and have become fodder for the social media supporting the trans-national biotech industry. She says subtle attempts are being made to encourage the biotechnology industry's push to 'engage consumers'. Dr. Shiva, widely respected as an agriculture prophetess, says strong resistance to genetically-modified organisms is based on science. She says the biotech industry would like to identify the millions of people opposing genetically- modified organisms as unscientific and romantic outliers. She says her mission is to evolve an ecological paradigm of science and she has consciously made a commitment to dedicate her life to protect the Earth, its ecosystems and communities. She adds that every intellectual breakthrough she has made over the past 40 years has been to move from a mechanistic paradigm to an ecological one.

Dr. Shiva points out that in the United States, six-week human trials of bio-fortified bananas are being conducted. What are these bananas? They are bananas into which they have put a gene found in another variety of banana that has elevated levels of Beta-Carotene. They could have just used the banana with higher Beta-Carotene if the intent was to alleviate Vitamin A Deficiency, but there's no money in that.

"The spirit of service inspired by truth, conscience and compassion cannot be stopped. For me, science has always been about service, not servitude. My life of science is about creativity and seeing connections, not about mechanistic thought and manipulated facts," Dr.Vandana Shiva says in outlining her selfless philosophy which we hope will inspire our government leaders and agriculture experts.