---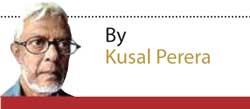 Has any presidential hopeful spoken about the tragedy on city roads? About city roads with parked vehicles with running engines, that hardly move? Almost a fortnight ago on Sunday, July 14, there was a campaign for a "Car Free Colombo". It was initiated by Netherlands Ambassador Joanne Doornewaard in association with Colombo Mayor Rosy Senanayake. They urged People to cycle around instead of driving around. They told the media that they intended reducing public dependency on motor vehicles and promote a healthier and more sustainable urban lifestyle. Ironically, there was no stress and importance given to city air pollution, major traffic issues that have other reasons and why there was an increasing number of private vehicles on the streets.

While major issues on our roads were left out, the cycling project was no way close to the ground. How Netherlands became a modern "cycling nation" is different and is about a very much grounded People's campaign. In the 50s and 60s, Netherlands was a nation of people driving around in cars with increasing numbers on the roads. With that, they also had increasing numbers of road deaths that shook them as a society. In 1971, the Netherlands recorded more than 3,000 road deaths that included 450 children. In response, the "Stop de Kindermoord" (Stop Child Murder) public campaign that emerged, grew into a strong civil movement demanding safer cycling paths for children. That People's movement changed the entire landscape of public commuting in the Netherlands. The 1973 petroleum crisis was also a motivating factor that helped the shift to the use of cycles.

We have far more serious crises at hand but don't have such a social outcry. The CEA's official website says, "Annual averages of ambient PM10 level in Colombo over the years have remained relatively within the 60 to 82 µg/m3 range with a slight decreasing trend from 1998 to 2011. These values, however, have consistently exceeded the latest WHO guideline value of 50 µg/m3 for PM-10. Thus, Colombo city is very unhealthy in terms of its particulate pollution. The same source says, "Regulations for vehicle horn noise control was gazetted (no details though) and vehicle horn noise testing programme was implemented to make aware and control noise pollution caused by vehicles." (accessed on July 17, 2019). On police records, last year alone, 3,164 deaths had occurred on Sri Lankan roads.

The "cycle project" though beyond the reach of ordinary city folk, nevertheless proposed a viable alternative for city commuting. An alternative, not as a "car-free Colombo" but with a theme like "Cycle To School" that can be a component of public commuting. All government schools from 1962, admit children to "Year One" on the distance to school from "home". Initially, it was a maximum of two miles. For all immensely popular and leading schools in Colombo, that distance from "home" came to be reduced over the decades to less than one kilometre due to the mad rush for Grade I admissions. One kilometre is a distance, children can even walk to school and back. With more than 55,000 students in these top 10 leading public schools alone, "Cycle To School" campaign should technically stop school vans and buses and even cars from transporting children to school.

Yet in Colombo, that would be one hectic task to achieve. It has other unholy dynamics at play. Almost 90 per cent of the "Year One" admissions are on "false documents" obtained through official channels to prove "false residency" as permanent. Grade I admissions to popular schools in Colombo is the only publicly accepted mega scam in the country, no one wants a Commission of Inquiry to investigate why school vans and buses operate from as far as Aluthgama, Eheliyagoda, Gampaha, Negombo and even from beyond. Morning and afternoon schools' traffic, remains a major part of the problem on city roads.

That said, this should also be stressed. The CMC has every right to take over "city commuting" on behalf of its "ratepayers". It can revive the "Tramcar" or the "Trolley bus" service it once owned from 1944 and ran till UNP's M.H. Mohamed as the then Colombo Mayor scrapped the service in 1965 instead of settling the Trolley bus workers' strike. The bonus of having a fast-moving Tramcar or Trolley bus service is that they are "Carbon-free" and is "green commuting". They need professional planning and execution, and collaboration with inter-city bus and rail services. This makes the "city traffic issue with pollution" and public commuting a national issue, all presidential hopefuls should offer their answers for such a move.
Sri Lanka's eternal traffic jams in the city and increasing hazardous air and noise pollution have many vested interests and many unnecessary factors accommodated. There is no stopping people buying their own two-wheel or four-wheel private vehicle, in a society where governments ignore the responsibility of establishing an efficient, comfortable and affordable public transport system. In its absence, vehicle buying is much accelerated in a free market economy which promotes the selling of any commodity with leasing and part payments; everything from a mobile phone to a high-powered super luxury four-wheeler. For governments in search of revenue, allowing the unrestricted import of vehicles provided a steady source of revenue that in 2017 had been from licences issued for the import of vehicles by the Import and Export Control Department. More vehicles mean bigger revenue for the RMV Department and from "Carbon" tax added to the previous "emission tax". In this "Isle of Corruption" adjustments to taxes and duties levied on vehicle imports, often provide many untold and unspoken privileges and profits to those in power.

Numbers say it all. From new registrations of 451,653 vehicles in 2017, around 50 per cent were motorcycles, around 15,000 were three-wheelers, while the rest were four-wheelers. That works out to about 208,000 four-wheel vehicles. Leaving a margin of about 10 per cent for public and agricultural purposes while new private vehicles registered in 2017 amount to some 190,000. (calculated from RMV data)

It is a vicious cycle. More vehicles on roads for government revenue, in turn increases import of fuel. That adds to city pollution. Once again, in a free market economy dominated by the "filthy rich", fuel imports in the recent past had major allegations involving ministers. Sri Lanka imported 36,480 crude oil barrels a day in 2014 and was the 58th largest crude oil importer in the world, that year. The cost was US$2.1 million a day (The World Factbook). Despite the fluctuation of prices in the global market, the total burden on the national economy saw no worthwhile difference.
It is a vicious cycle. More vehicles on roads for Govt. revenue, in turn increases import of fuel

In terms of the burden, People have to bear, in 2017, total revenue from "exports" was US$17 billion (CBSL). That adds up to US$46.6 million a day. On a very conservative calculation, if the c.i.f value of importing a vehicle is left at US$18,000 at an average, the total cost of private vehicle imports in 2017 would have amounted to US$9.6 million a day. This proves that out of a US$46.6 million income a day, we have spent US$11.7 million a day for the import of vehicles and fuel only. This crazy business is on the increase. Currently, Sri Lanka has a total of 6.6 million vehicles including 3.5 million motorcycles on the roads. It is an utter waste of fuel and productive time of the People spending almost the whole day in disgusting traffic jams.
Yet, Sri Lanka is one among the "eternally developing" countries, that pays no attention to efficient, comfortable and affordable public transport as a profitable way out of this nightmare on city roads. The whole focus is on widening roads, construction of overhead bridges and adding "highways" with speed limits. No one has ever seen any loosening up on road traffic, despite the cost to the People. The Rajagiriya overhead bridge was based on borrowed money, which State Minister Harsha de Silva claimed was renegotiated by his government in December 2015 to less than the previous estimate and signed for Euros53.7 million. The Dehiwala and Nugegoda overhead bridges built over a decade before are no different to Rajagiriya, with once stalled traffic now allowed to crawl at snails pace. The Megapolis urban transport project, on "light rails" at an estimated cost of US$6 billion was approved by the government in October last year. Within this filthy, free-market economy, every heavy construction-related projects with mega budgets are unloaded on people as solutions. That's where the money is for most involved in numerous ways.

Overhead bridges and light rails are not about public commuting. It is about big business on borrowed monies. Solving the major issue of traffic on city roads with integrated transport services for efficient public commuting needs to focus on two other related, but principally important issues; one is Grade I school admissions and the second is the import of vehicles. Presidential hopefuls who have no clue as to how these have to be planned will not be having answers to traffic and public commuting. This tells us why an alternate socio-economic "development programme" is far more important than leaving the "presidential hopefuls" in a jam, without answers to any of the major issues.