---
The May Day liberation song, "Sa dukin pelanawun, dan itin nagitiyaw, anthima satanata paminiayaw," was not heard yesterday. Instead all over the world we heard the "mayday, mayday airline distress signals as the international community continued what is seen as a third world war against the unseen monster, the Covid-19 pandemic. By noon yesterday, the number of Covid-19 cases was about 3,308,680 while the death toll was more than 234,000. The good news was that about 1,043,000 had recovered and the United States said that a new drug had been found to expedite the recovery process. Some medical experts are also hopeful of a vaccine being ready by the end of this year while some pharmaceutical companies have already started production though clinical trials have not been completed and approval not given by the US Food and Drugs Administration (FDA).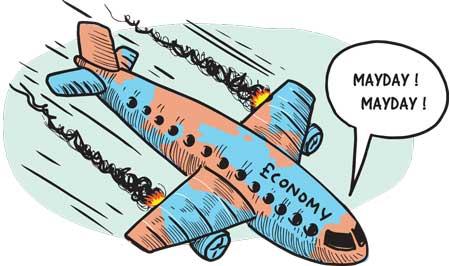 As per the international airline industry tourist hotels and the hospitality network, has been a virtual crash landing and world governments need to pump hundreds of millions of dollars into the sector to revive it. In any event experts say passenger planes will need to keep their middle seat vacant to adhere to the distant space guidelines. Therefore air travel will be much more expensive and in any case most passengers may not be ready to take the risk of travelling in planes for fear of being affected by the Covid-19 virus.

As most medical and socioeconomic experts say the world will never be the same again in the aftermath of the Covid-19 pandemic which has been described as the worst in more than 100 years. One such important area will be the relationship between workers and their bosses or corporate magnates. While administrative rules and regulations are necessary to maintain discipline, hard work and full productivity, the business leaders would need to give more attention to the welfare and well-being of workers. There must be an end to the attitude of treating workers like mere tools, servants or slaves and there needs to be a sense of balance in work places with business leaders realizing that the workers are contributing much to the success of the ventures, big or small. We wonder how many business magnates are aware of the virtues of servant leadership.

So after all, in a roundabout way, the covid-19 pandemic has brought the workers to their vision and goal of, "Antima Satanata Paminiyaw". The covid-19 pandemic has also caused grave problems for daily paid self employed workers such as masons, carpenters or electricians and world governments would need to provide a substantial allowance for them till the pandemic is brought under control.

Another positive feature could be poverty alleviation through a more equitable distribution of the world's wealth and resources. At present 10 super billionaires are known to have control over about 60 per cent of the world's wealth and resources. The World Health Organization has warned that if effective action is not taken for poverty alleviation hundreds of millions of people will not have money even to have one meal a day, beside the money for clothing, education and healthcare. World governments need to ensure they work towards rebuilding a just and fair society.

Experts say climate change contributed towards the spread of the Covid-19 pandemic. US president Donald Trump has described climate change as a Chinese hoax. Mr. Trump, widely seen as being reckless and arrogant, recently suggested that people could consume or inject disinfectants such as Dettol or Lysol as a means of dealing with the Covid-19 germ. He was internationally condemned. Even the producers were horrified and issued statements warning the people they should not in anyway consume or inject these detergents into their bodies. Mr.Trump now says, he was being sarcastic but experts believe his policy of putting America first has now become a policy of America alone and therefore the US president is a danger to the world.

Most political analysts believe he will be badly beaten at the November presidential election though his populism and right wing white nationalism is still supported by some sections in the southern States of the US. We hope that in the aftermath of the pandemic there will be a deeper commitment by all people to the battle against climate change. We also hope the world governments will reconsider the billions of dollars they are spending on nuclear weapons and war while there is a greater commitment to the peaceful resolution of conflicts. Hopefully May Day 2021 and thereafter will be in a just and fair society which has been the vision and goal of people since the May Day celebration began about 150 years ago.