---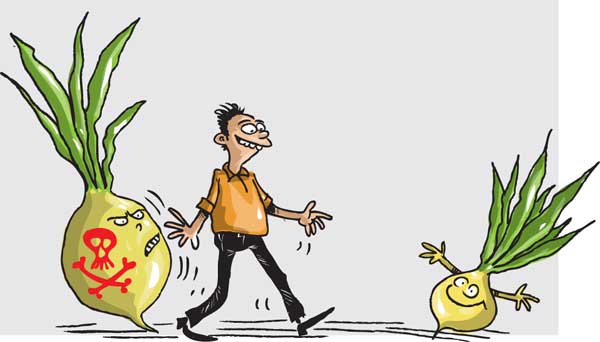 In a fruitful step towards creating a 'wasa wisa nethi' country where we grow our own nourishing grains, vegetables and fruits, the government held a five-day exhibition at the Horana Fruit Research and Development Institute Farm from July 8 to yesterday.
Thousands of people including schoolchildren visited this exhibition where there was a demonstration on how to grow different varieties of fruits. The visitors also had the opportunity of buying plants and cultivating them in their own home gardens so that most Sri Lankans could get the recommended intake of at least 200 grams of fruits a day. According to this programme coordinated by the Agricultural Ministry, the vision is to have a large scale fruit village in every Grama Niladhari Division. One of the main aims is to save the foreign exchange we are now wasting on the import of fruits and fruit products.
In addition it is hoped this will bring about food safety and security. Instead of importing, it is hoped that the fruit villagers would lead to the setting up of fruit industries so that Sri Lanka could export good fruits, along with canned or bottled fruit products. With the use of high technology there will be about 900 plants in every fruit village. In the first phase this year there will be about 170 Katu Anoda fruit villages, 440 papaw villages, 330 orange villages, 50 narang villages, 20 for woodapple, 100 for pomegranate, 100 for lemon, 170 for mangoes, 170 for guava and 50 pineapple villages,among others.
According to Agriculture Director General Rohan Wijekone, Sri Lanka is a treasure trove of fruit diversity with as many as 250 varieties. Most of the nutrition we need for a healthy and a fruitful life could be obtained through these fruits.
While mangoes and plantains are better known, even the lesser known fruits such as weralu, uguressa, nelli, beli and sapodilla have lots of nutritious value. It is sad that when we are blessed with such a treasure many people are still going for the foolish status of buying imported fruits or imported fruit drinks many of which are artificial. The Director General says they hope to set up about 2,000 fruit villages this year and up to 15,000 within two years.
What a fruitful country Sri Lanka would be if all goes well without lethargy or corruption. According to experts, the fruit and vegetable sector has much potential to contribute to increase the level of our export revenue, generate new employment opportunities, increase farm income and enhance the nutrition and health of the people.
The potential for cultivating fruit and vegetable crops for the domestic and export markets is high. Sri Lanka's per capita consumption of fruits and vegetables remains far below the required average daily intake. For example the recommended daily intake of vegetables is at least 200g but an average Sri Lankan consumes only about 94g a day. In addition to the fruit villages, the cultivation of rice, vegetables and other crops will be done with the use of organic fertiliser though some farmers provoked by vested political interest are resisting the switch to organic farming. The government needs to use all means possible to educate the farmers and make them aware that we cannot and must not go on polluting our Mother Earth and make it infertile, in addition to polluting our ground water. With this awareness we hope farmers and all the people will cooperate actively and sincerely to make Sri Lanka a fruitful nation.