---
Project Google Loon: Is Sri Lanka ready?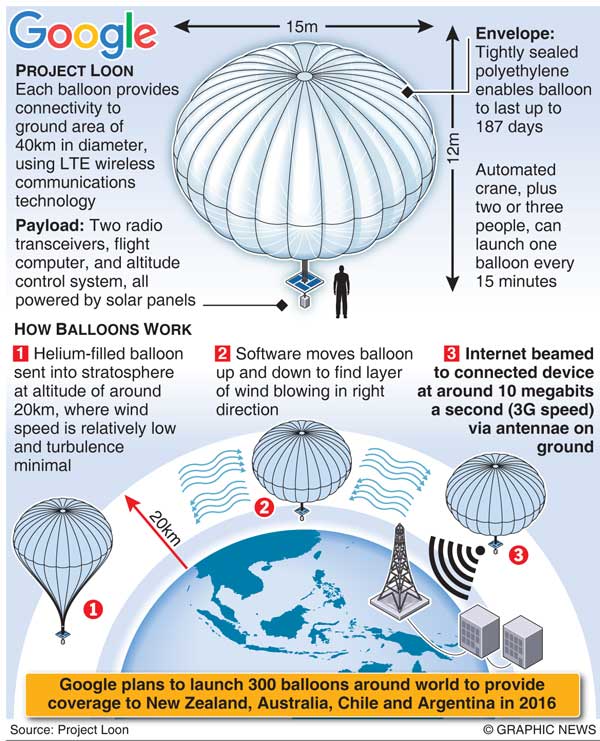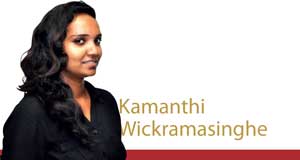 Google, the world's largest information service provider, will carry out Project Loon, listing Sri Lanka as the first country in the world to experience this novel technology. According to Google, Project Loon is described as a 'network of balloons, which is designed to connect people in rural and remote areas, help fill coverage gaps and bring people back online after disasters.'

Is Sri Lanka ready for this technology? What are the negative aspects? Will it interfere with the users' privacy? The spoke to the Minister of Telecommunications and Digital Infrastructure Harin Fernando and a few other individuals to get a deeper insight on this initiative.
Excerpts:


Speaking to the Dailymirror , science writer, broadcaster and development communicator Nalaka Gunawardene said that although he doesn't know about the conspiracy theories that were being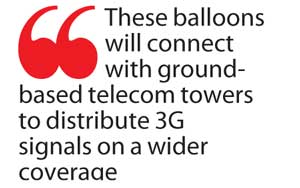 circulated regarding this project, Google is a global information service provider.
"With this technology these balloons will connect with ground-based telecom towers to distribute 3G signals on a wider coverage. Google has already entered in to agreements with Mobitel, Dialog, Hutch, Etisalat and Airtel and these five companies will individually contribute to this technology thereafter. Google Loon is different to the search engine Google. When you use Google services naturally they are able to track what you are searching for. If anybody has a suspicion about using the technology, then simply don't use it."


Speaking to the Dailymirror Muhunthan Canagey, CEO of the Information and Communication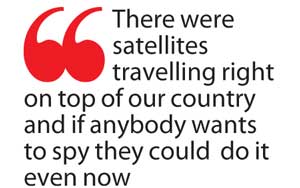 Technology Authority (ICTA) said that he would always like to be positive about the project.
"This project is about making sure that we can use new technology. Sri Lanka will get an international exposure and once it is initiated, Sri Lanka will be the first country to be fully connected with this technology.
The only negative aspect I see is that it is still at its testing stage and if something doesn't work as expected it is beyond our control."
Certain factions claim that this will be used as a spyware. When asked about this Mr. Canagey said that there were satellites travelling right on top of our country and if anybody wants to spy they could do it even now.
"In general we are in a UFO-type mindset. But, whatever the people assume is not always true. The entire spectrum is issued by the TRC and facilitated by the ICTA."


Q What is the current progress of the Google Loon project?


It is currently in its testing stage; An innovation. Sri Lanka will be the first country in the world to have this technology. Once it is finalised, the Loon balloon will communicate with the closest tower. As a result the whole of Sri Lanka will experience a 4G (LTE) broadband service.

Q There were many rumours about this unexpected landing in Gampola. What actually happened?
What happened was that a balloon was deployed from Silicon Valley from Brazil to South America. This arrived in Sri Lankan air space. The balloon flies at a height of 7,500 ft and normally the movement of a balloon is different to that of a normal aircraft. The Google team is working in collaboration with the air traffic control department.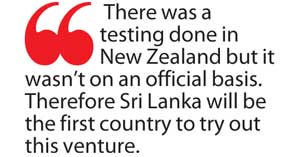 The day this balloon landed in Gampola, the Google team was in Weligama and the air traffic control team had informed them that within two hours, the balloon would land in Gampola. But they had not been aware of the road network in Sri Lanka and it is practically impossible to reach Gampola from Weligama within the said time. The balloon has a solar panel which contains transmitters. As long as the transmitters have not been damaged we do not have to worry. In fact Google has asked us to send in any queries and there are letters they have sent as well.

Q Will this service eventually have access to our personal information?
A thorough analysis was done on it and there will be no interference. This has also been proven by the NASA. People should understand that the world is ever-changing with technology and therefore they need to adapt to it. Sri Lanka is a small country but we will partner with other countries in ventures such as this. Therefore we will get international coverage.

Q It seems that the public is not very much aware of this technology...
We will be organising a two-day workshop to educate the public on how to use this service and will be providing them with all the technical information.

Q This project is done free-of-charge. Isn't there a cost involved for the service after one year ?
There is no cost involved in it. The new Government was able to negotiate and introduce this project without paying a single cent. So, once it works after one year we have to allocate a spectrum of 700 MHz for them. They will anyway be charging the telecom company but these charges will be less than the existing prices.

QHas this been tested in other countries? Or is Sri Lanka the first country?
There was a testing done in New Zealand but it wasn't on an official basis. Therefore Sri Lanka will be the first country to try out this venture.

QWill it prove to be a profitable and an efficient service for the users?
I am quite confident about it. We have spoken to the co-founder of Google, who is one of the first five richest men in the world. I want the people to be positive about this because there will be many benefits for the country other than the internet coverage. We will get international coverage and everybody will start talking about our country.

QOnce a balloon deflates after 180 days, how is it recycled?
Once a balloon is sent back, it will be checked for any faults or damages. Thereafter the balloon will be recycled, re-filled with air and sent to Sri Lanka.

QIs there a coordination between the project and the Telecommunications Regulatory Commission?
Of course. This project is handled by my Ministry and the Information and Communication Technology Authority (ICTA).

QWhat is your next plan?
We are trying to send another balloon up. Currently we have 85 percent internet coverage with only 1 MBPS. This is very slow and we hardly find data coverage in some urban areas. With this technology the users will be able to use high speed internet services.