---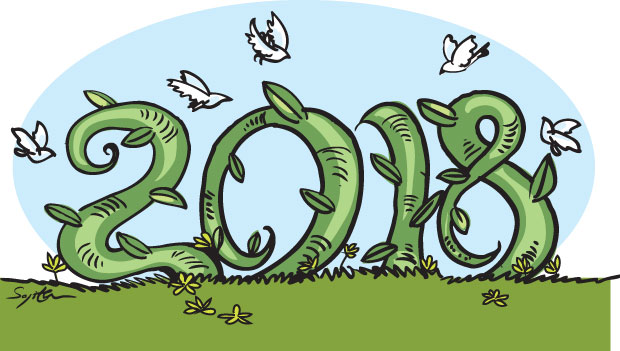 The New Year 2018 dawned today with the usual mixture of virtue and vice. Joy and goodwill, understanding, sharing and caring were among the virtues we show to a large extent among the people. The vice came largely in the form of wasteful expenditure, luxury and extravagance such as five-star balls for which people paid between Rs.10,000 and Rs.20,000 for one night of revelry.
Whatever the start, we need to reflect on the virtues of what will make 2018 a better year. As in all good things it needs to start in the family -- the nucleus of society. History has shown us that good families will make good societies. If there is love, peace and joy in the families, we will see these virtues in society also. In the family we should have care and concern for each other's needs and wishes, understand each others falls and weaknesses and appreciate what is good and nice in each other, the father and the mother need to set the example to the children, instead of just preaching and forcing them to be obedient.
From a spirit of service, self-sacrifice and self-donation, the parents by example need to teach the children to be good and responsible citizens, getting actively involved in the key issues of poverty alleviation, the battle against climate change or global warming and the campaign for a ban on nuclear weapons.
When responsible and duty conscious families are moulded in these and other ways, we will be laying the foundation for a country, committed to the creation of a peaceful, just and all-inclusive society.
Expecting the politicians and the political system to change from self-centredness to other-centredness is somewhat of an illusion because power corrupts and absolute power corrupts absolutely. President Maithripala Sirisena, speaking to the Sri Lanka Freedom Party (SLFP) and United People's Freedom Alliance (UPFA) candidates last week insisted he would not tolerate anyone who indulged in bribery, corruption, frauds or other political crimes. Addressing party candidates for the February 10 local council elections, he insisted that the battle against bribery and corruption would be at the forefront of the polls campaign.
The president's comment came a day before a comprehensive report was handed over to him by the presidential commission which probed alleged bond scams at the Central Bank. The 1400-page report with annexures and recommendations is now being studied by top legal officials of the presidential secretariat. There is speculation that the commission has made strong indictments on the Central Bank's former governor Arjuna Mahendran and some UNP members including former minister Ravi Karunanayake, who was forced to resign recently. But there are different opinions as whether the President will publicly disclose the presidential committee report before the February 10 local council elections.
The President also has pledged to expedite legal action against the former regime's VIPs and officials who are alleged to have plundered billions of rupees in public funds. However, there are corruption allegations even against SLFP or UPFA ministers or senior members.
Thus, instead of expecting an immediate switch to sincere politics and integrity, it would be better for parents to foster such virtues in their families, then these virtues could go to school levels. For Sri Lanka and the world, the three main issues this year are poverty alleviation, the battle against global warming or climate change and the campaign to ban nuclear weapons. A civic action group yesterday launched a New Year mission to plant tens of thousands of trees as part of the battle against global warming, because deforestation is known to be one of the main causes. In a similar way we all could contribute towards poverty alleviation and the battle against global warming.
By learning to manage with our basic needs and living in a simple and humble way, we could save more and share more with those in desperate need. By planting a tree, saving electricity and clean water and taking other eco-friendly or green initiatives we could make 2018 a better year for us and the whole world.