---
A term in prison might look hopeless or gloomy, but inmates who are released often vouch for the fact that there were lessons learned behind the 'bars'.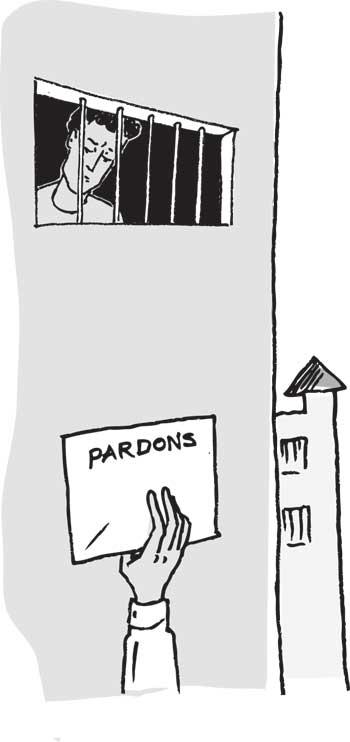 However, that is for those who spend their jail terms in full and experience a transformation as inmates. This time spent in a cell can be termed as a period of transition. Such questions arise now with the social interest generated following the pardoning of Royal Park murder convict Jude Shramantha Anthony Jayamaha. Following the presidential pardon he could step into society again.

There are others like Jude in the many prisons that are maintained to make culprits pay for their sins. There were past presidents who gave presidential pardons to inmates. The incumbent President Maithripala Sirisena has given instructions to release as many as 267 inmates who are serving terms for offences which do not fall into a list containing 40 serious crimes, which if committed would not support a pardoning.
It's applaudable that the head of State has released so many inmates on humanitarian grounds. At the time of penning this column, this writer recalls a saying that was scribbled in one of the island's prisons at one time. It said, "My mother knows who I am".

Prisoners too are human beings and there is room for us to think that the president gave the pardons entirely on humanitarian grounds.
But there are critics who opine that the President gave pardons to so many just to initiate a balancing act. There was somewhat of a public outcry when Jude was released from the Kuruwita Prison where he was on death-row after a 12-year-term was later overturned by the Appeal Court to a death sentence. The loved ones of the teenager whom Jude killed (The deceased was identified as a Girl from Sweden) also conveyed their disappointment regarding the president's decision to grant the pardon. There are many others as well when it comes to dreaming of seeing the sun rise outside the prison gates.
We hear that there are ex-military men behind bars for committing crimes that are not so severe. There are also terrorist suspects, without formal charges being filed against them, who are counting the iron bars in the cells. Life seems hopeless to most of them; especially for those who were 'framed' or were forced into crimes. We know that the drug barons hardly get caught and it's their henchmen who stick their necks out and have brushes with the law.
In connection with the large number of presidential pardons being granted there are also those who'll see their death sentences being changed to life sentences.

Sri Lanka is a majority Buddhist country where the death sentence was shelved for many years before it was reintroduced through an initiative of President Sirisena. Though Sirisena was adamant in sending selected convicted drug lords to the gallows, we didn't see anyone's neck snap.
This is a country where there have been individuals who claim that life inside the cell was better than what's on offer outside. The present times offer Jude with an opportunity to reflect on whether the time spent 'inside' cleaned his inner self and brought out better human qualities.