---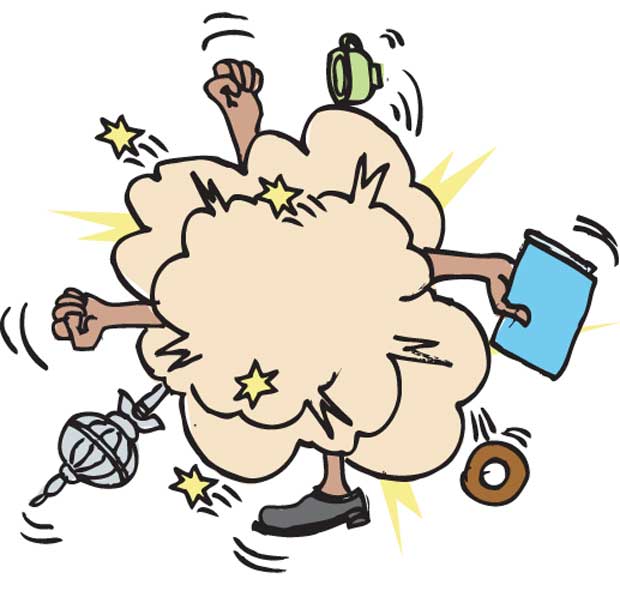 At a special and controversial session at Parliament on Wednesday, the behaviour of some MPs was disgraceful if not disgusting. The turmoil erupted after Prime Minister Ranil Wickremesinghe made a special statement on the lengthy report of the Presidential Commission which probed the Central Bank bond issues from February 2015 to 2016.

The special session was held at the request of some opposition and Sri Lanka Freedom Party (SLFP) members who wanted to debate the report, annexures and recommendations running into some 1,400 pages. But Speaker Karu Jayasuriya told Parliament that the Presidential Media Unit had informed him that copies of the report could be made available to parliamentarians only by January 17. Therefore, the Speaker said he had given approval for the Prime Minister to make a statement on the issue. This led to a shouting match in Parliament with both sides exchanging not only strong words and slang but also throwing books or paper balls.

As the Prime Minister continued his speech the shouting intensified and the Speaker suspended sittings for about ten minutes. When the sittings were resumed, the Prime Minister continued his speech explaining the action he had taken to check whether the then Central Bank Governor Arjuna Mahendran had acted ethically during the bond transactions in February 2015 and 2016. The Prime Minister said according to the Commission's Report more than Rs.11.1 billion had been defrauded and he had taken action to freeze Rs.12 billion which was in the account of Perpetual Treasuries Limited, alleged to be the main culprit in the bond scam.

There were further disturbances while the Prime Minister continued to speak but the pandemonium started after he finished and sittings were adjourned. Fortunately, in the galleries there were no schoolchildren to take the wrong lessons on how their elected representatives behaved. Parliament's CCTV cameras had also been switched off when sitting were adjourned but some MPs, apparently with various personal agendas filmed the tumultuous scenes with their smart phone cameras and gave them to private TV channels which gave wide publicity on their night news telecast. Viewers saw four or five MPs physically attacking each other in the Well of the House while others were yelling, playing havoc with some shouting 'Mahinda Hora' and others 'Ranil Hora'. Yesterday Parliamentary sources said it was likely that two or three MPs maybe suspended.

Wednesday's parliamentary mayhem again shows the need for MPs to be given extensive training in parliamentary discipline or ethics and leadership. President Maithripala Sirisena, in a 90-minute interview on State television Rupavahini on Wednesday night, said political leaders including the President, the Premier, Ministers and MPs need to lead by example, maintain ethics and discipline and avoid the temptation to indulge in fraud, corruption or bribery. The President said he hoped that at the February 10 elections to 341 local councils, the people would elect representatives who had a clean record, would lead by example and vow not to get involved in business, fraud or corruption. The President lamented that in his home district of Polonnaruwa, corruption was rampant in the local councils and four chairmen had been produced in court and found guilty of corruption or other criminal offences. Therefore, they could not contest at the February 10 elections.

The President also repeated his complain that during the Rajapaksa regime, when he was Secretary of the SLFP he had complained to President Rajapaksa that local council leaders were involved in a multitude of crimes including corruption, rape and heroin smuggling. Mr. Sirisena said the then President had agreed to call a meeting of the local council leaders and asked him to tell them of the serious crimes that were being committed. He did so comprehensively outlining case by case. After he finished Mr. Sirisena said the then President Rajapaksa had spoken to the local council leaders and told them "do whatever you want to do, without getting caught".

President Sirisena vowed that such criminality would not tolerated again, tough legal actions would be taken against any public representative found guilty of bribery, corruption, frauds or other crimes. He said that the National Government this year would focus on sustainable, eco friendly and all inclusive development and he hoped political leaders at all levels would make a sincere and sacrificial commitment to this mission.