---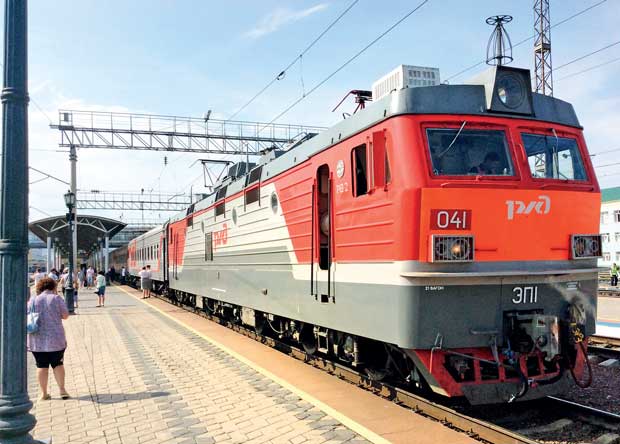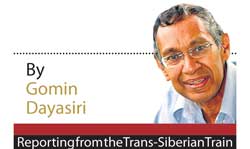 Two ill-dressed tramps were found loitering near the aesthetic Yaroslavsky Railway station in Moscow wearing four layers of cotton t-shirts with cheap thermal underwear and crude overcoats from Cotton Collection; their faces did not register any discomfort in the (-3) Celsius Moscow weather. They were looking for vodka in a nearby mall to carry on board the eastbound 9289 km run from Moscow to Vladivostok on the Trans-Siberian Russian 'Rossiya 2' train painted in standard colours of grey and red which operated every other day. Touristic Russia has suspicious 'queers' entering its confines: most now don't bother to ring the KGB.

It was a journey to the gulags on a railway track following in the footsteps of Dr. Zhivago: his boot marks a trail in the snow. Winter meant low prices and plenty of berths on the train.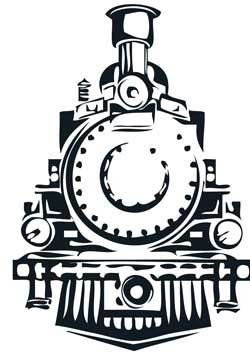 This was no luxury train as was the fast train from St. Petersburg to Moscow that transported us five years ago; where we were given a champagne dinner in the night train at a round table in our cabin with an apron-clad maid in attendance; but the bonhomie is greater in the economy class carriages [Cattle Class] as described by Paul Thoreau in the Great Train Bazaar. Digging into his writing, I found my way to the third class compartments on the night train to Mandalay from Yangon, where we fun-switched carriages though compelled to buy a first class sleeper being a tourist; a married 'bachelor' travelling single forty years ago in Myanmar. Never before having sucked raw eggs gifted by kind Burmese mums by making a tiny incision in the shell with a pin to swallow the contents. That kind of train hopping is taboo in Putin's Russia where we glided gently at an average speed of 43mph.
Shamali did not fancy sleeping in a third class dormitory with military domination and often complained of my extraordinary style of living: paying high to live in utter discomfort. Reaction to a cloistered childhood living in moderate comfort.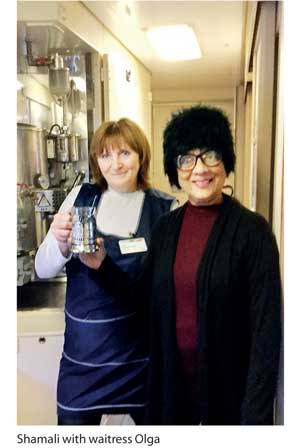 First class cabins sleeps two (UKP 511 per person) and was sealed, trapping us among the other 'spainy' class passengers. The second class sleeps four with two bunks above. Gender problems are not an issue for Russian Rail – they are uniformly unisex. Aitken Spence Travels screwed my trip until the worthy Russian Ambassador intervened to get visas. Sri Lanka owes much to him for the tremendous service rendered during the height of terrorism asking for no returns – an unsung war hero still in our midst in the struggle against terrorism.

On appearance, we were directed to third class if not for our driver guide Mikhail's intervention to read the ticket again. Our tickets were scrutinized carefully [for looking dowdy?] and we were reluctantly installed in cabin No.2 by our provodnista Valery [captain of the train] - a dreaded breed, described by travel writers to be as ruthless as the wicked czarinas of old. Russians were overdressed sporting headdress, French and Americans in smart warms while Sri Lankans looked the part of authentic tramps.

The train started on schedule at 13.20 and reached many railway stations ahead of schedule giving passengers more time to stretch their legs. Shamali had to sit tight with the loo closed for a while. Passengers are prohibited from fertilizing the track until reaching the outskirts of Moscow city [13 km]. We travel on Moscow Time [+5 after day 4] and move through five time variances on GMT. Provodnista lived up to her reputation in the first half hour as I was reprimanded in a dialect that could not be fathomed, yet sounded harsh because of the stern tone: for having locked myself (pulling the wrong lever) in the toilet from where she freed me after a fierce two-fisted attack was launched on the door to attract attention; Shamali was admonished when trying to open windows to get her quota of fresh air in a totally encircled glass carriage tightly bonded as in a airline. Yakos were on route to Siberia.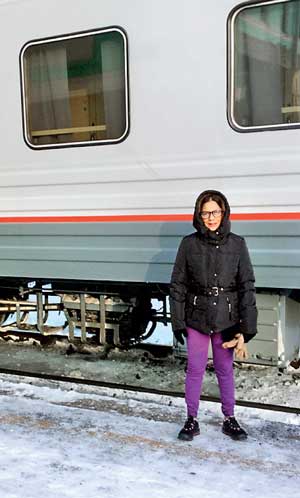 Soon Valery became our dearest friend on the rail – as she realized only the tramps dressed for the dining car. We were recycling the six reams worn under the belt and kept the Sri Lankan flag flying high. Shamali kept the cabin in mint condition and distributed local sweets in abundance to train officials. Rail officials treated guests gently and politely but Russian is a guttural language. The cabin was never overheated though the night temperature outside fell to minus 40 Celsius. Sadly only 5 of the 9 cabins–including the cabin honeymooning couple from Trump country (they seem offended by that phrase) - were occupied and the merry vodka parties never materialized and would carry unopened bottles home.

Was not permitted to step outside on day 1 as trains pull out of stations without blowing horns. On day 2 I was taken out by our now friendly provinista at Perm 2 after crossing the mighty Kama River (1436 km in minus 7 degrees Celsius. Cold but tolerable) kept watch on me and was allowed freedom of movement to frolic for ten minutes and ordered back to the train for confinement. This is Siberia where Dr. Zhivago was incarcerated.

Proviodnista [dumplings], in the 'cattle class' had to maintain tight discipline as many passengers under the influence of vodka walked too far and might have been left behind at railway stations. Indeed it is a class-conscious train where clustering is not permitted for the shadow of Velariya conjures from nowhere to maintain order as in Orwell's 1984. Reasons were understandable as the first class passengers are granted utmost privacy and silence for the fancy price paid. Not my idea of a holiday.

There is little difference between first and second-class cabins except for the two berths and free food served to the room (dangerous to diabetics) and attentive personal service but the price difference is mind-boggling. Washroom, bedding and space allocation are the same. Travelling abroad incognito is fun as you are an unknown and can afford to dress down, travel light and remain unshaven but the yearning for the third class lingers in my heart.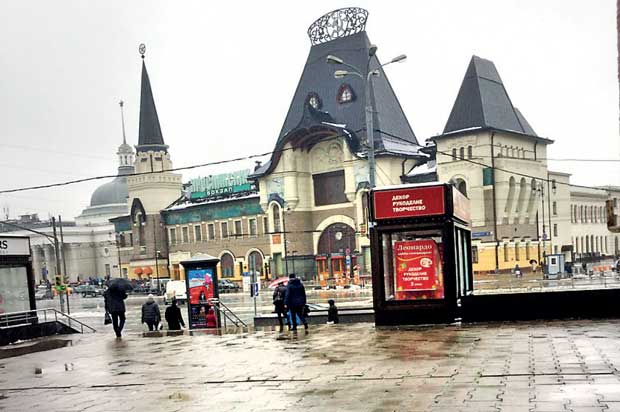 Confined to a room together for the longest period in our 44 years of marriage, we had our first fight on the train upon discovering that Shamali had made me smuggle biscuits and cheese and bringing food aboard was prohibited.

There was plenty of food on the menu and the dining car and was priced reasonably but nothing was available on request at the first dinner. The eggs at breakfast were brought in a pan from the fire in the style of a convict's portion by the lady cook and served with much aplomb. The egg presented was unique in appearance and did not answer to any known description of egg preparations and did not fit the definition of an omelette in the menu: it did smell eggy and was virtually 'uneatable'. All options at breakfast were unavailable, rendering the term option meaningless. We were served sliced tomatoes and gherkin with brown bread. Dr. Zhivago too did not enjoy his food on his way to Siberia in different circumstances. Hard talk was necessary together with hand movement and the quality of food improved immensely on the journey as the food is purchased locally. It's the tone that matters to get a message across.

Ashamed, I helped Shamali finish her biscuits and cheese. We ate the fruits in breakfast boxes served free to first class passengers consisting of apple, bread rolls, jam and chocolates.That was much better than the meal served in the restaurant by the pretty girl Olga who knew no English ['no 'katha' (talk) but much 'hina' (grin)].

As the train approaches a station, Babushkas [old ladies] queue into the compartments to sell deliciously prepared oiled fish (Omul is the best) for the price of a dollar and a half. Sale of cheap moonshine vodka has a ready market. The sound of music in the cattle class became louder with the gargling of vodka in throats. Two Russians who were successful on a fishing expedition on Lake Baikal provided a cooked dinner for the first class passengers, washed down with Russian beer. In Russia, officials don't smile but are oozing with kindness and became animated after drinking the best of Kelani Valley teas. Once you befriend a Russian, he is a friend for life.

The cabins are miniscule but you grow to love their design concepts, as there is a nook for everything, including plugging computers. More comfortably conditioned are the room temperatures than in any four-star hotel we stayed that were all overheated. There is space for a library and a bar within the tiny confines of the cabin, kept clean with the best bedding and pegs to hang clothes for seven days. Washrooms are two for a compartment of 18 with no shower facilities. I used the washroom at 4 am but late-riser Shamali never did complain of a depressing toilet; bedrooms and washrooms were vacuumed daily. We would have much to say to your domestic if she vacuumed rooms that speedily. But for the price paid, there were no internet facilities that CGR offered free for the price of a first class ticket on prime trains.

It was snowing and folks in the villages were dressed in old time winter clothing and travelling on sledges. Travel magazines recommend winter travel to see Siberia in its true colours when prices hit rock bottom. People hardly step out of cottages till the sun shines at 10 am and it is dark by 4 pm in early winter. Four-star hotels in Russia were more comfortable and offered more in-house facilities than the previously plush Saman Villas [USD 400 per day]. It costs around USD 100 for a large 4 room suite per day for two with a lavish breakfast included in a 4 star hotel while boutique hotels in Sri Lanka find quantities becoming restrictive and the price climbing steeply. In Russia, food on the table appears much in surplus, especially the tasty beetroot soup with meat floating on creamy broth costs 280 rubles - is a meal in it itself.

Shamali slept near 12 hours a day and interacted little but that is her kind of holiday, to eat and sleep well and not be interested in witnessing the passing scenery. Her internal alarm gives a wake up call at meal times. She sure enjoyed the journey while I tapped on my laptop and interacted with passengers and staff and not once did she complain of boredom spending much time in the land of nod. We are different strokes proud of our distinct individuality.

Still on the railway, we visited Buddhist Russia in Ullan Ude [the capital of Burayat Republic had one million Buddhists at the recent census and are said to be the most hospitable and friendly people in Russia.

Lamas have existed after Stalin gave them religious freedom in 1940 after sentencing them to gulags in 1930's]. Strangely it is the young that take to Buddhism in Russia.

To Irstuk (Paris of Siberia) next and Lake Baikal and I propose to travel Aeroflot on the return leg to Moscow [internal air traffic in Russia is in a poor state] and take a flight home the same night.
Pardon me, being no travel writer, I did it purely at the behest of the Daily Mirror editorial staff to satisfy them. Trying my hand at travel writing indeed bores me. I am just hopeless. Never again please. More comfortable on my regular beat.