---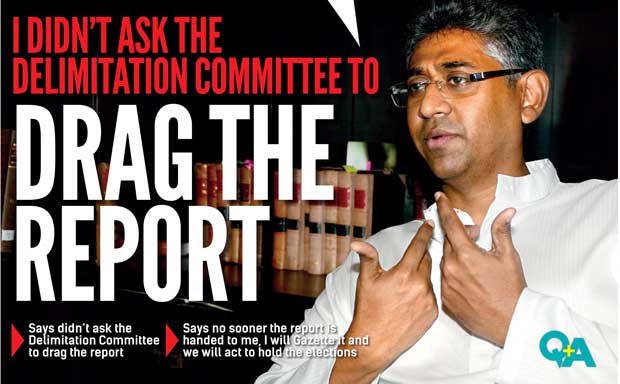 The Delimitation Committee report has drawn much attention from many segments of society and now it has evolved into a controversial issue. In an interview with our sister newspaper Lankadeepa, Minister of Provincial Councils and Local Government Faiszer Musthapha spoke extensively on the many charges levelled against him by his critics.
Excerpts:
QThe report of the Delimitation Committee has created much sensation, can you actually tell what the present position is?
I received an intimation, while I was abroad, that the Committee report was to be handed over to me on January 2, and I hurriedly returned from Mecca early in the morning to accept it. Before I could peruse the document my Secretary informed me that only three members of the Committee had placed their signatures on it.

I never refused to sign it, and only inquired as to why the others had not signed it. I was informed that they had been requested verbally to sign it. The Secretary informed in writing that he would obtain the signatures of the others within seven days and finalize the report. We intended to have this completed and issue the Gazette notification hoping to have the local government elections before the Sinhala New Year. It appears now that some had turned it to obtain political advantage.

QWhen there is a 3/5th majority why cannot you accept it?
This is not like holding an election. It is better to obtain all five signatures. The Chairman of the Committee never informed me that two persons refused to sign it. He only told me that they required more time to study before placing their signatures. I stated that their decision has to be obtained to finalize the report.

QIn the midst of this confusion, why did you go abroad?
It was a pre-planned trip. After making arrangements with my State Minister who was to act in my place and informing the President, I went to Mecca with my parents and relatives.

QIt appears that your relationship with the Delimitation Committee is not that good.
This Committee was appointed by me. The Ministers usually get involved with such committees appointed by them, but in this case I never interfered and allowed the Committee to carry on independently with what they considered right. Earlier, decisions were taken by the Ministers and the Committee members just placed their signatures.

Earlier this report was prepared by former Minister Basil Rajapaksa. The Committee then only placed their signatures. I did not stoop to such levels. I acted democratically and in fact the Chairman of this Committee Asoka Peiris himself declared some time ago that Minister Musthapha did not interfere in their activities and went on to say that all facilities had been provided to them. Therefore he has no moral right, nor legal right now to level accusations against me.

QDid you tell the Chairman to drag it on?
If I had told him to drag it on then he could have declined to hold that post and left it. If he is a prudent senior official he could have done that. He had not told hitherto that I was interfering, obstructing or trying to delay his work. He may be under pressure. After taking so long on this matter and continuing to delay there will be a pressure from various sectors and in that situation it is best to direct that pressure towards someone else.

As a politician I can face such pressures, and whatever the criticisms we face. We are depicted as jokers and cartoons are drawn and various stories are spread. I am able to withstand these as I am experienced.

QIn a recent interview we had with the Chairman Asoka Peiris, he claimed that you were keen on dragging this matter. From his statement it is clear that there was a misunderstanding between you.
As I told you earlier, if there was any issue he could have left the Committee without speaking to the media. If the issue is with the Minister he should settle it with the Minister and not put up a media show. I haven't still read the interview he gave to your paper. I am sorry if he had stated to your paper about me in that manner, because we had lunch together yesterday.

QThat is the very thing that is creating doubts. Both sides speak in a different manners to the media, but have meals together.
If Asoka Peiris had stated to your paper about my doings, how can we sit together and have meals?
It was he who suggested that we had our meals in the Delimitation Committee office. I can show you some pictures of us having meals together.

QOur problem is in selecting the best actor.
This is not acting. You state that Mr. Peiris made accusations against me at the interview you had with him.

QDo not mix up. What he said was that you told the Chairman to drag this on.
What you say is that I am poking my finger into his affairs. If he said so do you think he would continue to work with me so closely? We even had a joint media conference on January 2.

QThat is what we are implying that it is scripted.
I am a responsible Minister in the Government, and I have no intention of staging dramas. That was in school that I took part in dramas. This is not the time for dramas and I am not keen to act in dramas now.

QIt is good to hear that you are not interfering in the affairs of the Committee, but as the Minister aren't you keen to find out what is happening there?
That cannot be done. Once a committee is appointed by a Minister, it is not necessary to keep on finding out what is going on. Earlier the activities of such committees came under the influence of the Ministers who had set up the committees and they could make them dance to their tunes. Why are you trying to push me into that culture, when I am trying to keep away from it?

QWhen on more than seven occasions, dates were fixed for the release of this report, why this confusion? I only wanted to know why no inquiry had been made about the delay?
If more time was needed for this exercise I would have given it and if they did not require more time I would have acted accordingly. I gave the Committee the time that was required. Earlier, the report was made inside air conditioned rooms, which also took three years. We travelled all over the island and obtained people's views in preparing this report, and the Committee members worked independently, and if I were not concerned about the stress they would undergo it would have been unreasonable in the allocation of time. It would have been a great injustice to the members of the Committee. I also could have presented a haphazardly prepared report and I do not indulge in such low tactics.

QTell us frankly, whether this delay is the result of someone over and above you having a hand in this?
There is no one above me who is interfering in this. Faiszer Mustapha is one person whom you cannot intimidate. The President and the Prime Minister, who are above me had never interfered in this issue. I am working as the Minister of Provincial Councils and Local Government and not as a representative of the SLFP or any other party, and I am not under contract of anybody. That was why I told the General Secretary of the SLFP that they were looking at this from a political view point, whereas I am looking at it from the entire country's view point.

QThere is an allegation by the Election Monitoring institutions that it was a ruse to postpone the elections using this matter?
Those who now lack slogans, are coming up with this type of slogans. Those who speak in that manner are not aware of the reality and continue to level charges against each and every one in order to gain marks. The much talked about stance, is that using this issue the government was attempting to postpone the elections. This is not the first time we hear this type allegation.

QThe Delimitation Committee is to meet the Prime Minister next Monday. What are your intentions?
The Prime Minister has invited all political parties to discuss the issue, and had also requested the Delimitation Committee to attend. It is not a legally binding move. It is a cordial meeting. However, the Delimitation Committee Report has to be handed over to me, that legal obligation is with me.

QDidn't the President discuss with you regarding this matter?
He asked me about this matter and I briefed him on the actual position. He told me to hasten the activities to hold the elections as it has now become an issue for the government.

QIn this scenario, why has your State Minister Priyankara Jayaratne resigned?
That was his personal decision. It is not something unusual for Ministers to resign. I was the first to resign from the 100-day Government. I decided to resign at that time and Priyankara Jayaratne too had taken a decision in that manner. There is no connection with his resignation and the issues at the Delimitation Committee. I can emphatically state that.

QYou had said not to disrupt the activities of the Delimitation Committee. Who are these detractors?
Even media can do it. You can formulate the public opinion on this matter. I earnestly requested not to tarnish the cordial relations I have with the Committee.

QBut it is apparent that the two factions are telling something to the media at one time and later say something quite different. Whom are we to believe?
There are many double tongued persons in society, in the media and also in politics. I do not wish to say more about the Committee as I was the one who appointed the Committee.

QIf the Chairman of the Committee can boast about the achievements of the Committee, why can't you, as the Minister, also crow about your activities to the country?
I am not a person acting in that manner. Some politicians do it. The Committee members appointed by Ministers strike at the Ministers and the Ministers in return attack the Committees. I am not inclined in that manner. I believe in morals as a politician, and always speak well of those who attack me. I act in good faith that is why Asoka Peiris joined me in having meals.

QCan you say when the Provincial Elections would be held?
No sooner the report is handed to me, I will Gazette it and we will act to hold the elections early.