---
The island-wide token strike launched by the Government Medical Officers Association (GMOA) not only crippled some of the health services in the country, but also inflicted mental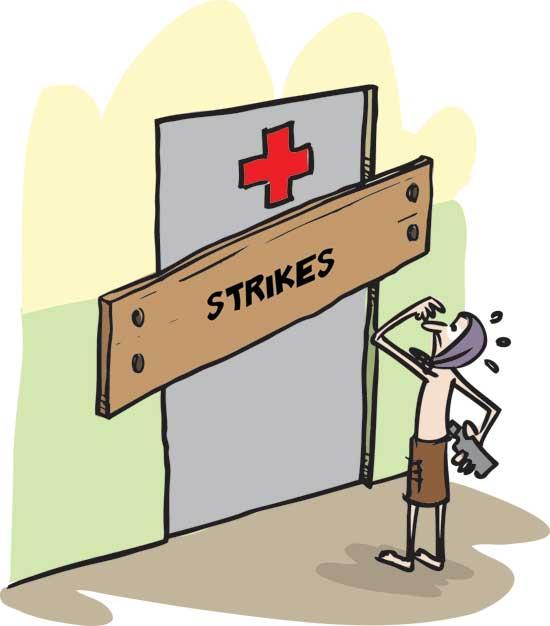 wounds on patients who were inconvenienced.
The strike was carried out at lightning speed. Public Administration Minister Ranjith Madduma Bandara was quoted in the newspapers saying that the strikers never had discussions with him before launching the strike. He even termed the strike 'extremely unfair'.

Patients who visited hospitals from far away places for treatment were left wondering as to why they should be punished for an issue between the doctors and the Government authorities. This is a point to ponder.
These doctors would have been patients sometime during their teenage years and obtained medicine from state hospitals. They would have also enjoyed free consultation and medication. Now the roles have been reversed. Some of them are doctors today. Is it right on their part to deny any person battling ill-health an opportunity to see the doctor and receive treatment?

These doctors are educated with tax payers' money. Doctors used to take oaths in the good old days to uphold specific ethical standards. That oath taking was replaced by more extensive regularly updated codes in the form of documents and issued by the national medical associations. An extract from from an article titled 'Hippocratic Oath' and obtained from Wikipedia states 'These documents provide a comprehensive overview of the obligations and professional behaviour of doctors to their patients and wider society.
But what happed during the strike from a patient's perspective was a little hard to digest. It was reported that patients were greatly inconvenienced by the one-day token strike carried out by the GMOA representatives who are demanding that a salary anomaly be settled among other demands.

According to reports patients in OPDs, clinics and cardio thoracic unites were most affected by the strike.
GMOA representatives have threatened to carry out a massive strike as a follow up to the token-strike if several demands are not met. Representatives of the association claim that the National Salaries Policy has been violated by increasing the salaries of employees in the judicial and legal sections while neglecting several other executive officers, including medical officers.

In later developments a Cabinet paper to rectify the salary anomalies was presented recently, but it was done arbitrarily. Now a Cabinet sub-committee has been appointed to the task.
As much as we have the interest of patients at heart, we also need to see our doctors serve this national well. A medical student undergoes severe hardships during undergrad years and toils to pass the Medical College examinations. Government has a duty towards these doctors to ensure that they are not overlooked when salaries are revised of other government servants.

Some months ago the GMOA fought against the establishing of a private medical college. It is no secret that the government tried to create an alternative path for those who failed to enter Medical College; which attracted criticism on the lines that that the state was lowering the kind of education needed to enter the medical profession in Sri Lanka.
Even now, one of the grouses of the GMOA is the state failing to enforce the minimum standard of medical education. The association has also voiced its concerns over attempts being made to appoint individuals, who have not passed or sat for exams in the Science stream, to the medical profession. The GMOA also voices its concerns over a shortage of medicines in hospitals.

The GMOA has genuine reasons to carry out strikes. But as much as they demand a professional environment to work in, those who obtain their services too can make a demand from them. Patients can demand that doctors don't lose the human touch in them. Doctors make mistakes when performing duties and most often we endure these inconveniences. But no patient will tolerate the fact that strikes can at times play with the lives of those who are critically ill.