---
Its peoples money which is spent each year to maintain doctors with perks and privileges
Any professional body would first respect the judiciary over any crisis
Making money no matter how, led to everything bad and unhealthy
What should be the first and the most sacred responsibility of these medical doctors? It's the 'people'. People paid for everything for their education from start to finish.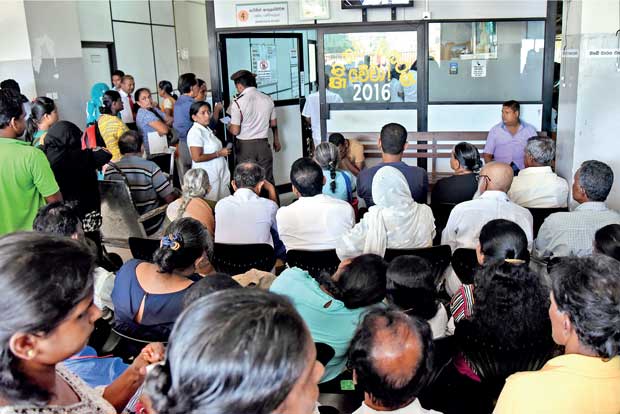 I have said this before and let me say it again. There's nothing called 'free' education as the GMOA and their IUSF allies shout. The cost of education is borne privately by individual parents in 78 schools (excluding 25 special education schools / SL Education Information - 2013) and by the State with tax payers' money in all public schools. It is common sense that around 10,000 government schools with 217,000 teachers, administered through district and zonal education offices cannot be run by volunteers. Every year the government has to allocate funds in billions for education (whether that's enough can be discussed) from the consolidated fund to keep all these operating.

Will the GMOA therefore say who paid the 18,300 odd Medical doctors and the 1,700 plus Specialist doctors in government service for their 13 years of education in school and thereafter 05 years in medical faculty? Will the GMOA say who paid their salaries, their most ridiculous allowance called DAT, their self-calculated 120 hours of monthly overtime and other allowances and perks? Will GMOA tell who fund their children's education in most popular national schools in the main cities? Who forgoes taxes for their duty free vehicles?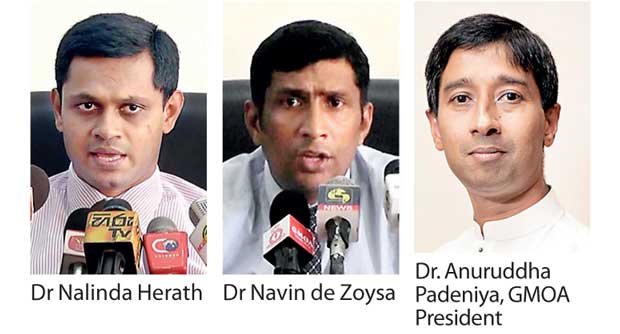 Its people's money, spent in billions each year to maintain these doctors with all their due and undue perks and privileges. Will GMOA accept as government medical doctors they shamelessly charge money from the very people who funded them from Grade I up to medical college and sustain them as doctors? They need to answer this before they oppose SAITM. Living on people's money, they need to say where they stand on 'Free Health' before they oppose SAITM.
The GMOA protests backed by politically illiterate JVP and the Frontline Socialist Party (FSP) with their IUSF is not about improving medical education in Sri Lanka and 'free health' services that mean so much to the ordinary people. That's not what the GMOA wants.They want State monopoly in producing medical students to control the growing and lucrative private health sector. This was explained in my DM article on Friday 24 March. I wrote, 'If SAITM is allowed to produce medical doctors it would then become a precedent with other major players also establishing their own medical colleges. That would then provide the private medical health sector with medical professionals available full time.That would make government medical doctors qualifying from State universities unimportant in the private medical sector. For that sole reason GMOA would not allow the private sector to produce medical doctors." (http://www.dailymirror.lk/article/-Free-Education--126112.html)

That plainly and simply is the reason why the GMOA is adamant the SAITM should not have any right to produce medical doctors as a private institute. Their demands as spelt out in a media briefing held on March 27 say what they are aiming at.

(1) Health Minister should gazette the minimum standards of medical education and legalise the technical report issued on SAITM by the Sri Lanka Medical Council (SLMC).

(2) Higher Education Minister should inform the Judiciary that SAITM has not obtained the Compliance Certificate from the SLMC.

(3) Recruiting students to SAITM should be stopped.

(4) Offering degrees by SAITM should be stopped.

(5) A committee should be appointed to solve the SAITM issue on a solution accepted by the SLMC.
The GMOA leadership wants the SLMC as a buffer to have some semblance of legitimacy to their demands. What's the quality of this SLMC anyway? It is a wrongly constituted body to begin with. No academic in any apex regulatory body expected to remain a-political and independent would go public with cheap political statements. For it is expected to play neutral in finding answers. SLMC did not and does not stand up to such decency and responsibility. In short, this present SLMC should not be a deciding factor in any solution.

As publicly known, present SLMC leadership is accused of tampering and altering the very report submitted by the SLMC team that was entrusted in August 2015 to evaluate the SAITM Medical Faculty. If for any reason, the President of the SLMC Prof. Carlo Fonseka and others differed with

that report, the most decent way to have dealt with it was to table their own dissenting explanation for the Council to decide. Yet it was the tampered report Prof. Carlo Fonseka used to inform the Health Minister, SAITM is not qualified to award medical degrees. That allegation to date has not been denied by any.

What are minimum standards on medical education, the GMOA wants the Health Minister to gazette? I am one signatory to the RTI request filed with the SLMC on 13 March, 2017 by the collective 'Decent Lanka 2015' asking for 'Evaluation/situation reports in relation to 'prescribed standards' on medical faculties in (i) Rajarata University, (ii) Ruhuna University,(iii) Sri Jayawardnepura University, (iv) JaffnaUuniversity, (v) Eastern University and the (vi) Medical faculty at the Kotalawala Defence Academy'.

The request made it clear the reports asked for are those "…as provided for under Section 19A(a), (b) and (c) of the "Medical (Amendment) Act No. 30 of1987, where the SLMC is empowered to investigate any medical college after giving not less than 02 weeks notice in writing."

The RTI Act No.12 of 2016 allows only 14 days for such information to be provided. The SLMC did not even acknowledge receipt of the request for information. Not even after 22 days. It is therefore presumed the SLMC has not evaluated any medical faculty to date despite the law requiring evaluations on "prescribed standards". Perhaps they have put together some criteria as standards on medical education quite recently to face the crisis it is now in, over the SAITM issue. In short the SLMC has been totally irresponsible. Is this the SLMC the GMOA wants to lay down conditions in resolving the SAITM issue?

And how responsible and law abiding is the GMOA itself to demand respectable answers to issues? Any civilised professional organisation in a democratic country would first demand rule of law and respect for the judiciary over any crisis. The GMOA simply don't belong to that class of decent professionals.They want the government to decide against the Appeal Court ruling, depending on IUSF strength on the streets. The GMOA thus proves they are uncivilised compared to the semi skilled workers contracted for the SL Telecom and its subsidiary Mobitel, who agitated for permanent employment. These workers were slapped with 06 Court cases but never challenged them on the streets. They fought them in Court houses while publicly agitating for their jobs within the law. The GMOA cannot match that worker decency.

The GMOA is representing a breed of selfish and greedy medical doctors. If they want to know how unethical and unprofessional the medical profession is, the GMOA should read their present day hero Prof. Carlo Fonseka's article a year ago in the "Sunday Island" on 10 April, 2016 titled "Dangerous Doctoring". Thereafter read the response to it on 12 April, 2016 by Prof Susirith Mendis titled "Medical error and negligence". Both Professors agree there is a dangerous trend on the increase now with medical doctors neglecting their professional and moral responsibilities. All medical doctors produced by State medical faculties.There can be a sprinkle of foreign medical graduates too who entered government service after sitting the Act 16 ERPM.

"There is a large body of 'knowledge' acquired from anecdotal narratives from patients, their relatives and also doctors (many of my students who are ethical doctors who suffer from pangs of conscience) who speak with us in strict confidence and anonymity on incidents of gross medical negligence in the Sri Lankan medical/healthcare settings. Some are horrendous stories that are clearly in the category of criminal negligence." (emphasis added) Writes Prof Susirith Mendis. "There is a veil of professional secrecy that shrouds these 'dark medical phenomena' in Sri Lanka." says Prof. Mendis referring to "gross medical negligence". What does he mean by "professional secrecy"? I presume he meant that all incidents of medical negligence, some in the category of criminal negligence are being swept under the carpet by professional bodies in connivance with the GMOA, certainly dominated and controlled by medical doctors, one possibly being the SLMC.

This heavy degeneration was catalysed by the free market economy. Unrestricted competition allowed in making money no matter how, led to everything bad and unhealthy. Legally public servants cannot indulge in private work. The Establishment Code, the PSC's service procedures gazetted on 20 February, 2009 and the Health Sector Service Minutes gazetted on 11 October, 2014, all prohibit private practise without prior approval by the Ministry head. How channel service and private practice came to be openly and freely allowed was on free market choice after 1978. In this country, with an unrestricted free market, E-codes and Service Minutes have all gone into limbo-like most other laws and regulations. It is therefore taken for granted channel service and private practise for medical doctors is their 'right'.

Thus it is time people 'Occupy Hospitals' and tell medical doctors they have to work full time in hospitals for what they are paid by public money. If they want big money from private practise, they should leave government service forthwith. Will the GMOA agree to that in opposing SAITM?