---

Crossovers, a crime against electors
"For I will not say anything which I will not promise,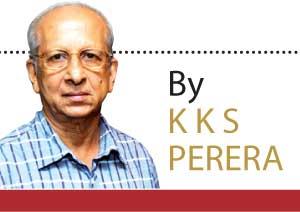 Nor promise anything which I will not swear.
What I swear, I will sign,
And what I sign, I shall, with God's grace, ever perform."
- King James I to House of Commons in 1607
Kalutara district MP Kumara Welgama in an interview with 'The Hindu' said former President Mahinda Rajapaksa should not field a sibling as the next Presidential candidate. He said family bandysm is not appropriate for the country and MR faced defeat at the last election due to his family- centred approach. A close ally of the former President, Welgama who was a senior cabinet minister of his government, said many seniors were disheartened as the former President positioned his relatives above everything.
"Our family belongs to all. One single family cannot maintain rights to presidential candidacy", he has said. He further said that there were many seniors in the party who did not belong to the family ring of the Rajapaksas who fit for presidency.
JR Jayewardene did not happily give presidential candidacy to Ranasinghe Premadasa. Chandrika did not cheerfully nominate MR as the Presidential candidate. Maithripala Sirisena left his government and contested against him because he was not given a position within the MR administration. Sirimavo in 1982 was never in favour of Hector Kobbekaduwa. Did MR happily announced his brother's name? With the consensus of Sinhala, Tamil, Muslims and Malays in the party, DS Senanayake founded the United National Party on September 6, 1946.
Kannangara: The Father of Free Education
Free education was CWW Kannangara's brain child who believed, "Education should be free from the Kindergarten to the University" . He established central colleges, a chain of highly advanced secondary schools in every remote area of the country for the benefit of underprivileged students. His significant achievements led him to being commonly referred to as the Father of Free Education. Kannangara became extremely popular and that made DS, the father of Nation 'concerned' about the future successor of the Party. Accordingly, at the next election held in 1947, he was given a raw deal by the leadership; he was in fact defeated in Matugama by a slender margin of 3000 votes consequent to some in the party clandestinely working against him. [remember Rajapaksa's attitude towards SB, Zoysa, Shantha Bandara…at 2015]
DS however honoured CWW Kannangara by appointing him as Ambassador to Indonesia.
SWRD Crossover
H. A. J. Hulugalle,Editor - Ceylon Daily News says, "When Dudley was appointed a Minister in DS Senanayake's first Cabinet in 1947, I felt that there might be an element of nepotism about it. I printed in the newspaper a letter criticizing the appointment. ….When DS died in March 1952, manipulations for the succession had already got under way in the lobby of the Central Hospital. I was then in charge of Government information and moved among Members of Parliament assembled there. I could see how, on the initiative of MP's like Eddie Nugawela and Noel Gratiaen, opinion was swaying in favour of Dudley, who was himself quite unconcerned."
The political crossovers began with SWRD Bandaranaike, the Minister of Health and Local Government, second in command and Leader of the House under DS joining the Opposition on July 12, 1951 and later forming the Sri Lanka Freedom Party. He sensed reasonably that the function of premiership was being pondered by DS to be conceded on to his son, Dudley.
Continuing Hulugalle says, "Lord Soulbury, who was the Governor-General at the time, told a friend later that he had had a talk with DS before his last illness about who should succeed him if he was suddenly disabled. The elder Senanayake was not prepared to make a nomination, or suggest names, but said that he would not be surprised if the majority in the Cabinet and among back-benchers favoured a summons to Dudley should the occasion arise." --Ceylon Daily News : April16 1973.
"Political crossovers began with SWRD Bandaranaike, when he was the Minister of Health and Local Govt, second in command and Leader of the House under DS joining the Opposition on July 12, 1951 and later forming the Sri Lanka Freedom Party (SLFP)"

Prof. KM de Silva, JR biographer put the words in different way…, DS in a diplomatic way stated, "Lionel [Kotalawala] cannot win an election, only Dudley can, but he is my son, …if the UNP is to come back to power, Dudley is the choice. However he is my son, I cannot comment."—Vol 1:pp 253
Governor Lord Soulbury's decision to call upon 41-year old Dudley to take oaths as new Prime Minister following the tragic death of his father DS in March 1952, raised many eyebrows. This surprise move by Governor, led to a brewing of party crises. Many suspected it was a conspiracy to deprive, Leader of the House and next-in-command Sir John Kotalawala, the premiership. A desperate Kotalawala made several frantic moves to convince Dudley not to consent; but pressure exerted by family members [nepotism or bandysm?] and contemporaries was too heavy.
Dudley, a gentleman in politics and an honorable man took oaths as PM though he knew the implications of the matter as Kotelawala was senior to him, and therefore, he sought after a fresh mandate from the people dissolving the Parliament. He emerged victorious with a thumping majority, proving that 'nepotism or bandysm' sometimes work healthy for the Party and the nation.
RECORD crossover - 2007
With the crisis in the CBK Government deepening, eight SLFPers namely, Bandula Gunawardene, Prof G.L. Peiris, S.B. Dissanayake, Wijepala Mendis, Ananda Moonesinghe, Ediriweera Premaratne, J Wijekoon and Mahinda Wijesekara along with four MPs of CWC crossed over to the UNP and toppled her rule. This massive crossover can only be compared to CP de Silva led group of SLFPers successful attempt at toppling Sirimavo's Government in 1964.
Nanda Mathew and Dr. Sarath Amunugama were the first UNPers to cross over to the CBK government and receive portfolios in November 1999. Thereafter, Ronnie de Mel followed as Minister of Economic Development in July 2000.Wijepala Mendis joined in October 2000.Keheliya Rambukwella, Rohitha Bogollagama on December 5, 2001.Mahinda Samarasinghe joined the MR government as Minister of Disaster Management and Human Rights.
However, the mass movement by 17 seniors in 2007 overshadows all previous shifts of loyalties in the history of Sri Lankan political history. UNP Chairman Rukman Senanayake during a meeting with MR declared that the party's Memorandum of Understanding with his government would end with his accommodation of 17 dissident UNP MPs.
"I told him the MoU is finished if the crossover happens," Senanayake told the media. The meeting came ahead of a cabinet reshuffle. 17 UNP MPs including seven very seniors were to be made cabinet ministers, deputy or project ministers of Rajapaksa government. Party leader Ranil Wickremesinghe conveyed to the President a similar message when they met a few days before but the warnings did not deter the MPs from crossing over and the President ignored them too. Tissa Attanayaka, UNP General Secretary said, with this move those MPs joining the government would face disciplinary inquiries before being sacked from the party. Attanayaka said action would be taken against the nonconformist on the basis that they dishonored the party constitution by joining the cabinet without the endorsement of the party's working committee. [However there were no disciplinary inquiries or sacking as retorted by the man who eight years later crossed over to MR's party who was alleged to have published a document with forged signatures of the candidate Maithripala Sirisena and the Opposition Leader Ranil Wickremesinghe during the Presidential Election].
Among the 17 UNP dissidents set to cross over were: M.H. Mohamed former Speaker and UNP veteran, G.L. Peiris, Milinda Moragoda, Gamini Lokuge and Bandula Gunawardena (Colombo); Karu Jayasuriya and Edward Gunasekera (Gampaha); Rajitha Senaratne (Kalutara); Hemakumara Nanayakkara (Galle); Lakshman Yapa Abeywardena (Matara); Mano Wijeratne (Kegalle); Dharmadasa Banda (Moneragala); Navin Dissanayake(Nuwara Eliya); Neomal Perera (Puttlam); C.A. Suriyaarchchi (Polonnaruwa) and M. M.M. Mustapha (National List).
The rebellious group met MR at Temple Trees prior to the warning and discussed the political situation over dinner, and reached agreement with the allocation of portfolios. They were to be given one Cabinet position and a non-cabinet Ministry. The dissident group led by MH Mohomed and Karu Jayasuriya said they would function as a distinct unit group in parliament. A written statement regarding their position was sent to Speaker W.J.M. Lokubandara.
Sri Lanka voters will be entertained adequately within the next couple of months by all varieties of frogs leaping to and fro in search of greener pastures.
Writer can be contacted at -- [email protected]