---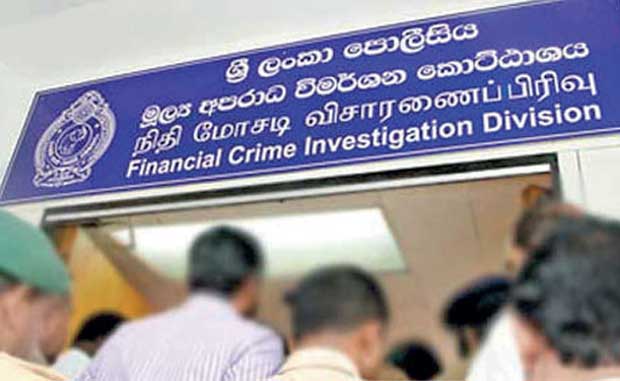 "In a free society, the 'vision thing' is left to private individuals; civil servants are kept on a tight leash, because free people understand that a 'visionary' bureaucrat is a voracious one and that the grander the government...the poorer and less free the people."
~Ilana Mercer

A lacklustre, sluggish and thoroughly uncreative bureaucracy has been waiting for an excuse. And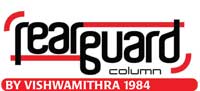 they got it- FCID. For the most inexcusable delay in getting things done, the Sri Lankan bureaucracy which was merely a ready, willing and handy and convenient tool in the hands of politicians in the standard (or sub-standard) of the last regime of the Rajapaksa's, has become one of the most powerful yet caustic and encumbering forces in the present government, not as a positive driver of policies, nor as an exemplary force in government administration upon which hundreds of thousands of general masses depend, but as an authoritative, negative force in obstructing the general movement of businesses directly or vicariously related to government.

As per Wikipedia, 'Financial Crimes Investigation Division (FCID) is the law enforcement agency of the Sri Lankan government. It is tasked within Sri Lanka for financial crime investigations and law enforcement;it is a subsidiary agency of the Sri Lanka Police Service'.

Apart from drilling fear and shame into the minds of corrupt politicians, FCID has also been responsible for creating a very apathetic and negative sensation in the present crop of civil servants, if we can call them such, a crop of bureaucrats that is primarily accountable for the circulation of a narrative that the current government led by President Sirisena and Prime Minister Wickremesinghe is gripped with its own ineria of impotence and not capable of getting 'things done'. However, it must be mentioned here that major part of the blame surely belongs in the laps of the Cabinet of Ministers too. While not making an iota of excuse for the political machinery of the current government, a more severe part of the blame must go to the officials who are charged with the actual execution of the jobs. Not that the last regime of the Rajapaksas had a more solid and energetic set of bureaucrats. They had this same lot. But what was absent from that past regime is what is embedded within the concept of 'Yahapalanaya', good governance. Here again, I must say that there isn't any tangible evidence of Yahapalanaya to write home about.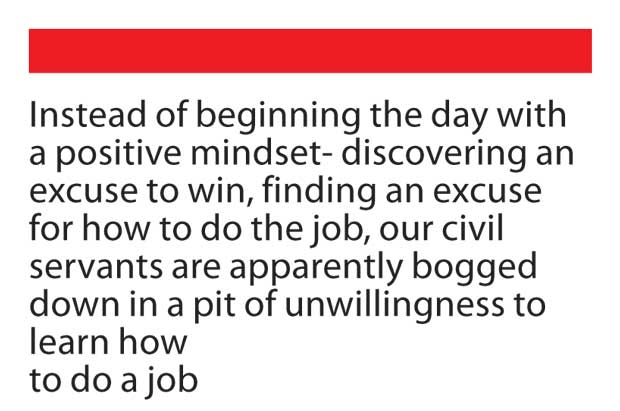 Instead of beginning the day with a positive mindset- discovering an excuse to win, finding an excuse for how to do the job, our civil servants are apparently bogged down in a pit of unwillingness to learn how to do a job! They are not here to solve issues relating to atomic research, nor are they engaged in rocket science, though some in the Ministry of Science and Technology may be. But as a vast majority of our present bureaucracy have not realized the truism that if you fail, never mind, do it again and again and again until you get it right and moving. Every man's lifelong ambition is an expression of that eternal yearning, find an excuse to excel.

But in what context does this excellence need to be attained? Whether the context is positive or negative, the action taken within that context has to be shaped and molded to produce positive results. No SLAS seminar or workshop would teach that primary mindset of an officer who needs to have to execute a job. If all they have is what they have inherited from their parents, teachers, friends and associates, then the game is lost, the whole enchilada is rotten and uneatable. The professional training would lend one the objective material in order to do a job; it may lend the training on how to proceed from A to B in a given context. But it would not lend the inner strength that one has to use to turn that training into results. What is missing from beneath the so-called efficient exterior is that inner strength, that creative mindset, that craving to exceed excellence. And that is indeed sad and tragic.

In an age in which scientists explore the secrets beneath the ice in Antarctica, in which astronauts spread their wings of investigations into the eternal space of the skies, in which Indian whiz-kids in the Silicon Valley are testing the very validity of algorithms to master the behaviour of the stock market prices, our bureaucrats are busy calculating the miles allowed per month on a vehicle used by an even more senior bureaucrat. In fact, as was intimated to me personally, this happened to a very senior officer serving in one of the Ministries today. Having lost all sense of proportion, instead of thinking afresh and big, they have succumbed to mere micromanaging of rudimentary issues which our olden-day civil servants used to delegate to a Chief Clerk. They have got used to thinking not small but puny.

This loss of space and time by our modern-day civil servants has paved the way for our politicians to interfere into a land where they have no navigational skills, nor any guiding compass.Left unto themselves, our bureaucrats would be capable of writing theses of how not to do a job. For them, the Temple of Service has become a shallow and empty shrine where the ancient relics and vestiges of the past are worshipped as omniscient and sanctified. Little do they know that a service once manned and managed by unreservedly imaginative and creative minds that were the best in the country, has become a living example of mediocrity. Into this mindset, when a hardening tool as FCID is introduced, these vultures of residue of the last regime, a glorious excuse is found in order not to execute the least harmful legislation, regulation or law.

This is the entrapment the current government willy-nilly set at the foot of our lethargic bureaucracy. As much as the landmark law that was introduced yesteryear by Felix Dias Bandaranaike in the then government headed by late Sirimavo Bandaranaike, under the guise of Administration of Justice Law no. 44 of 1973 was greatly injurious to the democratic genre of constitutional governing process that would have embraced accountability and transparency in the nineteen seventies, the modern-day FCID is a great tool in the hands of the government to discourage and deter blatantly corrupt practices of politicians and members of the civil service.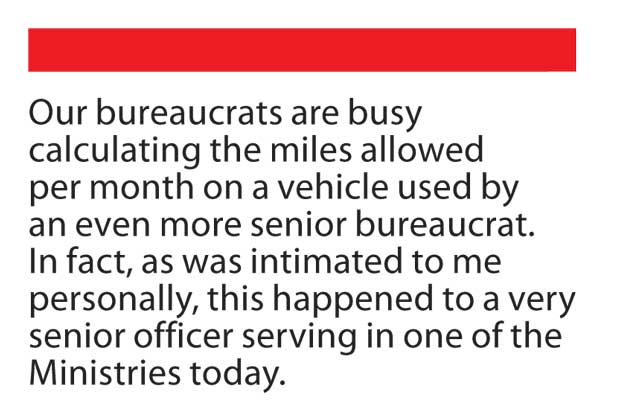 Wikipedia further iterates that 'FCID was established by Minister of Public Order and Christian Affairs John Amaratunga on 26 February 2015 under the instructions from the Prime Minister Ranil Wickremesinghe. Financial Crimes Investigation Division is directly accountable for carrying out investigations throughout the island into serious financial frauds, misuse of state assets or funds, cases of a nature that require intellectual skills and complex detection. At times, the FCID carries out investigations pertaining to Government revenue. The FCID agencies are highly skilled in encountering the Major Financial Crimes, Frauds, Unsolicited Mega Projects, Major Financial Crimes against Public Property, Money Laundering, Terrorist financing and financial transaction, Illegal financial transaction, unlawful enrichments, and offences on financial crimes against National Security.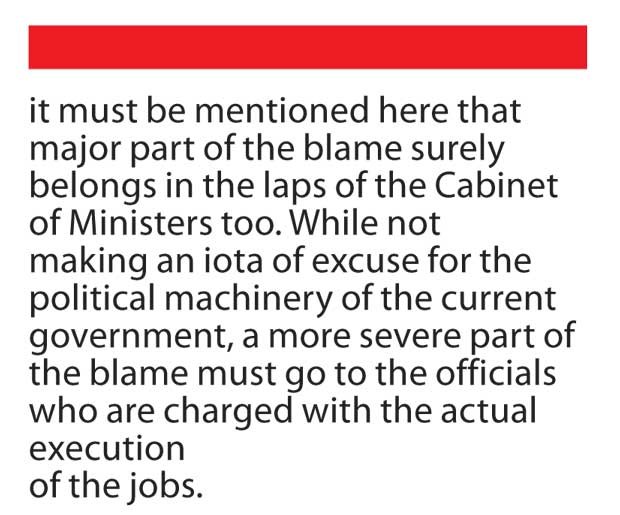 The FCID has utmost powers to arrest civilians, government workers and legislators from anywhere in Sri Lanka without getting approval from Attorney General or DIG of this unit. The suspect can be remanded by a Magistrate's Court until further hearings.The Financial Crimes Investigation Division was formed on 26 February 2015 under the purview of Sri Lanka Police Service.FCID is directly responsible in handling the investigations on the corruption charges against the Rajapaksa Administration and the public service that involved in large-scale corruption which led to destabilize the Government revenue.FCID has also arrested several high profile ministers of the Rajapaksa Administration including former Economy Development Minister Basil Rajapaksa'.
It is against these actions of FCID that opposition has manifested itself from the so-called Joint Opposition. Some of the leading members of the Joint Opposition, in fact, have been subjected to the vigorous examination of FCID and they have been remanded or action has been filed against them.
According to 'the Library of Congress Country Studies and the CIA World Factbook',"the judicial crisis of the early 1970s also served to promote long-term reforms that had been under consideration for more than twenty years. In 1973 the parliament passed the Administration of Justice Law, a bill to reorganize the entire judicial system…after Bandaranaike's defeat in the 1977 elections, the new United National Party government and five chapters of the Administration of Justice Law, two (on criminal procedure and appeals) were replaced by the Code of Criminal Procedure Act of 1979, and a third (on the judiciary) was substantially amended by the 1978 Constitution".
But there is a marked difference between then and now. In the seventies, our bureaucracy was manned by some extremely qualified and motivated civil servants. Now it's the total opposite. Demanding a rigorous revamping of our bureaucracy is not as ludicrous as asking for 'rice from the Moon', I suppose.
The writer can be contacted at [email protected]