---
The government today will launch a food production week as a vital aspect of the sustainable economic strategy outlined in Vision 2025 and to consolidate the foundation for a just, peaceful and all-inclusive society.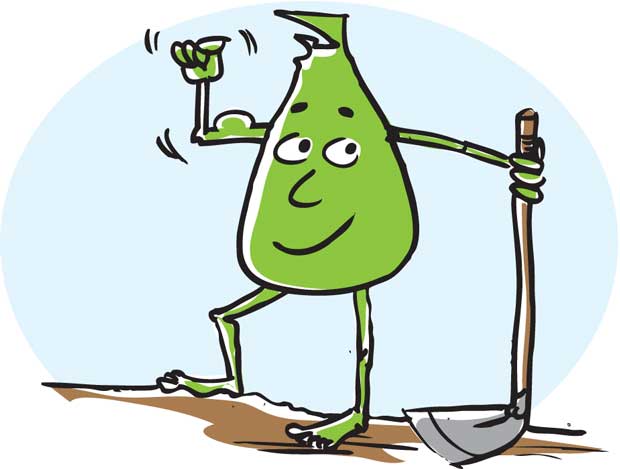 According to the Presidential Media Unit, President Maithripala Sirisena's mission will be implemented as a comprehensive national programme in all parts of the country. Ministries farmers, students, public and private sector entrepreneurs and provincial councils are to participate actively in this programme.

The President hopes that the mission will increase rice production for the local and foreign market and ensure that food production is sustained even when the country is hit by devastating droughts or floods as we have seen during the past two years.
In this national food production week, today has been designated as farmers' day, tomorrow students' day, Sunday livestock day, next Monday entrepreneurship day, Tuesday fishermen's day, Wednesday will be public servants day and Thursday aquatic day.

On paper, the national food production week appears to be dynamic and practical but we hope that those concerned, mainly, the officials will participate actively and with enthusiasm to make this week a turning point in Sri Lanka's history, restore its status as the rice bowl of Asia and a model for the region.

With climate change posing a serious challenge to the whole world, the President has advised officials to ensure efficient functioning of the activities in coordination with the Presidential Secretariat, the Agriculture, Mahaveli and other ministries. In this era of modern technology where high priority is given to creativity and innovation, the President has also called for innovative and enterprising moves to take the mission to its highest dimensions.

To start the week-long programme, a traditional 'wapmagul' ceremony will be held at 8.30 am today, at Kekirawa in the Anuradhapura district with President Sirisena presiding. With thousands of farmers stuck in mud-holes due to the recent crisis, the president has instructed that they be provided good quality seed paddy, while the farmers will be made aware of the value of using organic fertilizer and be given incentives to use it instead of expensive and imported chemical fertilisers some of which are known to be toxic and have poisoned the soil. With coconut also going nuts because of the crisis, the mission includes plans to revive some 2,000 acres of coconut cultivation. Special programmes will be drawn up to encourage people to start home gardens while some 2,500 Mahaveli zone families will get their land deeds.

The food production week's students' day will be held at the Siyane National School in Gampaha with Education Minister Akila Viraj Kariyawasam presiding. It will then go to more than 11,000 schools with the focus being on national food production, food that has no poison or pollutants and stopping the waste of food.

We hope that with high technology also being used to modernize and improve food production the young students will learn to become eco-friendly and responsible citizens playing a vital role in helping Sri Lanka to grow our own nutritious food and stop the millions of dollars we're wasting now on the import of substandard foreign food and processed rubbish.

National livestock day on Sunday will be launched at Peradeniya's Plant Genetic Resources Centre, with the focus being on a national mission to revive Sri Lanka's dairy farming industry. Until the 1980s Sri Lanka had plenty of fresh milk with national milk board bars at every junction but gradually some transnational companies sabotaged our fresh milk industry and today we spend thousands of millions of dollars on the import of milk powder which nutritionists say is largely artificial milk with artificial sweeteners, flavour enhancing substances and sometimes toxic preservatives used.

We hope this week-long programme continues with commitment for months and weeks till the objectives of Vision 2025 are achieved and Sri Lankans will be able to eat our own home-grown food without poisons or pollutants so that we could become a healthier and wealthier nation.