---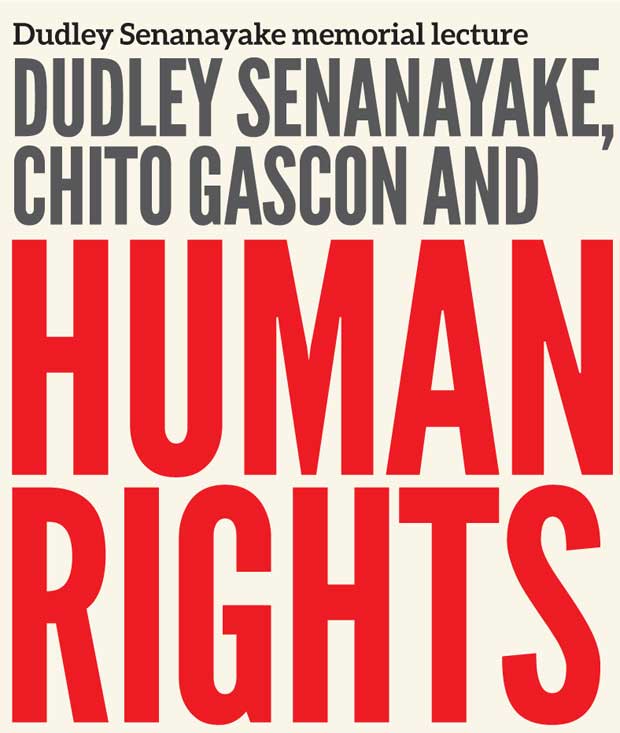 t was an enlightening and informative experience to listen to Chito Gascon, Chairman of the Human Rights Commission of The Philippines delivering the 16th Dudley Senanayake memorial oration. The Dudley Senanayake Memorial Foundation is most appreciative that The Friedrich Naumann Stiftung and its resident representative, Sagarica Delgoda invited a speaker of this calibre to deliver this oration. Ms. Delgoda, like many others, was also a victim of infringement on her human rights when she was unfairly arrested during the previous regime.
It was for me, who knew little of Philippine politics, except for the flamboyance and atrocities of corruption and abuse of power, during the time of Marcos and Imelda, a lesson in the history of that country. Chito Gascon is famed as a champion of the liberal values of responsibility, democracy and human rights; the same values that the late Dudley Senanayake fought for right through his political life. It was no easy journey for both of them, but they both are respected for their unwavering belief in justice, good governance, the rule of law and freedom of the individual.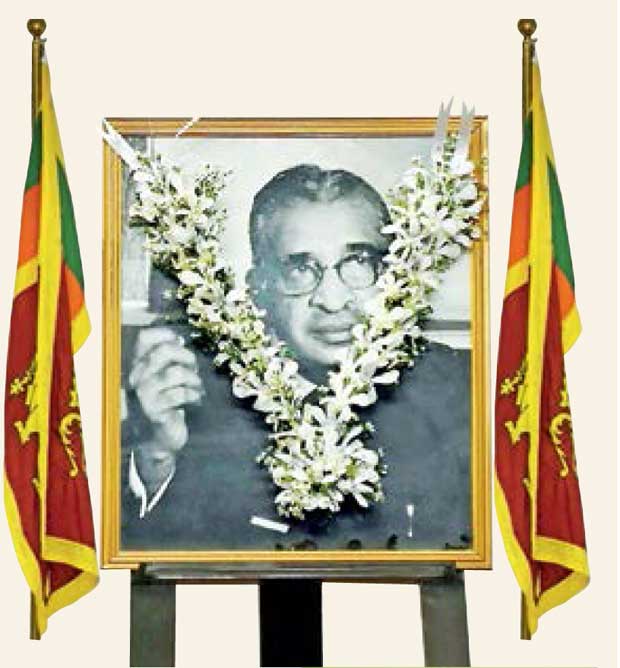 One of the late Dudley's famous sayings was, that he wanted every citizen of our country to proudly state 'This is my own, my native land'. Gascon was the ideal choice for this lecture, because of his steadfast fight in his own country to protect these values. He taught us about the lives of three Filipino heroes; fighters who sacrificed their lives for freedom like the late Dudley, devoted their lives to justice, service, integrity, humility, public interest and prudence. Here again, one sees the similarity of values.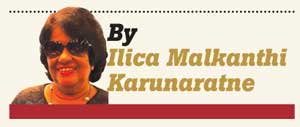 The first such freedom fighter was Senator Benigno Ninoy Acquino.
Chito Gascon spoke of his own feelings, when as a nineteen-year-old, he saw Ninoy assassinated through horror and martial law of a dictatorship prepared to kill anyone who stood in their way of staying in power at any cost. It was, he said this assassination that inspired courage among the people, to rise as one against dictatorship, to restore freedom and democracy. We have had a similar situation here, which resulted in a change of government last year, led by President Maithripala Sirisena and Prime Minister Ranil Wickremesinghe, who share with the late Dudley, the privilege of being Prime Minister of Sri Lanka four times and also a firm believer in the rule of law, freedom and democracy and a fighter against dictatorship.
Ministers D.M.Swaminathan, Ruwan Wijewardene, Rauff Hakeem, FNS National representative Sagarica Delgoda with Chito Gascon in the picture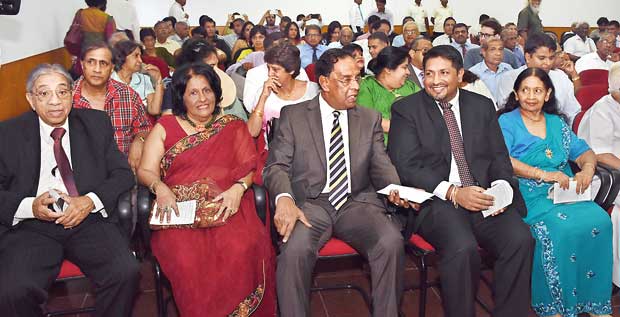 Another similarity is that both President Sirisena and Premier Wickremesinghe have always stayed loyal to their respective parties through thick and thin. This kind of loyalty is rare today when politicians change parties and loyalties at the drop of a hat. He spoke of Jovito Salonga, famed as the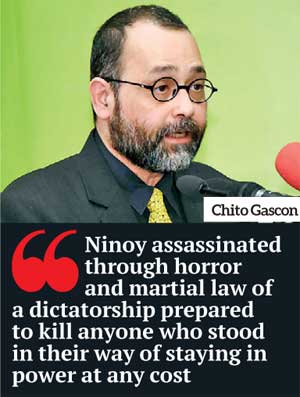 Grand old man of Liberal politics in the Philippines, a former Leader of the Liberal Party after the deaths of Gerry Roxas and Ninoy Acquino, who he said was his mentor and role model who was hit by a grenade, carried the scars all his life, which didn't stop his fight, but imbued him with indomitable courage to fight against dictatorship. Jesse Robredo, also mentioned in the oration, sacrificed his corporate career to fight against dictatorship and for freedom and democracy, and did much for his town and country till his tragic death in an air crash.
To learn about another country's fight against dictatorship brings back the memories of our own here, which resulted in a change of government last year. The welcome speech was made by Minister D.M. Swaminathan Chairman, DSF and grandson of the late Sir Ponambalam Arunachalam, among historic heroes in our own country's struggle for independence. Ms. Delgoda introduced the orator and Ruwan Wijewardene, grandnephew of the late Dudley, in his vote of thanks recollected all this and mentioned all that the government had achieved against the odds of a colossal waste of public funds for personal glory by the former regime. He mentioned the independent judiciary, freedom of speech and the written word without fear of white vans parked outside one's home to abduct and kill, the right to privacy, freedom of religion, Police Commission, advantages to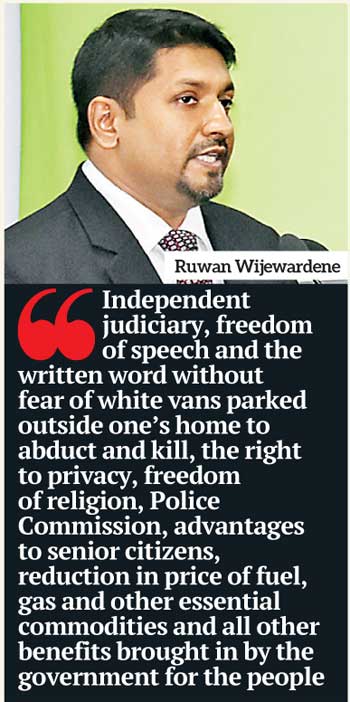 senior citizens, reduction in prices of fuel, gas and other essential commodities and all other benefits brought in by the government for the people. I fail to comprehend how those in power then who abused power as never before, have the audacity to talk now, asking public servants like the IGP and the Governor of the Central Bank not to be influenced by politicians. Were they deaf and blind during the tenure of the former regime?
Thank you Chito Gascon for telling us about your owns country's fight to restore freedom and democracy and for reminding us of the dangers and horrors of dictatorship. People have short memories and have to be reminded time and time again about what we went through as a nation in distress, despised internationally.
A reminder that we must never have dictators back in power again, the government has succeeded in winning back international goodwill; doubly important today, as we live in a world of globalization. People must remember that the previous regime never tolerated allegations of corruption and removed anyone accused of corruption. They never listened to public opinion on any matter at all or changed decisions according to the wishes of the people.
That is the meaning of good governance, democracy and freedom. Do we want a return to a situation where only members of ruling families and their cohorts benefited? An era of rampant unprecedented corruption, abuse of power, waste of public funds, inciting of ethnic and religious communities against each other That is a question that we need to ask ourselves.
pix by Kushan pathiraja