---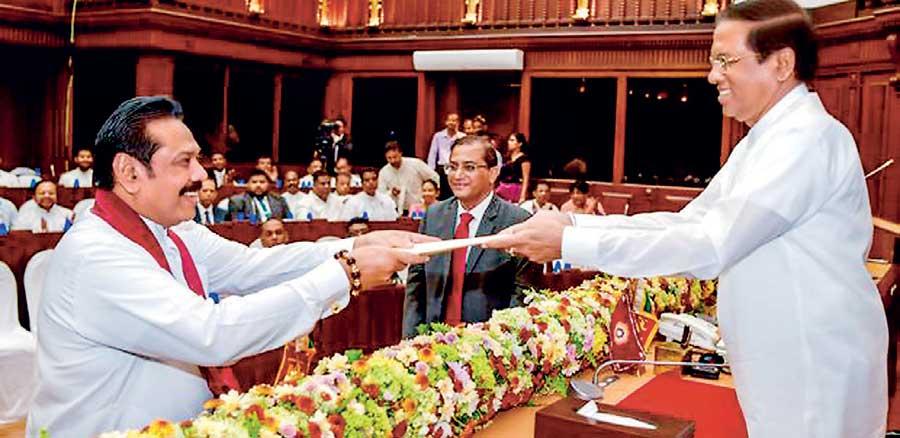 'Never play with feelings of others because you may win the game, but the risk is you will surely lose the person for a lifetime'

- William Shakespeare

Just one year ago, the nation faced a shock above all shocks when the Prime Minister was removed, another appointed in his place and an illegal government in office by a constitutional coup done without any thought of how it would affect the nation. It was none other than an act of spiteful vengeance which caused irreparable damage to the economy, hindered progress and development and gave the nation a fractured image in the eyes of the international community , particularly the democracies in the world.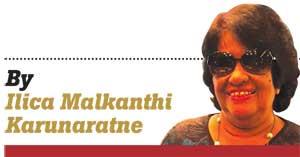 Fortunately, our Independent judiciary, one of the triumphs brought in by this government headed then by an outstanding Chief Justice and Judges, stood firm and upheld the law to the letter in terms of the constitution.We must also applaud the stand taken by Civil Society, and by the Speaker Karu Jayasuriya in this respect as he too, stood his ground amidst intimidation and threats by those who were an utter disgrace in their behavior in that most august assembly. All those mentioned above showed that they were bastions of democracy, in their belief that this must be strictly adhered to, not thrust aside through personal whims and fancies. Viewers who saw the behaviour of MP's were appalled that those elected to uphold the rule of law, could behave like this with no respect for any form of ethics, religious or otherwise. The Holy Bible was thrown surprisingly even by Christian parliamentarians, furniture and chilly powder thrown. It was the most disgraceful behaviour ever witnessed in the annals of our Parliamentary history.
The Prime Minister too, showed his mettle, showing that he was blessed with the virtue of calm self-possession -- not losing his cool or his temper -- he stayed put at Temple Trees. No-one else could have handled the situation in this way and he was an example to us all. I was one who had visited this historical residence daily to see how he and others there were coping, whether they had their daily needs. There were thousands like me there daily, who were ready to guard him with their lives if the need arose to do so. But as the court ruling took place only after 51-days of illegal rule with vast extravagance in this period the damage had already been done. This unfortunate episode proved that the Executive Presidency has to be abolished as power corrupts and absolute power corrupts absolutely.
As we were getting back on our feet, we had the Bomb blasts which put us further back on the lines of economic recovery and progress. The blame for the lack of precautions has to go to those who knew, gave orders that the PM shouldn't be informed after the illegal government was established of any security threats and asked the relevant officials not to take orders from him. However much attempts are being made ,to pass the buck and blame the PM, anyone with an IQ over zero surely must know who has to take the blame for this. The Prime Minister made requests before the Easter Sunday Bomb blasts and after that for Field Marshall SarathFonseka to be appointed Minister of Law and Order, but this request was continually refused by the President.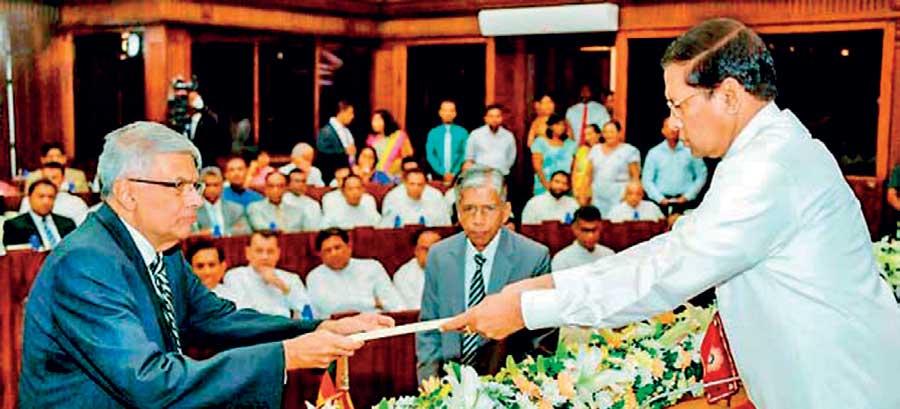 Tourism took a bad beating and its only now that things are slowly but surely coming back to normal. For this we must applaud the Minister of Tourism and his team for giving the right signs to bringing back tourists. In spite of drawbacks and non co-operation and vicious attacks by those that the PM and the UNP brought into power, the government has achieved a lot. Education and Health were recognized as priorities ; several new buildings for schools were built under the 'Langama Pasala Hondama Pasala' (The closest school is the best school) scheme, opening of digital schools,students have insurance for the first time too. In the Health sector, free stents,free cataract operations, providing an ambulance service.
In the area of agriculture, compensation was paid to those whose crops were destroyed owing to drought. Salaries and Pensions of government servants were increased, 98% of land taken over by the Army in the North and East were returned to the rightful owners. The percentage of women in government and local government was increased to 25 %, exports were developed, the Hambantota Port which was a white elephant was made into a profit making venture Over 37,000 Housing development units were completed. The Ministers responsible were D.M. Swaminathan with over 17,000 units, Ministers Patali Champika Ranawake, Sajith Premadasa and the Prime Minister himself. Then they made sure of an Independent Judiciary, freedom to write, or say what we want. All these including encouraging tourists to return were spearheaded by the PM. All writers and others who indulge in fabricated slander against him should appreciate the fact that he turns the other cheek and doesn't take revenge as others were apt to do in former governments.

Although the situation in Britain has changed now, with Boris Johnson, I learned much from my many visits to the Mother of Parliaments, meeting Ministers and MP's from both sides and participating in activities with the Young Conservatives in my youth, one was that although they attack each other in Parliament from opposing parties, they are the best of friends outside. This was so here too, when political stalwarts of yore, the late Dudley Senanayake, N.M. Perera, Dr. Colvin R. de Silva, the Goonewardene brothers and Pieter Keuneman. I have seen them crossing the floor and shaking hands with each other after verbally attacking each other in Parliament.
Today enmity continues outside the precincts of Parliament too, with a few exceptions, which isn't a good thing. Confrontational politics should be confined to Parliament and political meetings. We all owe our country a lot, whichever side of the great political divide we may be on and should be able to work together on some issues like Peace and Reconciliation for the good of the nation.