---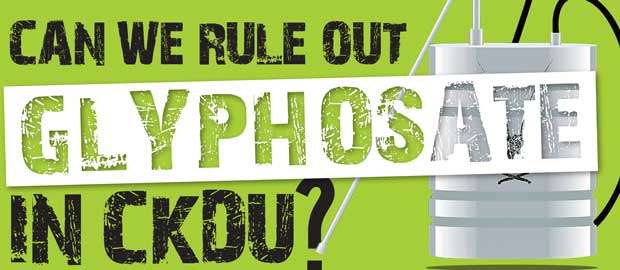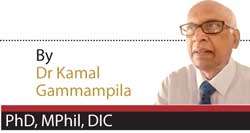 Dr. Rohan Pethiyagoda, former chairman of the Sri Lanka Tea Board, presents a logical argument for lifting the ban on glyphosate, due to the lack of evidence. He also points to the fact that the technical capability and the legal authority associated with these rests lies with the Registrar of Pesticides. He also underscores the Registrar's obligation to consult appropriate bodies. Given that the matter pertains to health we assume that he would have consulted the medical profession.

Two leading medical professionals, Dr Chula Herath, President of the Nephrology Society and Professor Saroj Jayasinghe of the Colombo Medical Faculty, have in no uncertain terms alerted everyone via the newspapers regarding the health crisis the country is faced with in relation to the epidemic known as the chronic kidney disease of unknown cause (CKDu). This crisis is not limited to kidney disease. It has several health conditions.

As a biomedical scientist who also re-analysed the data from the MOH/WHO study, and also as someone who has studied the subject extensively for over 4 years, I wish to share my knowledge and understanding of the crisis. From the outset I wish to state that I support the stance taken by these two eminent medics. This I do, while holding the view that 'glyphosate' or heavy metals per se are not the real reason for the emergence of this crisis in the places it is observed, why it has surfaced within the last two decades and why it is proliferating within those regions and also spreading to the South East region as in illustration 1.****

First, let's assess the scale of the crisis. His Excellency has stated that there are 400,000 CKDu cases based on the MOH/WHO 2013 study when the condition was mostly detected in the North Central Province (NCP). It is now being detected in the South Eastern region, in places such as Moneragala, Wellawaya, Thanamalvila and Bandagiriya in upper Hambantota as shown in the illustration. It has been known for some time that NCP newborns are of Low Birth Weight and their kidneys are undersized. Now, we have the highest number of oral cancer patients in the world according to the President of the International Society of Oral Pathologists, Professor WM Tilakeratne (Daily Mirror 3rd October 2016). The victims are from Anuradhapura, Polonnaruwa and Kurunegala; places which have high incidences of CKDu. The youngest age group is only six months. The reason for the high prevalence of oral cancer is likely to be the exposure to carcinogens. For infants to develop oral cancer would be mother's milk containing carcinogens. It's established elsewhere (in other countries) that mother's milk may have such agriculture related toxins.
Studies by several of our medical professionals (Badurdeen and colleagues (2016); Ratnayake and colleagues (2017)) have established unusual conditions in the CKDu cases. In that they may be passing excess urine among others in early stages of CKDu. Dr Ranga Weerakkody, a consultant nephrologist has established that his kidney patients are unusually having raised ESR (Erythrocyte Sedimentation Rate) and other similar indicators. These are signs of very serious illness other than kidney failure.
Illustration 1. (A) CKDu locations, (B) River map of Sri Lanka showing the relationship between Hill Country paddy cultivation water and CKDu.

Suffering from malnutrition

It is known that about 15 percent of our rural children suffer 'Wasting' (loss of weight) and 'Stunting' (retarded growth). A 2014 UNICEF study has established that our rural children below 5 years of age suffer from Malnutrition. My analysis of the MOH/WHO data showed that over 40 % of healthy individuals in study communities pass excess creatinine in their urine. In fact their kidneys are working better than normal, that is because they are exposed to bio-incompatible agents. When this happens, they also pass excess electrolytes (salts) and micronutrients (minerals) which have deleterious effects on the health of both adults and children. Many are far from being kidney patients presently, but they most certainly will be within the next 15 years or so. The most probable reason for these effects is the exposure to bio-incompatible agents whether they caused kidney disease or any other condition. There are several of these agents in our diet, water and the environment from fertiliser, and weedicides and pesticides (glyphosate etc).

It is unknown as to which agents may cause these hitherto unknown conditions in kidney disease. For these reasons, we cannot rule out a potential role of glyphosate in this monumental health crisis. What is absolutely necessary is to protect these communities from exposure to bio-incompatible agents as soon as possible to salvage a growing and silently progressing catastrophe. Of the 400,000 CKDu cases the President refers to, about 80 percent are not kidney patients needing dialysis or a transplant now, but they likely will be in the next 10-15 years. I estimate half could be saved simply by reducing the toxic exposure. This is one of the reasons why the lifting of the glyphosate ban most probably would impact negatively on their well-being. What we have seen so far is only the tip of the iceberg. I estimate the number of vulnerable not to be less than a million to develop CKDu and other conditions in the next 20 years or so.
What is most crucial to appreciate is that low-level toxic exposure diseases, such as diabetes or alcohol related conditions take a long time as much as 30 to 50 years or more depending on the exposure level

The MOH/WHO study established that there was enough cadmium and arsenic in their diet to cause kidney disease in some people. Professors Rajitha Wickremasinghe of Kelaniya Medical School and Kamani Wanigasuriya of Sri Jayawardanapura Medical School have established 89 and 69 %of their study group had lead and cadmium respectively in blood above the US reference level. Of these 89 and 16 percent were above the adverse level for lead in adults and children respectively.

In attempting to understand the true cause of CKDu, it is necessary to establish the reason for higher levels of toxins in rice, blood and urine in the focal areas.What is crucial in the context of glyphosate ban is the restriction of CKDu to wider North Central Region, and places in the South East. There is no CKDu in Ampara District, Western Province, most of Southern Province, Hill Country or Jaffna. This is despite the use of 'glyphosate' and fertiliser throughout the country. The difference is in the rice cultivation water. CKDu places get rice cultivation water from Hill Country, whereas all the other places use rain water directly or following storage in wewas. Mahaweli River water from Hill Country is typically stored in the NCR wewas (tanks and reservoirs) before use.

The Hill Country water has very low levels of toxins from fertiliser, and weedicide and pesticides. This process started in the late 1950s when Sri Lanka started using chemical fertiliser. These toxins wewas, paddy fields and the environment in NCR has been increasing ever since, and now have reached critical levels to make rice toxic.

In a 2015 study by University of Peradeniya scientists in the upper catchment area, they have established the presence of cadmium, lead and arsenic among other elements. The levels are very small, in parts per billion (ppb) range and if this water is consumed it would likely not result in kidney disease from these known toxic agents, because the dosage is insufficient.

Rice cultivation and water

Although this water could be drunk without any harm, the use of it in rice cultivation results in a rather different impact on rice toxicity. That is because it takes about 5000 liters of water to produce a kilogram of rice. Rice cultivation water from the Hill Country provides and extra source of toxins to rice grown in the NCP. Toxin contribution from cultivation water could be several times greater than from direct application of fertiliser. Whole of any toxin is not taken up by the rice. At the end of a crop cycle, some will be removed from the field in the sheaf, husk and the grain, leaving behind what is in the roots, remaining part of the plant and what was unused in the soil. What is left behind at the end of a crop cycle becomes available to the rice plant at the commencement of the following crop cycle. These processes are repeated at each crop cycle resulting in accumulation of toxins in the soil and presenting rising levels of toxins to the rice plant with each crop cycle. Now, NCR soil has 10,000 to 50,000 times of any heavy metal as would be in the rice grain. For this reason, organic farming is not possible in these fields.
In attempting to understand the true cause of CKDu, it is necessary to establish the reason for higher levels of toxins in rice, blood and urine in the focal areas

To illustrate the impact of Hill Country irrigation water, and the cumulative soil cadmium, the Total cadmium availability to the rice plant is considered under two conditions - Hill Country irrigation water or rain water in a fresh field. The amount of fertiliser applied is the same in both cases, 50kg per hectare. If the cadmium level is 10 milligrams per kilogram (ppm) that would correspond to 100 micrograms of cadmium available to the rice plants that would produce one kilogram of paddy considering a yield of 5000kg of paddy per hectare. This is a figure published by vv (retired) who is a soil and water specialist. The average value of canal water cadmium in the MOH/WHO study is taken to represent Hill Country irrigation water cadmium which is 0.25 micrograms per liter. Rain water is considered to have no cadmium. Uptake of cadmium by the rice plant is taken at one percent of the Total cadmium. At the end of the crop cycle 50 percent of what was taken up by the plant is considered to be removed from the paddy field, adding what is left behind to the cumulative soil level. Respective values over a period of 4 crop cycles are given in Table 1, and in illustration 2 their variations are graphically presented.

The rice plant uptake is negligible, but it has an impact on the rice (not shown here).

What is removed from soil too is negligible; it hardly makes a difference to cumulative soil toxicity. It is more so in the Hill Country irrigation water setting. The cumulative and Total cadmium levels increase at each crop cycle almost completely determined by the contribution from cultivation water. This is applicable only to Hill Country irrigation water setting. In the rain water setting it is determined only by the fertiliser level, but with a significant contribution from what's left behind at the end of a crop cycle.

Cumulative soil toxic level has a disastrous impact on the Total cadmium available to the rice plant. Even in the rain water setting, at the commencement of the third crop cycle, the contribution from cumulative soil exceeds the contribution from fertiliser. To illustrate the significance of Hill Country irrigation water, if we consider the Total cadmium in the field for example at the 4th crop cycle, the levels are 231 (Rain water) and 5161 (Hill Country irrigation water), with a difference of 20 times as much. As a consequent, rice grown in locations receiving Hill Country water progressively produce more toxic rice than rice grown with rain water. This is why CKDu is in places where Hill Country water is used for rice cultivation.
Illustration 2. Change in cadmium levels of Total available to the rice plant, removal from soil and accumulation in soil under rain water-fed and Hill Country Irrigation Water-fed rice cultivation over 4 crop cycles. Note that the scales are times different in the two cases.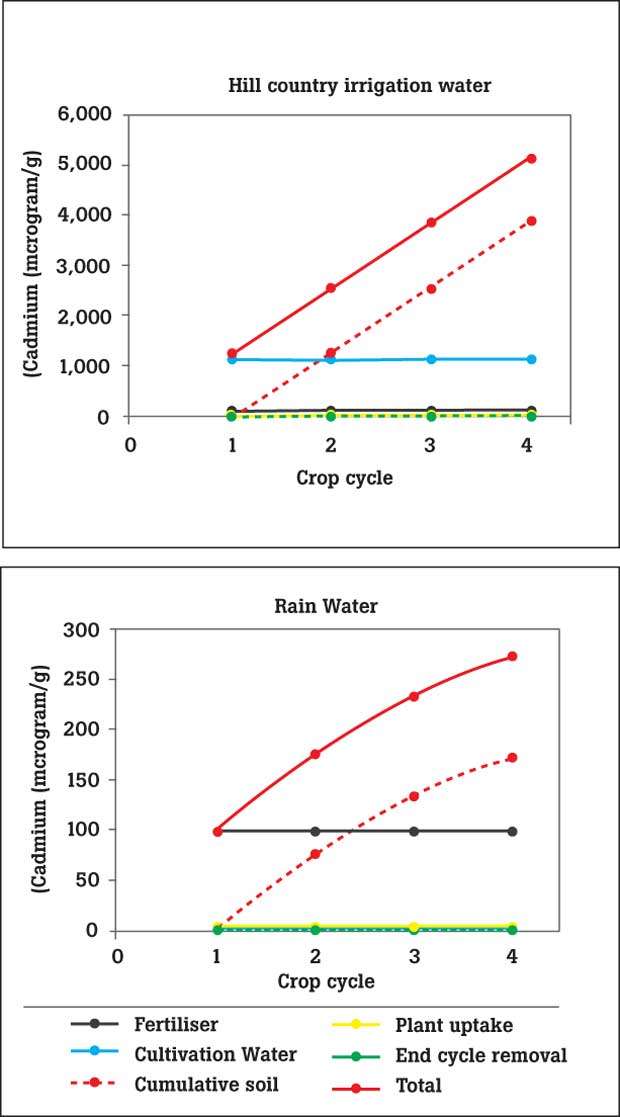 Impact on children

This phenomenon has a devastating impact on children. Their diet is more toxic than what their parents' consumed when they were children.

The question is asked, 'in Colombo too, rice from focal areas are eaten, how come there's no CKDu in Colombo?' That is because rice farmers eat their own rice, and in Colombo rice from many places are consumed. Also, the diets and pattern of consumptions are different. This is akin to alcohol consumption, those who drink heavily fall ill first, others may follow dependent on the amount and pattern of consumption.

How does this relate to glyphosate ban? It is almost common sense to contemplate, 'could what is happening with fertiliser use in Hill Country, do the same with glyphosate in NCR and the South East?'

Soil or rice grain levels of weedicides and pesticides are not available. The human impact of weedicides and pesticides are only considered in terms of drinking water. It is well established that cultivation water cadmium contributes to rice (grain) cadmium levels. Therefore, it is reasonable to expect it would be similar with weedicides and pesticides. It is also reasonable to assume that cultivation water contribution of say glyphosate might even be greater because its concentration in reservoir water is several times higher than cadmium.

Most unfortunately, Sri Lanka has not done any dietary assessments. This is a terrible indictment on our authorities for not to have done this when MOH/WHO study recommended so following their findings that forty percent of the CKDu cases could be accounted for by cadmium alone. In our rice and vegetables there are other kidney disease causing agents such as lead, mercury and arsenic which would make their own unique contributions to cause kidney disease and many other conditions.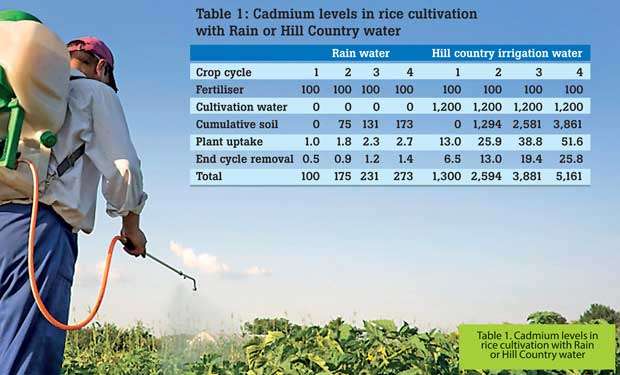 Since rainwater is almost free of toxins, the rice cultivation conditions are very different in the two settings. Hill Country water derived rice cultivation has three sources of toxins whereas those with rainwater-fed has only two that, the soil toxicity is several times lower with the rainwater-fed scenario. Consequently, Hill Country water-fed rice is more toxic than rainwater-fed rice. This is the reason for CKDu to be in places where Hill Country water is used for rice cultivation. The underlying reason is the ultra-low toxins in the Hill Country water. Despite the very low levels, because rice needs a large quantity of water, typically rice-water footprint being about 5000 liters per kilogram, rice plant gets extra doses of toxins both from water and what is accumulated in the soil.Neither clean fertiliser nor clean Hill Country water will make rice less toxic. Both must happen.

However, it must be made clear that there are places such as Padaviya North East of Anuradhapura or Mallavi in the Northern Province that has CKDu despite not getting Hill Country water directly. This is because these places are in rainwater and flood paths. For example, Anuradhapura is about 100 meters above sea level whereas Padaviya and Mallavi are less than 50 meters above. In heavy rains and floods surface run-off from paddy fields, pastures, overflowing tanks get accumulated in the low-lying areas and local tanks making them low-toxic. This is how locations that do not get Hill Country water directly, get 'low-toxic' cultivation water which in turn makes rice toxic enough to cause CKDu. About 80 percent of paddy fields in NCR get Hill Country water in Maha season, while only 40 percent would get in Yala. Twenty percent do not get Hill Country water. This explains the clusters of both CKDu and CKDu-free communities in these areas. Thus, rice cultivation conditions are different in locations where Hill Country water or Rainwater is used for rice cultivation within focal locations, and throughout the country.
In this background, I wonder whose medical opinion the Registrar of Pesticides sought to disregard the opinions of these two medical specialists. Dr Herath being the President of the Nephrology Society, his views must be considered with greater credence if that were necessary.

What is most crucial to appreciate is that low-level toxic exposure diseases, such as diabetes or alcohol related conditions take a long time as much as 30 to 50 years or more depending on the exposure level. CKDu was first detected in Rajarata in the 1990s. That was over 30 years after introducing fertiliser in Sri Lanka. CKDu began to appear in large numbers about 10 years back. That would be 50 years after the introduction of fertiliser related toxins. Glyphosate was introduced about 30 years ago, we possibly are beginning to see its impact now. If glyphosate has any adverse effects on our health, it will show its vigor in the next ten years or so. It is a fact that we don't have the proven evidence as of now in Sri Lanka or elsewhere. Just like cadmium, if glyphosate were to have an impact, which I am certain it will, it will happen only because of the 'magnifying' effect of Hill Country irrigation water in the very people who are currently subjected to different toxins to the point of annihilation via Hill Country irrigation water.

If Sri Lanka had established the cause of these conditions known as 'CKDu', and had eliminated the role of Hill Country irrigation water, one could agree with Dr Pethiyagoda. In the absence of those, one cannot. I equally believe if Dr Pethiyagoda knew the true extend of the crisis, how we have failed to identify the cause(s), what really is the cause, why CKDu is limited to certain parts of the country, why we need precautionary measures, he most certainly would be horrified, and possibly campaign for measures to protect these vulnerable communities, and the country from a catastrophe like no other. I believe, he as an ecologist and environmentalist, would reflect on his views on glyphosate and decide to recommend its ban at least until we have identified the cause(s) of this crisis that is estimated to affect about a million people in the next two to three decades or so.

(The author Dr Kamal Gammampila PhD, MPhil, DIC is an independent biomedical scientist, formerly of Imperial College. He is a retired Biomedical Scientist with a PhD in Physiology (Imperial College) and a MPhil in Physics (Brunel University).