---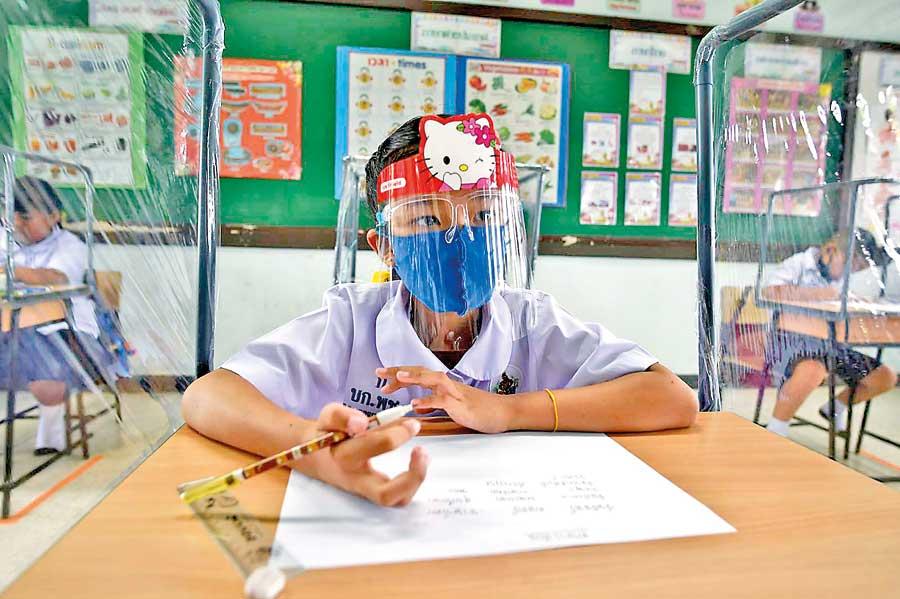 As our recently-reopened schools are closed again due to the new surge of COVID, the effect of the
pandemic on schoolchildren through a very difficult year of lockdowns, cautious re-openings, sudden closures and economic crises not just in this country but worldwide cause considerable alarm. The impact on this on an entire generation of children whose steady march into adulthood and the workforce has been seriously interrupted cannot yet be completely assessed.

According to UNICEF reports compiled up to January 2021, approximately 825 million students have been affected due to school closures worldwide. At that time, school closures, complete or partial, in 63 countries were affecting 47% of the world's student population. These numbers would have increased since then due to new, uncontrollable waves of COVID, especially in Latin America and India.
Schools for more than 168 million children globally have been completely closed for almost an entire year due to COVID lockdowns. One in seven children globally (about 214 million) have missed more than three-quarters of their in-person learning.

School closures have shed light on a number of vital socio-economic issues, including student debt, digital learning, food insecurity, homelessness as well as access to healthcare, childcare, housing, internet and disability services. The hardest hit are the disadvantaged children and their families, with both schooling and nutrition severely affected.
"Throughout last week, India recorded more than 300,000 cases daily, creating sombre global records. Total cases now number over 19.2 million with over 212,000 deaths"
As the world goes into a deep recession, according to UNICEF the number of children living in poverty could reach just over 725 million, and nearly two thirds of them live in sub-Saharan Africa and South Asia.
UNICEF says approximately 150 million more children are living in multi-dimensional poverty, without access to health care, education, housing, nutrition, sanitation and water. This situation can only get worse unless governments and international bodies take decisive steps to help them.

Internet learning was recommended as a means of uninterrupted educational programmes. But millions of children all over the world do not have access to computers or the internet, and their unemployed parents could be too poor to pay phone bills or buy smart phones or tabs for their children. Many schools in poor countries are unable to invest in digital learning. At least 463 million children – or at least one in three schoolchildren worldwide – do not have access to digital (or remote learning) when their schools shut down. Even when the facilities are there, children may be handicapped due to lack of skill on the part of their teachers and parents.

In the meantime, the massive tragedy unfolding daily in India has elicited a strong response from Dr. Anthony Fauci, the White House's chief medical adviser and the US' top infectious diseases expert, who said countries have failed to unite to provide an adequate global response to prevent the "tragic" coronavirus outbreak in India, and singled out wealthier nations for failing to provide equitable access to healthcare around the world. He added that India's plight has highlighted global inequality. "The only way that you're going to adequately respond to a global pandemic is by having a global response, and a global response means equity throughout the world, and that's something that, unfortunately, has not been accomplished. Often when you have diseases in which there is a limited amount of intervention, be it therapeutic or prevention, this is something that all the countries that are relatively rich countries or countries that have a higher income have to pay more attention to," Fauci said.
Throughout last week, India recorded more than 300,000 cases daily, creating sombre global records. Total cases now number over 19.2 million with over 212,000 deaths.
"Schools for more than 168 million children globally have been completely closed for almost an entire year due to COVID lockdowns. One in seven children globally (about 214 million) have missed more than three-quarters of their in-person learning"
The latest epidemiological update from the World Health Organization (WHO) issued last week said COVID cases have increased globally for the ninth consecutive week, with nearly 5.7 million new cases reported. India accounts for the majority of cases, with 2,172,063 new cases reported in the past week – a 52% increase.

The American concern over India's seemingly uncontrollable new COVID wave highlights its view that India is now a major global partner against what it perceives as a geopolitical as well as economic threat from China. Though China's economy was initially shaken by the pandemic, it has suffered much less than either the US or India due to draconian preventive measures which only a totalitarian state can implement.
Dr. Fauci said while the World Health Organization (WHO) was trying to accelerate support to India through the COVAX initiative – a global programme aimed at ensuring countries most in need get access to vaccines and other treatments – "we have to do even more than that".

"The United States has really revved up their activity in helping out India … we're sending oxygen, personal protective equipment, a variety of other medications and soon we'll be sending vaccine to help out," he said.
"So I think that's a responsibility that the rich countries need to assume. Right now it's a terrible tragic situation where people are dying because there's not enough oxygen, where there are not enough hospital beds. We have to try, looking forward, to get as much equity when it comes to public health issues as we possibly can".
"Because, all are in this together. It's an interconnected world. And there are responsibilities that countries have to each other, particularly if you're a wealthy country and you're dealing with countries that don't have the resources or capabilities that you have."

Looking ahead, health systems globally would need to be upgraded so that issues emerging could be detected sooner, Dr. Fauci said, adding that transparency and communication between countries would be key, as this was not just an issue for countries like India but for the US as well.

"You want to have the capability of better surveillance internationally, so that when something comes up and emerges in a given country there's not a big delay in getting recognition of what's going on," he said.
"I know in the United States, for example, our local public health system has not been kept up to the level that we would have liked … we are still using fax machines, which is really unacceptable. You have to be prepared to have interconnectivity."

In the meantime, the families of Australians stranded in the subcontinent are urging the Morrison government to establish a quarantine solution that would allow their loved ones to return home en masse when flights eventually resume.
Scott Morrison, the Australian Premier, last week announced a pause on direct flights from India to Australia until at least 15 May – including government repatriation flights due to land at the Howard Springs quarantine facility outside of Darwin.

Some 9,000 Australians in India are bracing for the new pandemic wave that is ravaging the country. Moves by countries including Singapore, the United Arab Emirates and Malaysia to bar non-citizens from transiting through their airports have essentially closed off any option to leave India.
The Australian government has followed up with a travel ban described as 'outrageous' with fines up to $66,000 or five years in jail, or both, or anyone defying a travel ban preventing Australians returning home from India.
The travel ban preventing Australians in India from returning home could be subject to legal challenges, with lawyers and academics believing the extraordinary measure may breach the law.

The travel ban officially begins on Monday, in what is believed to be the first time Australia has banned its own citizens from returning home. Griffith University human rights law Prof. Sarah Joseph said the ban, implemented under the Biosecurity Act, must satisfy section 477 of that act, which states that the measure has to be "appropriate" and "no more restrictive or intrusive than is required in the circumstances".
She said that the relative success of Australia's hotel quarantine programme in restricting the spread of COVID, compared with the desperate situation in India, among other factors, could help a prospective litigant frame a case that the travel ban was inappropriate.

She said challenging the Biosecurity Act has been raised as a potential way to overturn the outward ban on travel – a situation replicated in few if any countries in the world – and it was "probably time to test that provision".
Prof. Joseph said that while that presented the "easiest angle for attacking" the ban, a legal challenge might also be mounted on an implied constitutional right for citizens to freely return to Australia.