---
Amid the devastating COVID-19 pandemic – worst viral disease in more than a century -- the United Nations on April 22 marked the International Mother Earth Day. We hope the International Mother Earth Day's principles and values will continue to be observed by the people throughout the coming months and years. While governments and big movements do it on a mega level individuals could do it on a small scale by saving fresh water or electricity, planting trees and acting in a manner that will make all beings happy.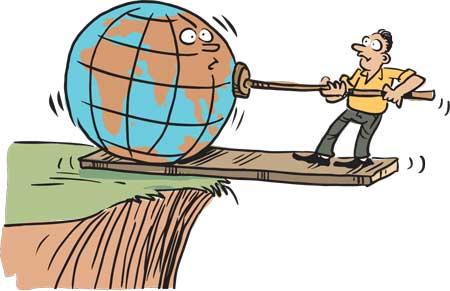 In a statement to mark the event, the UN says Mother Earth is sending us a message and calling us to action. Nature is suffering more than ever before, largely due to the selfish and self centered attitudes of human beings who are expected to be the good stewards of creation. Australian fires, heat records and the worst locust invasion in Kenya are among the factors that have brought us to the brink of a climate calamity.

Now we face COVID-19, a worldwide health pandemic linked to the health of our ecosystem. Climate change, man-made changes to nature and crimes that disrupt biodiversity -- such as deforestation, land-use change, intensified agriculture and livestock production or the growing illegal wildlife trade -- can increase contact and the transmission of infectious diseases from animals to humans, zoonotic diseases like COVID-19.

By 3pm yesterday COVID-19 had afflicted more than 2,733,590 people. The death toll was more than 191,000 while more than 751,400 people had recovered. At around 3pm yesterday Sri Lanka had 373 confirmed COVID19 patients while the death toll was seven. A serious development was the isolation of the Welisara Navy camp after a Navy cadre was afflicted when he went back home to Polonnaruwa. In the Colombo, Kalutara, Gampaha and Puttalam districts a 24-hour curfew has been enforced since March 19. The government has indicated that in these high-risk districts the curfew would be relaxed from Monday April 27, but with a growing number of cases in recent days, questions are being raised as to whether the 24-hour curfew will continue.

Ironically one of the worst affected countries is the United States which is widely regarded as the richest and the most powerful in the world. Many independent analysts believe US President Donald Trump is largely responsible for this because of his inconsistent and "I will do what I want to do" policy. The analysts say that for the sake of the US and the world, they hope that reckless and arrogant Mr. Trump will be sent into isolation or quarantined at the November presidential election. Latest reports indicate the first US case was reported in mid January but Mr. Trump underplayed it and took no effective counter action till March. Mr. Trump has also complicated the crisis by cutting off US aid to the World Health Organization (WHO) on the charge that the world body is pro-China. The US was contributing 15 per cent of the WHO's funds and Mr. Trump's move is likely to seriously affect the WHO's work in less developed countries in Africa, Asia and Latin America. The WHO and China have denied Mr. Trump's charges while China has gone as far as to increase its allocation to the WHO from US$20 million to US$30 million. Ultimately history might record Mr. Trump as the joker in this worldwide crisis.

According to UN environment officials, from viral diseases emerge in humans every four months, some 75% of these emerging diseases come from animals. This shows the close relationships between human, animal and environmental health. Visible, positive impact – whether through improved air quality or reduced greenhouse gas emissions – are but temporary, because they come on the back of tragic economic slowdown and human distress. As suggested by the UN let us remind ourselves more than ever on this International Mother Earth Day that we need a shift to a more sustainable economy that works for both people and the planet. The Coronavirus outbreak poses a huge risk to public health, global economy and biological diversity.

We hope the calamity would turn into a blessing with a new world order where there is poverty alleviation through a more equitable distribution of wealth and resources, a full commitment to the battle against climate change, nuclear disarmament and a commitment to peaceful conflict resolution without resorting to war.