---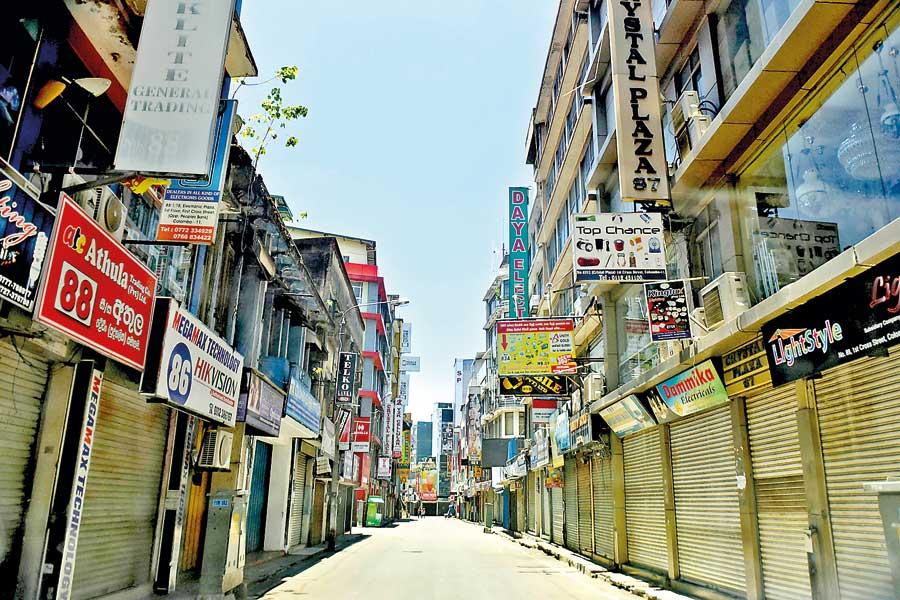 My neighbour and former Lawyer's clerk was making a huge noise with his political bête noire, a retired municipal employee next door. They both are ardent followers of the two major political divide, the devoted 'kepuwath … paatai' dim-witted types.


Nick-named Goda Perakadoruwa for his perverse or outlandish opinions to those who seek his advice on various legal matters on deeds, property, and boundary disputes, ignored the curfew and was engaged in an argument on Covid Politics. Becoming emotional at criticism of his party leadership, he was on the middle of the road with one end of his sarong raised and the other hand gesturing violently. The piercing noise reached his wife's ears, who hurried out of the pantry wiping her hand on petty-coat.

"I say, you see…, our leader hair-splittingly argued, that according to Section 10 (1) (b) of the Elections Act 1981 and Section 24 (1) Section 10 (1) (b) of the …. Act and Article 70 (5) (a) and (b) and Article 150 (section 3) and (5) of the Constitution… Article 33 (3), and Section 24- 1(c) clearly states, without 2/3rd..,you know he interprets these sections and articles…"
The grumpy retired school teacher-wife reached the gate— "Geraaad…!", she thundered, "SECTION of your Sarong is flying; your ARTICLES and TWO-THIRDS are …?, I won't tell you my dear, now for God's sake will you shut up and get back?"
"It would be rather immoral to say Covid is a blessing in disguise, but surely there is a 'silver lining' in it."

Today, even the village folk are fairly versed with Sections and Articles of the Constitution, thanks to the legal and laymen pundit politicos who abuse the media polluting the environment with their verbal virus. These are intricate constitutional matters that need to be addressed and interpreted only by unbiased experts on Constitutional law at appropriate forums like SC. Can president declare emergency and recall old parliament?—doesn't it amount to abuse of emergency regulations. Felix Dias Bandaranaike and his Justice Secretary were deprived of their civic rights by five-star democrat J R Jayewardene for similar reasons, through a tinkered Constitution in 1978.
My neighbour does not know that 30 or 40 of his former MPs fell short by few months for their pensions and that chance of returning to their El-Dorado at next election being remote; they naturally will clamour for re-summoning Diyawanna, and cover the five years. The seniors must be thinking of the possibility of putting 'a spoke in the wheel' and see if anything can be 'achieved' before the Covid bids good bye. His opponent on the other hand is clueless about his political deities, who are impatient to grab privileged positions in a new government to 'serve the masses'.

We have just passed, the second successive 'Free and Fair May Day' with no hundreds of thousands of stupid supporters of political opportunists who would spend part of the loot from state coffers to provide lunch, drinks and transport to drive them to the city like herding a gang of buffaloes to the field.
A 'Free and Fair Sinhala/Tamil New Year' preceded mayday minus crackers, alcohol and exorbitant waste on shopping at garment shops that helped scrupulous dealer clear the go downs of all years unsold rejects. Millions of chicks were spared from the 'Buddhist' who rushed to temple for rituals in punya-kala.
We are approaching a 'Free and Fair Vesak' in a week's time. The sacred day of Buddha's birth enlightenment and Parinibbana that we transformed into a carnival replete with Vesak zones, helping the Electronic media sponsored by businessmen to promote their brands. Exposition of 'Dhathu' and many other antics by politicians who would be campaigning for manape.

Why cannot we continue this 'Free and Fair concept' from now onwards by adding useful and logical features to such events that are part of cultural and religious renaissance? It would be rather immoral to say Covid is a blessing in disguise, but surely there is a 'silver lining' in it. The Election Commission can go ahead on a staggered basis, commencing with districts cleared by health authorities. Ban the unnecessary mass gatherings called campaign rallies. 99% of the so-called 'masses' who gather at parks and grounds, or flock to a house of a supporter in the area for 'pocket' meetings are the staunch supporters of that particular party, who in any event would cast their vote blindly. 90% of the printed material, delivered at door step is nothing but junk mail.
According to International experts the outbreak peaked and plateaued within two to two and-a-half months, and then it would decline gradually. Here, the health authorities backed by security establishment have taken commendable measures in controlling the spread, therefore one can surmise with reasonable accuracy the epidemic would gradually decline within the next two to three weeks.

There is a clarion call by a section of the political parties for indefinite postponement of elections. This may be due to genuine fears of the virus spreading or personal fears of facing an election at this stage. Difficulty in conducting an election campaign without mass rallies, pocket meetings, door-to-door distribution of printed material, are among the other reasons they cite in support of their claim.
Trees, critical in controlling climate change by absorbing carbon from the atmosphere are cut to stumps - according to environmentalists, at a rate of 12 acres a minute - worldwide- to produce junk mail for political propaganda alone. Political junk mail comes at a huge cost to our quality of life. Apart from the time it takes away for (reading and recycling) from our daily activities, the cost is borne by either a businessman who expects undue favours from a winner, which is met out of state coffers, or by direct siphoning out by a ruling party candidate from a ministerial allocations, as happened during two previous governments.
There is a clarion call by a section of the political parties for indefinite postponement of elections

Free postal facility is available to all candidates; they can send by post their preference vote number and short communiqué underlining the services. This is in addition to the details delivered by Commission along with the poll cards. Articles in local newspapers; press advertisements; providing a profile of candidate's background (in most cases people already know the 'background'). Building a social media presence; giving interviews to media are alternatives. Political campaigns benefit very much from an efficient media program. In a digital world, a correct communications plan to communicate their message to the electors in a media policy they can get a positive coverage of their campaign through the print or electronic media that their target voters use the most. Any means of announcement designed to carry information and persuade large audiences includes television, newspapers, radio, and social networking sites.

Let's conduct elections as scheduled, under a very healthy atmosphere! A paradigm shift, COVID-19 would be remembered for generations. The bad times of clashes leading to murders during campaigns, post election violence of arson are history; here we are at cross-roads! A rare opportunity looms, let's make it a beginning - elections sans lavish extravaganza, wasteful paraphernalia, risky mass gatherings and street parades.
For a Truly 'Free and Fair' Elections!
Writer can be contacted at - kksperera1@gmail.com