---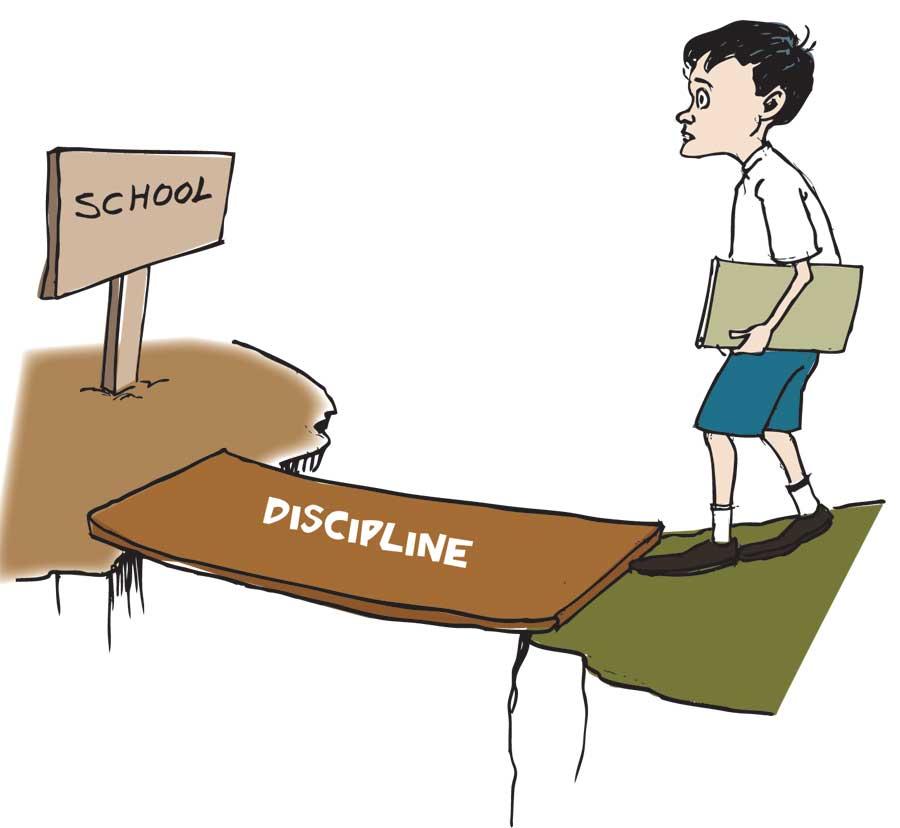 The education sector in the island is providing some of the most shocking news these days, much to the concerns of worried parents. Just a few days ago we heard of as many as 34 unruly schoolboys entering a leading girls' school in Colombo and causing havoc. There was also news of a party organised by Facebook users where a schoolboy was among those caught for substance use.

And the mother of all these sensational news was the reporting of an incident where the faculty head of the Sri Jayawardenepura University being arrested for drunken driving and causing much damage which came in the form of one death and physical injuries to at least one other person. These incidents pose the question whether there is a breakdown in discipline in the education sector?

Boys will be boys and they have so much energy, but that doesn't mean that they have the licence to misbehave, especially at a girls' school.
It is heartening to note that these boys who belong to two leading schools in Bambalapitiya and Mount Lavinia had received little or no assistance from the authorities at their respective schools in the process of finding a way out of their problem. The authorities of both schools probably have shown through their actions that these misbehaving kids deserved spending some time in the 'cop shed' . These young brats should also fathom that they also spoiled their chances of being picked for leadership positions at their schools in the future as a consequence of how they have misbehaved.
Any breakdown in discipline at school must be nipped in the bud. We have reason to believe that students not put in their place at school step into society and continue with their nefarious activities.

There is public opinion building to the fact that lawmakers who don't receive a complete education at school can turn out to be troublemakers in society. We must not condone the behaviour of Southern Province Governor Keerthi Tennakoon who is reported to have threatened the Principal of Southlands College Galle and her husband when the request made by the former to recruit four students to the school was turned down by the school's principal.
Schools probe the background of students looking to enroll at new schools and anyone keeping company with lawmakers who are a disgrace to society disqualify themselves during the enrollment process. We must take our hats off to this brave school principal who stood firm in maintaining certain ethics as the head of an academic institution.

We have hope in the field of sport as being a great leveller and also serving as a tool which can instill discipline in children. But what would be the future of a bunch of rugby players whose coach sees his services being suspended for physically abusing a player? The player concerned is reported to have been 'yellow carded' for breaching rugby laws that discourage dangerous play. And the coach is reported to have slapped the boy thrice when he came off the field in an apparent attempt to discipline the boy. But the coach probably didn't know that the modern-day methods of disciplining a schoolboy discourage physical punishment and that such acts can also land the teacher in trouble. We are living in times when teachers, principals and sports masters have to be updated about laws that govern the methods of disciplining their chargers at an academic institute.

We have seen a general breakdown of discipline at schools and Principals, teachers and sports masters have to tighten the screws so that the structure of discipline doesn't start wobbling. But how much these 'screws' must be tightened is an art and calls for the skills of trained personnel whose love for children is expressed in abundance.