---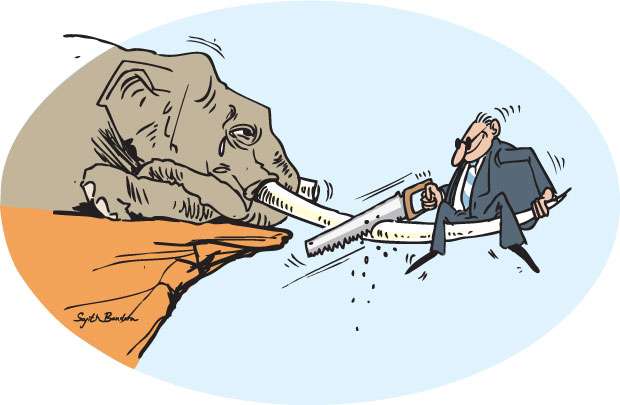 The elephant is one of Sri Lanka's most majestic creatures and acclaimed as the king of our jungles. It is unfortunate that we are still embroiled in what is called a human-elephant conflict, which was created after we robbed the elephants of their lands and called them rogues when hungry animals came searching for food. Last Sunday was 'World Elephant Day' and the organizers say that in keeping with tradition, we need to devote some time and attention to what has happened to the elephants over the past year.
World Elephant Day Communications Directress Anne Dillon and Executive Director Patricia Sims say there is, as always, good news and bad, but they are hopeful that the tide overall is beginning to turn in the elephants' favour. As so much is going on, they say that what they are communicating is not so comprehensive but it is instead an update of some of the issues the world's elephants now face. The major problem is the human-elephant conflict -- the struggle over land and resources.
In November last year, the United States Fish and Wildlife Service announced that the Donald Trump administration was lifting former President Barack Obama's ban on importing legally hunted elephant trophies from Zimbabwe and Zambia. A public outcry ensued and Mr. Trump then inserted himself into the equation by putting the reversal on hold for further review. At the same time, environmental groups filed a lawsuit challenging the reversal, in part because it violated the Endangered Species Act. In March this year, the US announced it would allow trophy imports on a case-by-case basis. This too was challenged in court. Additional legal action ensued on August 1 when conservationists and animal rights activists brought a suite against the recently formed International Wildlife Conservation Council (IWCC).
On another front, Botswana, the country with the largest number of African elephants on the continent, is contemplating lifting its elephant hunting ban. Botswana argues that it has too many elephants, with escalating human-elephant conflict as a result. One manifestation of this is the case of elephants raiding farmers' crops. Apparently to Botswana's way of thinking if the hunting ban is lifted some of these troublesome elephants will no longer be a problem. However, in this they make a fundamental miscalculation given that typically large bulls are targeted in a trophy hunt, which takes place during the dry season. Crop raiding, on the other hand, usually involves young bulls or herds of families foraging for food during the rainy season, World Elephant Day organizers say.
According to them, Zimbabwe also has problems when it comes to elephants -- the continuing capture and export of them to Asia. In October last year, wildlife journalists Christina Russo and Adam Cruise wrote a groundbreaking story in The Guardian on the subject. In it they reported that earlier in August, fourteen young elephants had been captured for sale to a Chinese national with a track record of animal neglect. These elephants were ultimately destined for Chinese zoos.
Earlier, as documented in a National Geographic article, seventeen elephants were exported from Swaziland to three zoos in the US -- the Dallas Zoo; the Sedgwick County Zoo in Wichita, Kansas; and the Henry Doorly Zoo in Omaha, Nebraska. Elephants captured for a life in captivity have been known to be as young as two years old. Problematically, at this tender age they remain reliant on their mother's milk for survival.
In Sri Lanka it is reported that the total wild elephant range is between 2,100 and 3000 while the captive population is between 200 and 250. Field Marshal Sarath Fonseka who led the troops to victory in 2009 and is now the Minister of Wildlife Conservation faces the challenge of finding a solution to the human-elephant conflict and maintaining the number of the majestic kings of Sri Lankan jungles. It is a trumpet call to all our people also to come forward and take steps to save our elephants because the number is declining to a dangerous level.