---
Bound by their MoU, they are not formally separated yet. But they may have to. Now, the indications are, PM Wickremesinghe is out to break the jinx, on his string of Presidential Election defeats.

Perhaps he knows his most cherished project of having the Executive Presidency abolished that was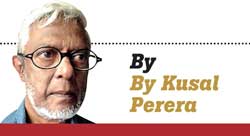 outsourced to self-appointed Colombo Civil Society leaders, is not going to work. UNP is told to begin a fast track, high profile image building campaign of the leader. Meanwhile for now, Wickremesinghe wants the "Unity" Government to continue.

President Sirisena, is being lobbied and advised to revisit his cohabitation with the UNP, with more pressure building up within his own SLFP bloc against cohabiting in Government. With his outburst over hindering investigations on alleged mega Rajapaksa corruption, he seems to be buying time to see if Rajapaksa can be erased from the political map.

He has thus told his SLFP Parliamentarians to have the safety-catch on in their guns till end December, when something new could happen.

Speaking at a business forum thereafter, he had said a unique new party was in the offing. He is probably thinking of an SLFP without Rajapaksas.

Meanwhile, the MoU signed between the two parties in this 'Unity' Government comes to an end in September. Will the two leaders want the MoU renewed for the next two years?

To have lived together in a Government for almost two years (Counting from August 2015 elections), with no clear political understanding and a mission, by itself is a miracle.
The dilapidated governing model put together on a very opportunist political need carries with it an endemic conflict of political party interests.
Post-election anti-corruption crusade is fizzling off with heavy corruption in Yahapalanaya and accommodating the corrupt, making Rajapaksa a smaller fry.
SLFP compelled to decide the role of Rajapaksa. Both the Maithri bloc and the business community still need Rajapaksa and his vote bloc in forming Governments.
That 'miracle' came about on a sheer opportunistic understanding that for them meant, everything else mattered little if holding onto power was possible. Why then cannot this 'unity' continue in Government on the same opportunist understanding?

This dilapidated Governing model put together on a very opportunist political need, carries with it an endemic conflict of political party interests.

It is, thus a 'Government of indecision' and is inefficient too. It has therefore failed in delivering on all and everything it promised at both the Presidential and Parliamentary elections held within nine months.

It has failed miserably from day one in seeking a different path for development to that of Rajapaksa in direction, content and quality.

PM Wickremesinghe's idea -of replicating the 'Port City' as Megapolis in the Western Province- remains a website story- even after 18 months. In less than one year, the "Yahapalana" economics was everything Rajapaksa- from the Colombo Port City, the Mattala International Airport to the Hambantota Port and economically dependent on China no less.

In a heavily liberated and a wholly corrupt market economy, this Government too has to live with the same business community, who during Rajapaksa era lived with State patronage.

With that, more and more names and faces of the Rajapaksa era keep emerging in high posts in the bureaucracy and in political circles glued to the Government high command.

The most recent was the appointment of Bogollagama as Governor, Eastern Province.
Thus all those anti-corruption forums and platforms that mushroomed immediately after elections have either been muffled or have moved to other funding sources.

In short, the post elections anti-corruption crusade is fizzling off with heavy corruption in "Yahapalanaya" and accommodating the corrupt, making Rajapaksa a smaller fry.

So is their track record on peace and reconciliation. Nothing different has gone North-East other than what the Rajapaksas sent. Or rather, what is still being done in the North-East is not what the people are eager to have.

President Sirisena is openly against the Government's commitment given to the UNHRC on war crime probes with PM Wickremesinghe endorsing same. The "Yahapalana" Government's farce over peace and reconciliation is being exposed with mothers and other relatives of persons missing due to enforced disappearances continuing their agitation for almost 150 days, even without the ITAK leadership around.

Reconciliation this Government talks of is not what Tamil people understand as 'reconciliation'. UNP MP as Justice Minister rudely refusing to accept UN Special Rapporteur on Human Rights and Counter-Terrorism Emmerson's explanations says it all in one shameful episode.

Far worse is the fate of Muslim people, especially in majority Sinhala South. The "Yahapalana" Government is certainly promoting extreme Sinhala groups including BBS and the Ravana Balaya.
The Justice Minister, who is also the Minister of Buddha Sasana, a strange combination of portfolios for a "Yahapalana" Government was very conspicuous in patronising these extremist groups.
So, is the Minister of Megapolis and Urban Development who still is a Hela Urumaya leader standing for anti-Muslim, Sinhala Buddhist extremism. The Muslim community that voted "Yahapalanaya" en bloc is now kept guessing "how safe?"
That defines the emerging differences in the "Unity" Government with President Sirisena's resentful manipulations turning it into a ragdoll that cannot be stitched together once again.

Within those overtly Sinhala political assertions, the Police have started intimidating Tamil media while a racist Sinhala writer gains unrestricted freedom to name and accuse Tamil media stations as
he pleases.

That perhaps is "reconciliation" this Government is comfortable with and the ITAK leadership blind to reality, still believe they can manage Constitutional reforms in re-addressing Tamil grievances. All round, the "Yahapalana" Unity Government has failed so badly, even Rajapaksa goes public now, labelling this Government "corrupt, repressive and anti people".

He is once again the preferred Sinhala leader, whose political positions are borrowed and re iterated even by the Asgiriya and Malwatte Prelates.

This Sinhala build up against the "Yahapalana" Unity Government is what now irks its two partners and disturbs their opportunist co-habitation.

It's the Maithri bloc in the SLFP that has felt the heat most. For them, 'Rajapaksa' is a decisive factor with the large majority of SLFP voters still accepting Rajapaksa as their SLFP leader. All elected SLFP members in this Parliament are there, elected on Rajapaksa's campaigning and not President Sirisena's.

In fact, President Sirisena used his powers to ridicule and belittle Rajapaksa, who led the SLFP campaign against the UNP and collected 42.4 per cent for the SLFP led UPFA as against UNP's 45.6 per cent. Therefore, it is not surprising that SLFP loyalties remain with Rajapaksa and not with President Sirisena. Can President Sirisena therefore push for an anti-Rajapaksa agenda, while claiming to lead the SLFP?

This in fact is the conflict. President Sirisena's SLFP bloc in the Government cannot go to their electorates as anti-Rajapaksa men, when they have not delivered anything to the people, who did not vote them to be part of a UNP Government.

Worse is their plight when they cannot sell to their rural voter, what Wickremesinghe tries to sell to the urban middle class.

President Sirisena's cry to have the Rajapaksas investigated to a finish, perhaps a formula designed by his mentor Kumaratunga, therefore cannot win the race for him. There is growing frustration and anger out there in the electorate.

Nor would this corrupt free-market allow the corrupt in the UNP to finish off the Rajapaksa factor. The business community will have to keep their options open, while living with the Government. In the absence of Rajapaksa, where will they find their alternative with a Government that is seen tottering and ineffective in public life?

In Sri Lanka, the Sinhala majority do not pin their faith on, nor do they experiment with, a "third force". To be an alternative, a third force will have to leave the Sinhala bias of the two main parties. It is written in post-independence history, the SLFP emerged as the alternative to the UNP pushing out the then main Opposition LSSP, by proving they are a Sinhala party for the Sinhala voter. The formation of the SLFP thus gave the Sinhala majority the advantage of keeping a "Sinhala" option in changing Governments.

All efforts thereafter in forging a new alternative have failed. Having failed to elbow out the SLFP, the two main Leftist parties tagged behind the SLFP with breakups and splintering on the way.
The popular breakup in the SLFP that led to the formation of the SLMP with Vijaya and Chandrika Kumaratunga, could not make any serious dent on mainstream politics.

Not because its charismatic leader Vijaya Kumaratunga was assassinated, but because it was not seen as a "Sinhala" party. The rest is history with Chandrika Kumaratunga re-entering the SLFP on a "mother's sympathy".

Thrown out of the party by President Premadasa, the two new leaders groomed by President Jayewardene forming their own DUNF, also was not accepted as an alternative in the mainstream. After the assassination of Lalith Athulathmudali, the DUNF folded up with Gamini Dissanayake trekking back to the UNP once again.

The new political party, Sri Lanka Podujana Peramuna launched by the Rajapaksa loyalists is not projected as an alternative in politics. It is retained as a fall back option for those who may not find accommodation in the SLFP, if the crisis within it now, ends up with serious expulsions. Rajapaksa thus remains in the SLFP and says nothing about leaving it. Nor is he expelled even after his May Day rally that defied all party decisions.

As much as the SLFP bloc with President Maithri wants Rajapaksa for his vote bloc, the business community needs him too as their alternative, if and when they have to choose one. The SLFP will thus be compelled to decide the role of Rajapaksa for the future. In other words, both the SLFP Maithri bloc and the business community still need Rajapaksa and his vote bloc in forming Governments. That defines the emerging differences in the "Unity" Government with President Sirisena's resentful manipulations turning it into a ragdoll that cannot be stitched together once again.