---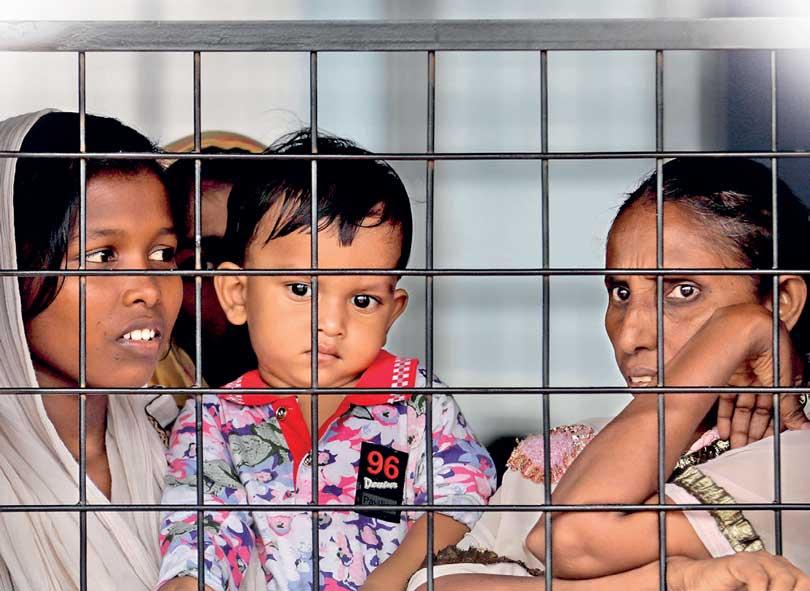 Jihad is such a meaningful concept and we need to look carefully at what it connotes

There is no doubt that this is a national issue - Not a global one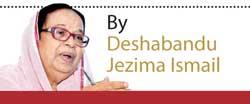 In my eighties - Do I look forward or backward April 21 Easter Sunday I was numb with grief but my mind went racing with multiple thoughts. Let calm descend over me to take stock of the situation. This reprehensible dastardly act was the work of criminal minded cowards who have forgotten the Quran's message of mercy, forgiveness the categorical statement - Those who commit murder of even one person it is as if the whole human race has been annihilated.

Sorrow washes over me and as I look at myself in the Eighties age range I chide myself at not having succeeded in my efforts to dispel extremism which reared its head visibly about 45 years ago and resulted in the formations of groups with warped and twisted interpretation of Religion and subsequently became the foundation for violence and terrorism in their efforts to spread their view and brainwash the community.

There is no doubt that this is a national issue - Not a global one. In Sri Lanka we have to stand together as one entity of integration to deal with the consequences. The Muslim Community has a special responsibility to look inwards and spare no effort in working with all its members on a true understanding of Islam. The treacherous and criminal minded group who have gone against the whole human race call themselves the National Thawheed movement. What does Thawheed mean? The oneness of Allah. The message to the people echoes and re-echoes in the call to prayer and what it underlines. The oneness of God or the Unity of God because this phrase should inspire righteous living in man for the main reason that this divine unity transforms itself into the sense of the unity of man and it's this unity in verse 49:13 echoes the love and care one should have for everybody.

"O ye mankind surely we have created you a male and female and made you tribes and families that you may identify and care for each other. Surely the noblest of you in the sight of Allah is the one among you most mindful of his duty. Allah is knowing, fully aware" 49:13.

How can those who foist death on innocent beings call themselves Thawheed Jama'at and how can they be referred to as "Islamic Terrorist" when there is nothing Islamic about their heinous acts.

Again another misnomer. They are also referred to as Jihadists. One has to look at this concept. Jihad is such a meaningful concept and we need to look carefully at what it connotes. It means exertion/striving against all that is evil whether in thought or feeling. The small Jihad is fighting with arms those who are out to disturb the peace of the nation or bent on destructing the good in life. However the big Jihad - Jehad-e-Akbar or the greatest Jihad is to contend with ourselves to restrain evil and create peace by enduring. The ordeals of life with truth and steadfastness. It also means to extend one's own interests with the interests of the World at large. That is righteous work to spread harmony, justice, unity and peace.

When one observes the present situation in our country I reiterate the fact that all of us Sri Lankans as one body will have to work towards the balance of the whole community of Sri Lankans and scrutinise carefully the potential of a pluralistic society with its multi-ethnic, multi-cultural, multi-religions has, to restore peace. One topic that has surfaced uppermost in most discussion and suggestion for change has been the dress of the Muslim Women. It is not necessary to go into any analysis of the reason why this change in the traditional dress of the Muslim Woman has transformed itself into an alien costume which bears little significance for the community and causes unrest in the Sri Lankan society. The dress of the Muslim Woman whether it be Hijab, Niqab, Burqa or Chador. Whatever it may be it needs addressing. Many are of the opinion that it is the right of an individual to choose what she wears. Yes I agree but together with the right there is also the duty; especially in a pluralistic, multi-ethnic, multi-religious, multi-culture if it causes inconvenience, and causes insecurity and lack of safety in the environment it's best that one obeys the rules of Islam that the religion should help not only peace with oneself but also peace with the outside World. Every prayer in Islam is a resolve to conform to the Divine and in order that one might declare one's obligation to one's own self and own obligation to the others.

The one ray of light that I grasp is the fact that this group is just the few of the members, while the larger community is proud of its identity as Sri Lankans and whatever anyone might say I always uphold the fact that we have been treated as citizens, of course there are extremists in every group and there have occurred instances where communities have been harmed but all-in-all a nation such as Sri Lanka with its positive attitude is indeed unique.

I can't help looking back at my years of existence. The constant challenges I have faced and the negative publicity I got in the community media and these extremist groups who called themselves the reformers? Having been a student of a Catholic convent, teaching 19 years in a Buddhist environment and grown up in a Hindu Cultural Society it was indeed a fulfilling life and the tragedy was that we could not stem the process of terrorism. I remember with love and gratitude when my son was dying of cancer the Churches, Buddhist Temples and Kovils having religious ceremonies. On such an occasion it was one of these fanatics who in the social media declared that my son deserved to die because of my unislamic practices. Then when I was Principal of a Muslim School giant efforts were made to introduce the Hijab and such alien costume which we somehow countered. There are many more incidents but maybe they could be recorded at a later stage.

I now go forward again. Many so called experts and decision makers declare that the ISIS products of terrorism come into action to deal with climate change, mental health issues and such negatives such as poverty. As a writer says - They ignore the elephant in the room - The ideology. The real battlefront is on this level (G. Wood). "It is their distorted beliefs contrary to the pure religious principles, the contortions of concepts like Thawheed, Jihad and their desire to impose a mono-religious culture resulting in the destruction of democracy pluralism, diversity, freedom of speech and thought, the right of women etc. How we promote national discussion and devise strategies to prevent and contain the problems that have resulted in massive human rights violations, including crimes against humanity and genocide." (K. Matthews) It is an enormous task and needs massive coordinated support but a beginning can be made at least by the community by going inwards and working out the process of a spiritual growth by building on the divinity of each individual so as to transform evil ways. We need to go beyond radicalism and search out the spiritual in Islam which is a religion of peace. Interpretation of the Quran has been completely blocked there is no place for Ijithihad (Independent reasoning) and the religion has become riddled with strict rules and stringent regulations of the Wahabi movement. The Islam I know gets its vitality from the creative elements - music, art, literature. Today in Sri Lanka, Islam is dominated by rituals, regulations which completely destroy its vibrancy and vitality. The original meaning has to be restored and in this sphere the Muslim community has a special role. As I said before we have to re-scrutinise our efforts and collectively eliminate the evil perpetuated nationally, regionally and globally.

My heart goes out to the dear departed souls and their near and dear ones. The only way out of this negative situation and for all Sri Lankans is to come together in unity and condemn these atrocities. The Muslim community is heartbroken at the carnage created by those who share our faith but have interpreted the principles as a warped ideology working its way through evil violence. Our democratic ideals must be respected as they form "value oriented structure" to form the positive environment for living together in unity and peace.