---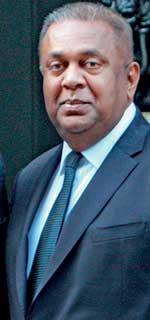 By Sandun A Jayasekera
Finance Minister Mangala Samaraweera said yesterday he could not understand how Varatharaja Perumal, the leader of the separatist terrorist outfit EPRLF and the man who raised the Eelam flag in the North, became a patriot overnight after pledging support to Gotabaya Rajapaksa, while the TNA, which always upheld democracy, had suddenly become the villain after pledging support to Sajith.

He said Sajith Premadasa throughout his entire political life had stood for ethnic reconciliation and inter-communal harmony, and the main reason for the TNA to extend its support to Sajith was based on his magnanimity, fair play and love for all Sri Lankans.

Addressing the Matara District Youth Organization, he said a politician intending to serve the country should have at least an iota of credibility and decency with the least possible malice in his or her political rhetoric. The problem with the Rajapaksa clan and the SLPP is that they have no idea about these basic principles in a democratic way of life and entirely live on malicious and vituperative propaganda, spreading canards, fabrications, misinterpretation and absolute lies. "The best example is their changing of colours when it fits them. Varatharaja Perumal is a terrorist leader who has shed the blood of innocent Sinhala, Muslim and Tamil victims through his separatist terrorist organization during the conflict. What's more, he declared an independent Eelam state in the North-East in 1990, raised the Eelam flag and established the Tamil National Army which shed the blood of innocent people," the minister said.
"Now, for the SLPP, Perumal is a hero and a patriot. After the TNA announced its stance on the presidential poll, the TNA has turned into a pariah. Karuna Amman, the former eastern leader of the LTTE, who masterminded the brutal killing of 600 policemen at Arantalawa is also in the Gota camp. Can politicians or a political party stoop to this level to grab power?" he queried.