---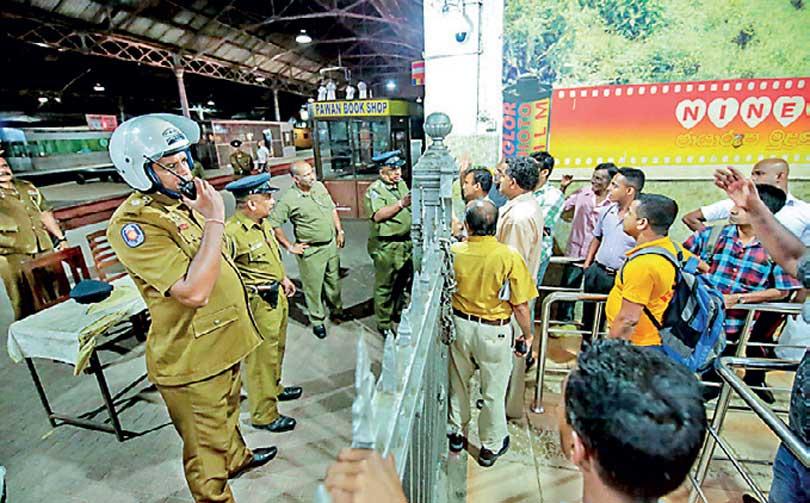 By Chaturanga Samarawickrama and Sheain Fernandopulle
Though a 48-hour train strike was scheduled to be launched from midnight yesterday, a tense situation was witnessed at the Fort Railway Station following the cancellation of a number of train services from as early as 7.00 p.m last evening.

Railway Operations Supervisory Union (ROSU) Convener Lal Ariyaratne said the 48-hour railway strike would begin from midnight yesterday as the discussions held with Finance Minister Mangala Samaraweera had failed.

"The minister did not agree to our demands which were fair. Therefore, the ROSU decided to launch the strike from midnight yesterday since the authorities have failed to resolve their salary anomalies," he said.
During the discussions, Transport Minister Arjuna Ranatunga and Deputy Minister Ashok Abeysinghe spoke on behalf of the union, but the officials from the Finance Ministry did not consider our demands to be reasonable.
Mr. Ariyaratne said all railway trade unions including railway guards, railway engine drivers, railway controllers, station masters and railway supervisory managers will take part in the strike.
"There will be no trains including night mails operating from Colombo Fort during the strike. All the train services that do not reach their destinations stations before midnight will be cancelled," Mr. Ariyaratne said.

However. commuters at the Fort Railway Station who were waiting to board trains claimed that several trains leaving at 7.00 p.m had been cancelled without prior notice. They claimed that the scheduled token strike was not fair. "We will give our full support for their demands but it is unfair to stop trains which can be operated to reach their destinations before 12.00 midnight," they said.

Meanwhile, attempts made to contact the Railway Control Room by the Daily Mirror proved futile. According to our reporters, several senior police officials who had arrived to control the situation at the Fort station had acted aggressively.

The commuters who were still at the railway station had been chased away and were not allowed to approach the train platforms through the ticket counters.

Pic by Damith Wickramasinghe