---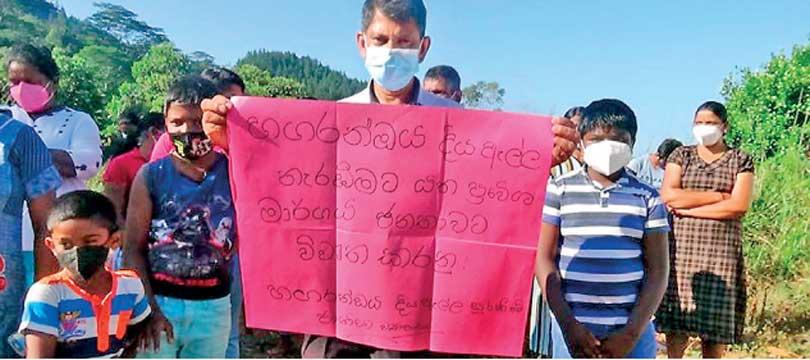 By Ranjith Rajapaksa - Hatton
A group of locals staged a protest on Saturday near the Hangran Oya waterfall within the Nawalapitiya Divisional Secretariat region. against a private landowner, who has blocked the entrance to the waterfall using barbed wires.

The waterfall is located near the canal through, which water is said to be flowing to the Mahaweli River from the Hangran reserve.

The anicut of the Water Board which provides water to the Nawalapitiya area is also located below.
The locals complained that the landowner had separated the waterfall reserve using barbed wires and had fell valuable trees by setting fire to the reserve.

He had also carried out sand mining in the Hangaran Oya without a permit.

The protestors demanded that the entrance to the waterfall which has a tourist attraction be opened to public.
Even though the Land Reform Commission had leased out a nearby land on a long term contract to the said person, for one of his bungalows, the waterfall and the forest reserve had not been leased, they said.