---
122 humans & 407 elephants died in 2019 due to the conflict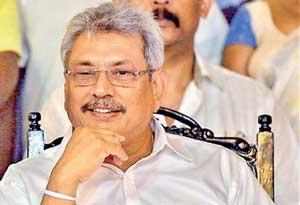 By Lahiru Pothmulla
President Gotabaya Rajapaksa yesterday instructed officials to come up with a lasting solution to the human-elephant conflict within two years and whilst taking measures to safeguard both elephants and humans.
According to the President Media Division, President Rajapaksa has instructed the officials to create a mechanism to ensure that wild elephants roam in forests and not in villages.

President Rajapaksa expressed these views at a meeting held to discuss plans of the State Ministry of Forest Protection, Elephant Fences and Trenches Construction, Reforestation and Forest Resources Development, at the Presidential Secretariat.

He said, "The issue of the human-elephant conflict has been discussed for about 40 years. Many solutions have been put forward but the issue still remains. Finding immediate and lasting solutions to address the issue should take priority."

He said 122 humans and 407 elephants were killed as a result of the human-elephant conflict in 2019.
"62 humans were killed due to this issue during the first eight months of this year while 200 elephants have also been killed. This matter has posed a threat to the daily livelihood of the people, the elephant population and the agricultural fields in a grave manner," President Rajapaksa said.

He said the Wildlife Conservation Department has 1.2 million hectares of forests under its purview and it was the responsibility of the department to look into the wild animals' needs of food.

The President expressed surprise over the failure of the relevant officials to come up with a solution or a mechanism to the long persisting elephant-human conflict.

Meanwhile, commenting on mangrove conservation and development, President said laws should be relaxed to provide benefits to the people when developing mangroves.

Minister C.B. Ratnayake, State Minister Wimalaweera Dissanayake, Secretary to the President, Dr. P. B. Jayasundera, officials of the ministries and the Presidential Task Force on Economic Revival and Poverty Eradication's Head Basil Rajapaksa were present at the meeting.