---
By Yohan Perera and Ajith Siriwardana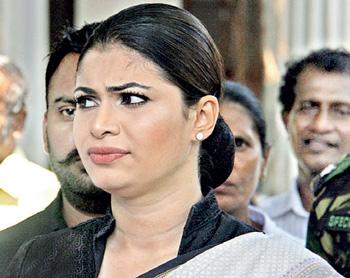 President Maithripala Sirisena is criticizing Parliamentary Select Committee appointed to look into the Easter Sunday attacks, as those who have testified before it had come up with allegations against him, MP Hirunika Premachandra told Parliament yesterday.

Ms. Premachandra who was speaking during the emergency debate in the House said President is responsible for the attack.

"It seems that President had kept quiet after knowing about the attack beforehand with an objective of putting the blame on the Cabinet," she said.

"Former Western Province Governor Azath Sally is President's man and Hemasiri Fernando the former Defence Secretary was appointed by him. They were not appointed by the Prime Minister," she added.

Ms. Premachandra said she would not have come out of the previous government and supported President Sirisena had she known that he was going to act in the way he is doing today.
She also said that Prime Minister Ranil Wickremesinghe should have attended the Security Council meeting even without being invited. "They would not have chased him if he had attended the Security Council meetings," she said in this regard.

The parliamentarian added that the 19th Amendment to the constitution is not the cause for the present conflict between the President and the Prime Minister. She said the main reason for the cause of the rift is the former accepting the SLFP leadership. She said government would have been stable if President remained independent.

"Dayasiri (uncle)! don't work for the President, it would be of no use. He would make use of you and discard you as what he had done to Duminda," she told MP Dayasiri Jayasekera.
Mr. Jaysekera who referred to this comment of Ms. Premachandra in his speech minutes later said "She must have called me uncle since I am her father's friend. I don't think I look that old."
It seems that President had kept quiet after knowing about the attack beforehand with an objective of putting the blame on the Cabinet