---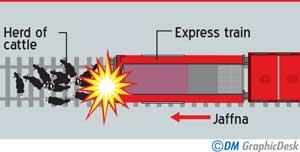 By Romesh Madushanka
A herd of 17 cattle hit by an intercity express train in the Mirusavil area in Jaffna yesterday died on the spot, informed the Chavakachcheri Police.

At the time of this accident, the train was on its way from Colombo to Jaffna and the inclement weather which prevailed in the area at the time had obscured the view of the cattle lying on the rail track. With the animals being hit by the moving train the impact had created a stampede and the herd had run amok. There were also injured cattle among the herd who had run hither and thither making it difficult to ascertain the number of animals that had been injured.

Some of the dead animals had been removed by their owners, while the rest had been taken over by the Chavakachcheri Pradeshiya Sabah for burial.