---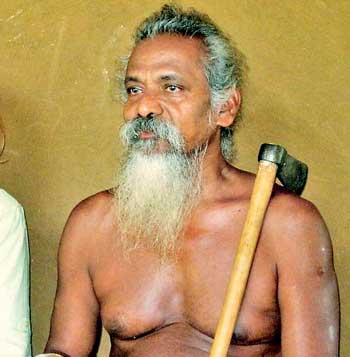 By Ranjith Karunaweera
Veddah Chief Vishva Keerthi Vanaspathi Uruwarige Wannileththo requested Sri Lankans to act humanely in order to save the country from the Coronavirus outbreak, instead of considering it as an income or a business.

He said he was informed that Government Medical Officers' Association (GMOA) had demanded incentives for healthcare staff battling patients with Coronavirus. "During a time when even retired doctors living abroad come back to battle this outbreak, people should be humane to safeguard the country," he added. The Veddah Chief said he heard of face masks being sold at higher prices in this critical moment, which is extremely unfair by the innocent public. He also said that such diseases were unheard of in the past, and they sprang from the so-called development. "Back then there were diseases such as leprosy, conjunctivitis, diarrhea, measles, chickenpox and psoriasis in our villages. They were considered as god's diseases and epidemics and people who were affected them were kept isolated. We prayed for death during such outbreaks". "The disease that we talk about today has spread across the world. If not properly treated, many patients might die. I am not well aware of such diseases. I learned about them, from people who come to meet me and through media". We are currently undergoing results of environmental pollution which is done for the sake of development. "Nature is punishing us.

We cannot predict when or where we will be punished by nature, but we have to be prepared. Those punishments might come when least expected," he added.
The responsibility of the public and leaders is to work humanely towards safeguarding the nation from such hazards.

He said that he believes leaders, doctors and scholars of the country would join hands to save the country from this disease.
During a time when even retired doctors living abroad come back to battle this outbreak, people should be humane to safeguard the country