---
Tax evasion racket of Rs.10Mn busted in Chunnakam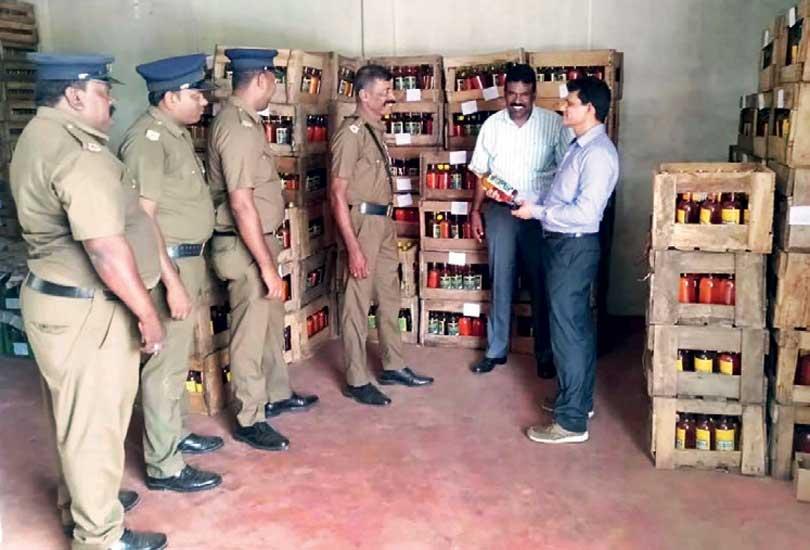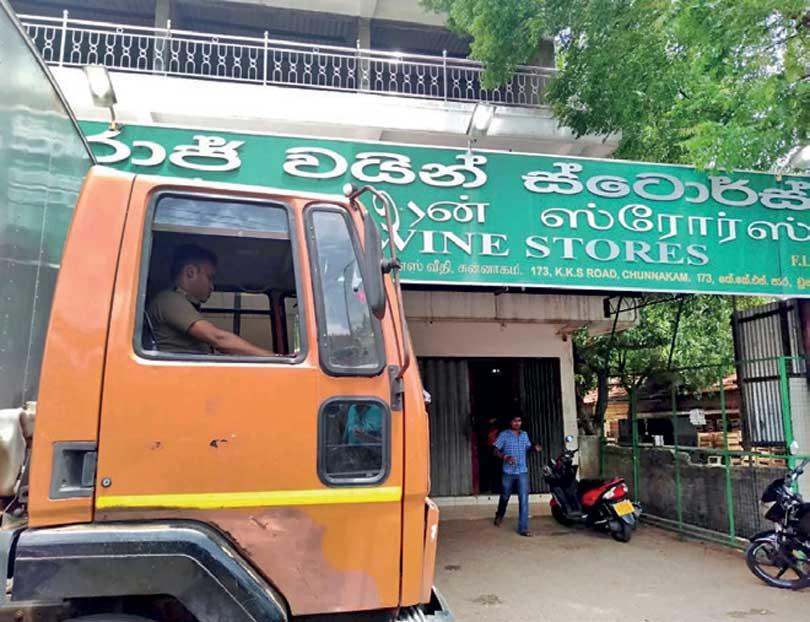 By Kurulu Koojana Kariyakarawana
A large racket of selling liquor sans paying millions of rupees of taxes was busted by the Excise Department officials when they arrested a wealthy merchant in Chunnakam,
Jaffna on Saturday.

Deputy Excise Commissioner (Law and Enforcement) Gamini Adhikari on information received ordered to raid a leading wine store in Chunnakam on Kankesanthurai Road.
A special team sent from Central Province Excise Bureau of Special Operations (BSO) backed by Northern Province Excise officials raided 'Raj Wine Stores' and seized 34, 000 bottles of local liquor in 750ml bottles, 375ml (half) bottles and 187ml (quarter) bottles from the warehouse of the premises.

According to Excise sources, the trader had not paid any tax to these bottles which he had collected from minor scale private liquor distillery companies countrywide.

When inquired, the trader had told the Excise officials that he had been buying large stocks of local liquor from private distillery companies just paying its manufactory cost and not the government tax.

Even the said small scale distillery companies had been issuing stocks of liquor to the trader under the nose of the Excise Unit stationed at each and every factory.

Likewise, the collected stocks of liquor had been brought to his warehouse in Chunnakam, Jaffna and subsequently been distributed among licensed wine stores in the Northern Peninsula by the trader.

Although, the lowest priced bottle of liquor is sold at Rs.1,600 in the market the production cost of such bottle is only Rs.700. The trader buys a bottle for the manufacturing cost of Rs.700 from a local distiller and would sell it to wine stores for Rs.1,000 with keeping a profit margin of Rs.300.

Since, the wine stores get a supply of government authorized liquor for Rs.1,000 per bottle, they too keep a profit margin of Rs.300 and sell the bottle for a cheaper
rate to the selected public outlets.

The usual profit a wine store owner will receive from a bottle of liquor is only Rs.15.

The seized stock of liquor had reportedly been brought especially targeting the Enterprise Sri Lanka Exhibition in Jaffna which
concludes tomorrow.

The sleuths also took a lorry used to transport and distribute the stocks of liquor into custody and found another 2, 800 bottles of arrack inside.

A senior officer of the department told the Daily Mirror that this was the first time such a large quantity of liquor to be sold without paying taxes to the government was seized. The actual value of the tax evaded stock of liquor had been estimated at Rs.10 million.

The trader who owns a licensed wine store and two of his employees were taken into custody and released on Excise bail. The premises had been ordered to be sealed off until
further inquiry.

OIC Central Province Excise BSO T. B. Sarap and the team with OIC Mallakam Excise Station N. Kirubakaran and the team are conducting investigations on the instructions of Deputy Commissioner Gamini Adhikari and Assistant Excise Commissioner Northern Province N. Sodinadan and Excise Superintendent Pt. Pedro S. Madanmohan.
Although, the lowest priced bottle of liquor is sold at Rs.1,600 in the market the production cost of such bottle is only Rs.700. The trader buys a bottle for the manufacturing cost of Rs.700 from a local distiller and would sell it to wine stores for Rs.1,000 with keeping a profit margin of Rs.300